When Robert Hardt, President & CEO, Siemens Canada Ltd., delivered the keynote address at the second Skills and Post-Secondary Education Summit in 2014, he captured the minds of an entire room – and they are still talking about it to this day. The topic was talent development, and the perceived value of Work Integrated Learning (WIL) opportunities was not new at the time. What was different, however, was that Siemens Canada was about to take action on innovative skills training and education.
Within only six months of this 2014 announcement, and with only three fulltime leaders, SCETA – the Siemens Canada Engineering and Technology Academy, a Dual Education Program that allows engineering and engineering technology students to 'earn as they learn,' welcomed its first cohort of thirty students.
In August 2016, OSPE interviewed Dr. Tom Murad, P.Eng., Head of SCETA, who is responsible for the vision and overall business management of the program, to learn more about the Academy. Last week, OSPE had the pleasure of attending the first SCETA Graduation Ceremony to congratulate this same cohort of graduates on their successful completion of this working integrated learning program.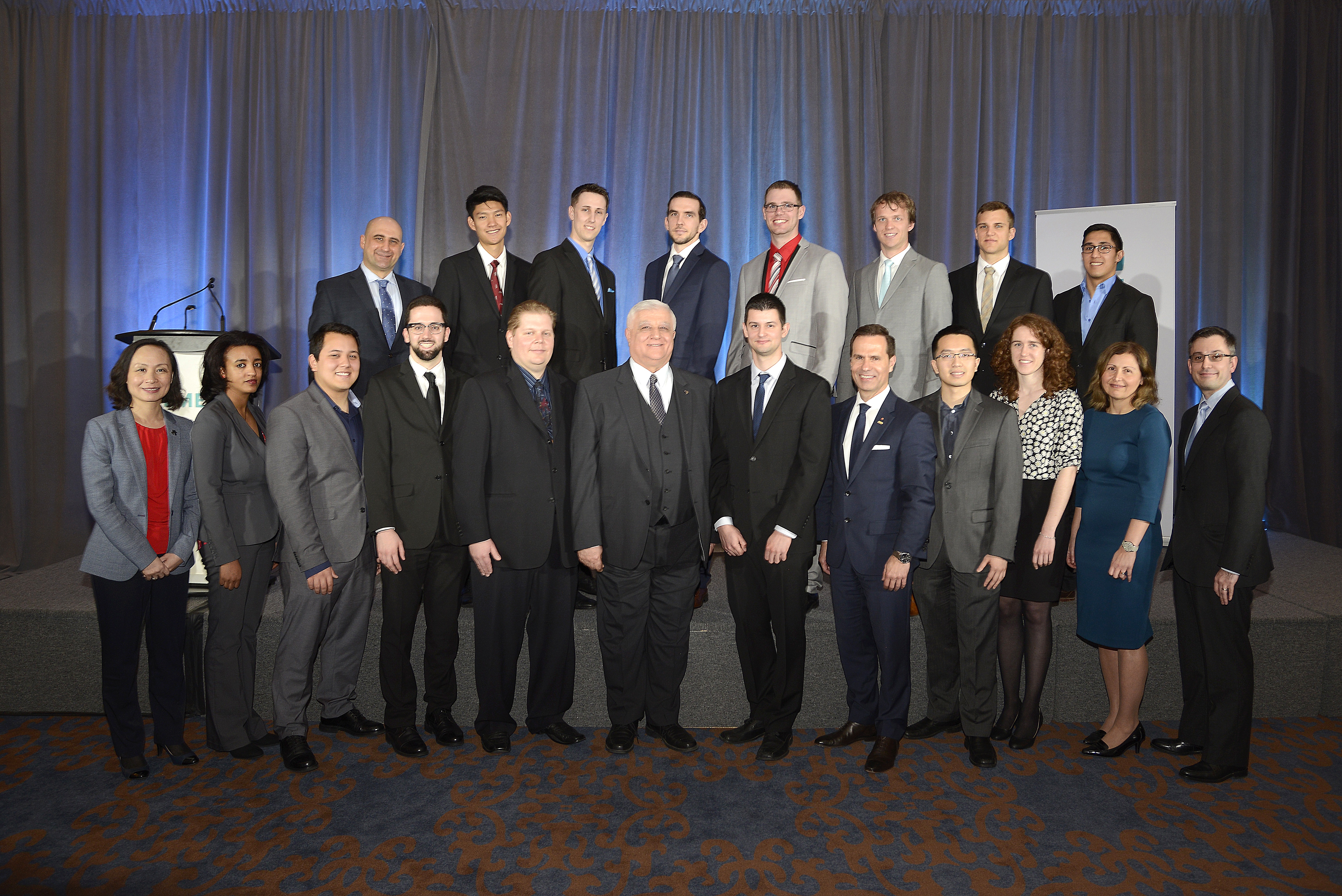 CEO Robert Hardt once again took to the podium – this time to thank the graduates for their commitment to the SCETA. After seven years at the helm of Siemens Canada, Hardt will also be "graduating" from Siemens Canada, joining Siemen's venture capitalist arm as part of next47.
"I feel as though I am part of your graduating class. I am proud of many things that we have accomplished at Siemens Canada since I started here in 2007, but SCETA is right on top of the list," says Hardt. "Educational systems are a reflection of a nation's culture. We tried to bring the best of the German Dual Education system to Canada, and combined it with the strongest elements of Canadian culture to create the best educational system in the world – right here in Canada."
"Business is global and borders are useless when it comes to economics and education," continues Hardt. "We need a healthy globe on which to operate and I know that your ambition and skills will blaze the trail and help Siemens achieve its goal to become a carbon neutral company by 2030."
Dr. Tom Murad echoed the importance of collaboration in his heartfelt remarks to the graduating class and his colleagues. Dr. Murad thanked his team members, Mamak Grant and John Da Silva, who ensure the Dual Education Program continues to grow and evolve. SCETA has now welcomed its third cohort of graduates. Dr. Murad also noted that all members of the broader Siemens Canada management team have embraced their roles as mentors and ambassadors of the program, helping develop SCETA's students into highly skilled professionals that are "the envy of any organization."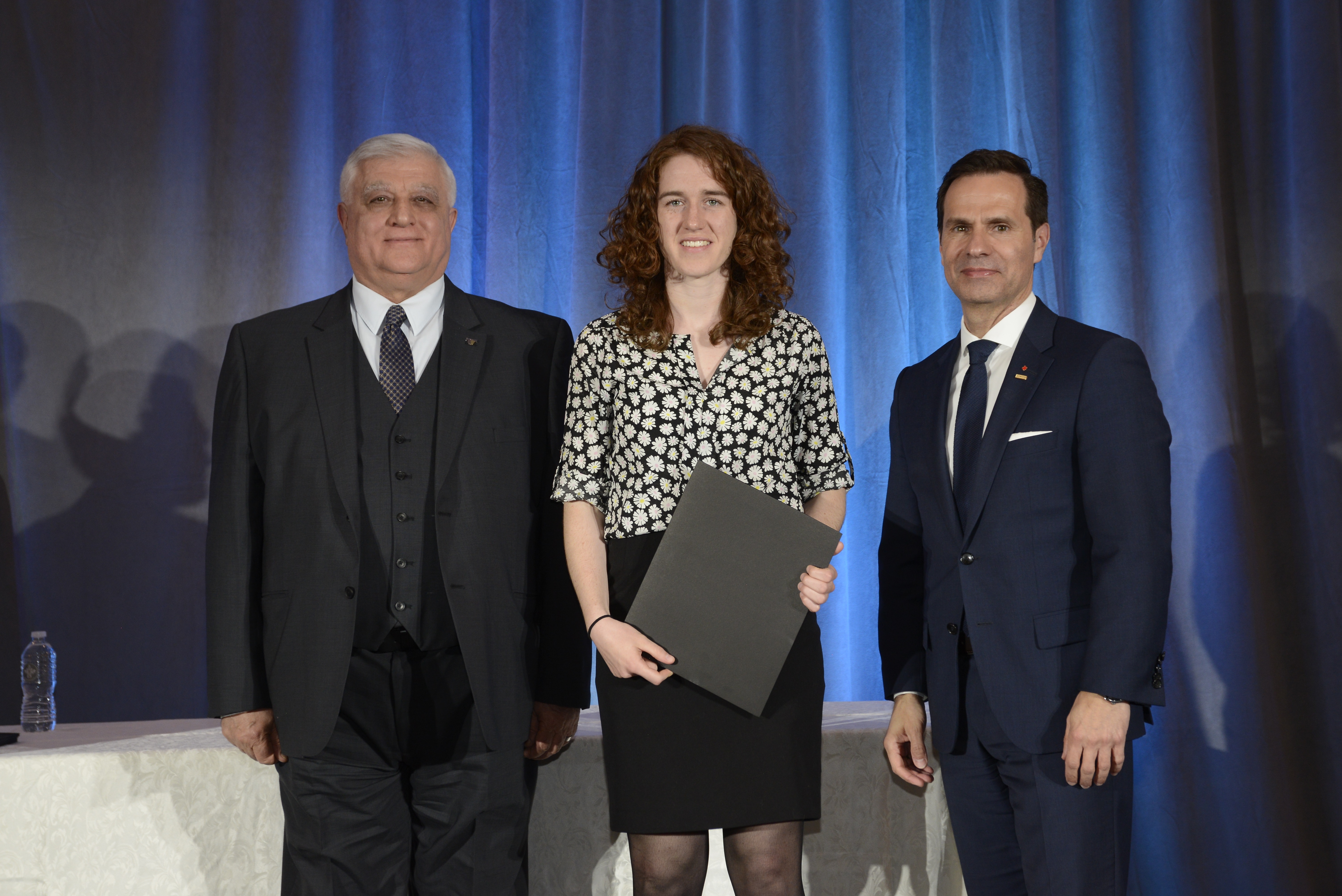 When addressing his "SCETA family," Dr. Murad says, "Siemens Canada carefully designed and engineered SCETA as any other product. It may not be perfect, but it is always improving, as any meaningful project does. When you started the program, I told you the Academy would become successful by and for you. You have overcome challenges, exceeded expectations and proved your fabulous qualities."
SCETA, which now has seven academic partners, embraces input from each of its stakeholders, including its students and college and university partners, for continuous improvement.
Several SCETA graduates expressed their sentiments about the versatility and flexibility of the program:
Patryk Korbut came to SCETA as a Mohawk College student. He is now working as a product manager for circuit breakers in the Siemens Canada energy management division, and will be simultaneously pursuing an undergraduate degree at McMaster University.
"The nice thing about SCETA is that they really satisfy your curiosities. The team would always ask us about what we wanted to learn or who we wanted to talk to. Any opportunity that we wanted – they made it happen. Most of us requested more time for hands-on learning outside of the classroom and they took that into account. We also had a lot of fireside chats with upper management, so we would we got an all-encompassing view of the company."
Hassan Mamalachi was an International Engineering Graduate who studied control and systems engineering and has worked for organizations around the world. He now has a full-time position with Siemens Canada as a physical asset management specialist.
"SCETA gives you a 360-degree view, even before you become a part of the company. I have discovered Canada through Siemens. I had the opportunity to travel to many branches and provinces to see how project managers, technicians and different departments work. Now I have a good understanding of the experiences and challenges that different roles face. Most organizations state that they are an 'open office environment', 'you can chat with anyone', but I think Siemens is the one place where these are all applicable. Finding a job is one thing, but finding a job you like is another. I'll never have to wonder if I can picture doing a particular job because I've had exposure to the different divisions–now I know."
Shawn Aultman delivered the valedictory address on behalf of the first cohort of SCETA graduates. Aultman is an aspiring professional engineer who successfully applied to SCETA while completing his undergraduate degree in mechanical engineering at McMaster University. He will continue working in the service division of Siemens Canada's Power Generation Services.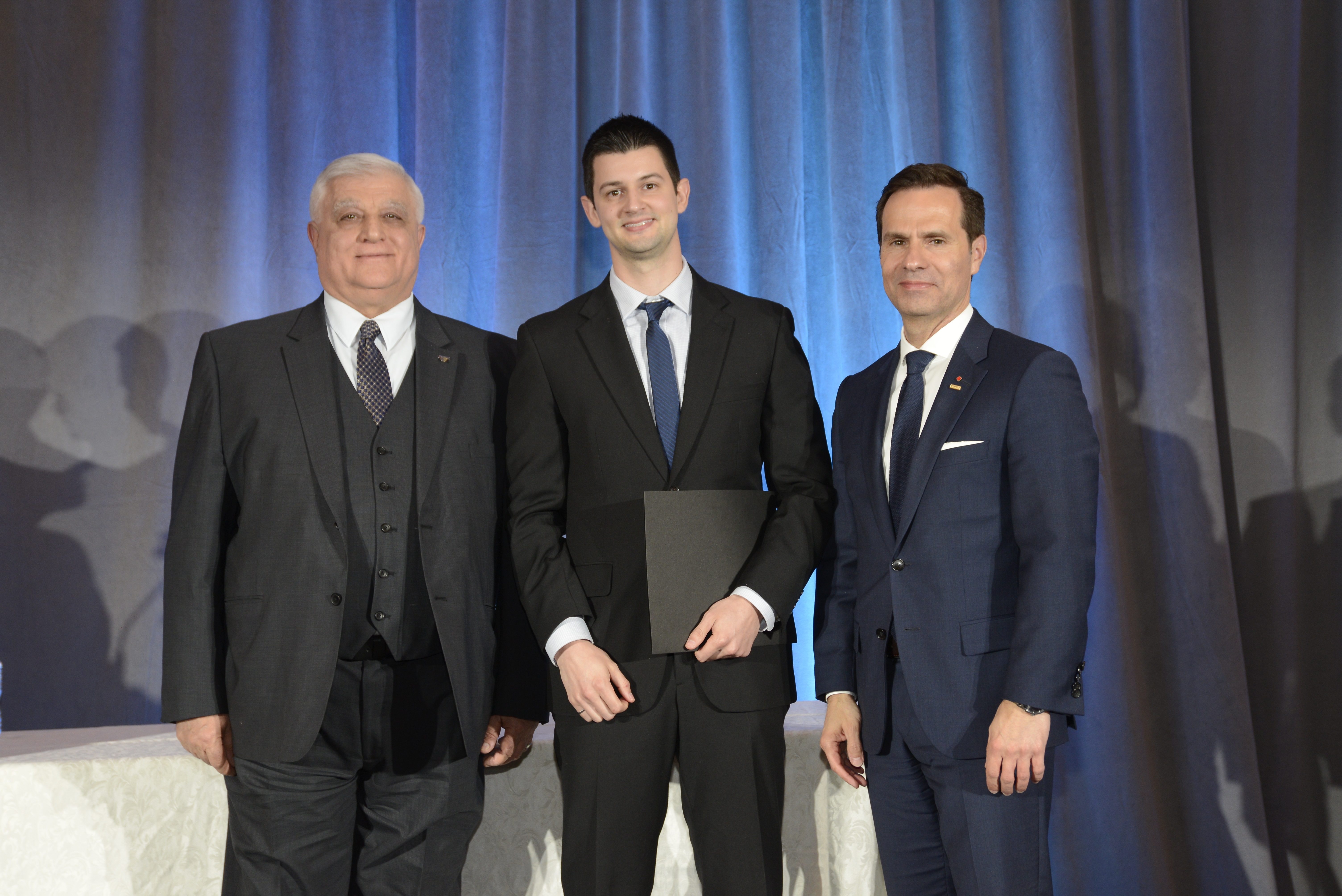 "SCETA set aside divisions and opened us up to experiences beyond our comfort zones. We had opportunities we would not have had elsewhere. Classroom training ranged from highly technical coursework, to effective communications and project management skills. We applied classroom lessons during our rotations and no doubt they will come in handy moving forward. I had the opportunity to work on all aspects of a stationary gas turbine replacement project in Calgary, Alberta. I got to physically work on the rotor of a gas turbine, while most of my McMaster classmates probably haven't had the chance to even see one."
The goal is that SCETA will become a blueprint for educational-sector partnerships in all industries and provinces across Canada. In the words of Robert Hardt, "Change is inevitable and those most adaptable will be the most successful."
OSPE looks forward to witnessing the continued growth and success of the Dual Education Program, and to working together with Siemens Canada to create more opportunities of greater magnitude for Ontario's engineers and engineering graduates.
Learn more about The Siemens Canada Engineering and Technology Academy.
Learn more about OSPE's advocacy efforts and research on the engineering labour market.
*Photo credit: Rudy Cappelletto, Portraits by Mina