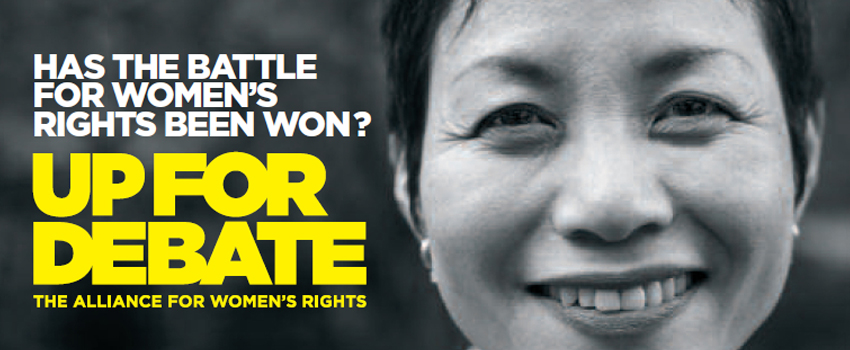 On Monday, September 21, 2015, 4 federal party leaders participated in an event organized by Up for Debate, a coalition of 175 women's groups, to discuss women's issues, gender equality, and justice.
Pre-recorded, one-on-one interviews with Liberal Leader Justin Trudeau, NDP Leader Thomas Mulcair, Green Party Leader Elizabeth May, and Bloc Québécois Leader Gilles Duceppe were conducted by Quebec journalist Francine Pelletier. The interviews were livestreamed for a sold-out audience of 400 at the University of Toronto's Isabel Bader Theatre and followed by a panel discussion on stage. The Conservative Party of Canada declined to participate. In attendance was a member of OSPE's Women in Engineering Advisory Committee (WEAC).
Monday's event covered a range of important topics, including women's representation in Parliament, Canada's first past the post system, childcare, violence against women, and missing and murdered Aboriginal women, to name a few. To watch highlights of the event, click here.
As the advocacy body for the province's engineers, OSPE would have liked to see leaders address how each party aims to increase the number of women in science, technology, engineering and mathematics (STEM), support women currently in STEM fields, and address the under-representation of women on boards – a topic which is the focus for WEAC's Fall Forum on November 28 at the Lassonde School of Engineering (register here).
On this front, Engineers Canada (EC) has developed a website that includes analysis of party platforms on issues of concern to engineers, the names of professional engineer (P.Engs.) running in the upcoming election, and its campaign document entitled Canada Needs Engineers: Election 2015.
Interestingly, the last time party leaders debated women's issues was in 1984 with John Turner, Brian Mulroney, and Ed Broadbent. As others have pointed out, a lot has changed in these past 30 years. Event organizers reported that over 8,200 tweets poured in as of 11:00 pm on Monday night with the hashtag #UpForDebate.