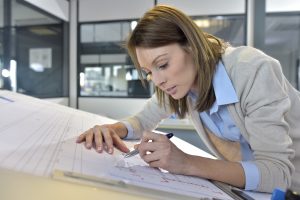 The country is facing a skills gap in which the demand for engineers in specific sectors is greater because of retiring engineers and labour shortages in certain provinces. This means many employers won't fill their open positions if they can't find enough qualified applicants.
The engineering labour market shows that 33.3% of recent engineering graduates aren't working in engineering, indicating a need to explore job opportunities in engineering fields that will expand in the coming years. This will improve the employment prospects for incoming degree holders and those looking to switch fields.
Discover which engineering occupations have the most growth potential over the next decade in Canada and how you can get involved in these fields or support incoming engineers.
Top Engineering Occupations
These are the top engineering occupations expected to see the most potential growth over the next decade.
Civil Engineer
Civil engineers build structures that are safe and productive, ensuring compatibility with applicable rules and regulations. Civil engineering is a broad field that involves environmental engineers, structural engineers, and transportation and construction civil engineers.
According to Engineers Canada, from 2015 to 2020, civil engineers saw an average of 2,500 employment opportunities every year. In addition, 1,000 positions will become available due to growth in sectors that use them each year. The civil engineering sector is expected to have 1,800 job openings in the coming years because of the high employment demand for these services and the aging workforce.
Mechanical Engineer
Mechanical engineers are most likely to work in the architectural services industry or related fields such as oil extraction, transportation equipment, or machinery. They design machines that produce power, like internal combustion engines, steam turbines, and electric generators. They also work on designing and creation of internal machines, such as escalators and elevators inside buildings.
In the next 5-10 years, mechanical engineers will have an expected 2,100 job openings each year. There will be a replacement demand of about 1,270 over the latter 5-year period with about 1,200 new entrants into the field.
Aerospace Engineer
Aerospace engineers are responsible for designing, creating, and testing aircraft, spacecraft, satellites, and missiles. They are involved in developing new technologies for aviation, spacecraft, and defence systems as well. Most aerospace engineers specialize in astronautical engineering or aeronautical engineering and focus on the structural design of the object, aerodynamic fluid flow, propulsion and combustion, and navigation and control. Aerospace engineering is one of the highest-paying engineering jobs of 2021.
Aerospace engineer openings should average about 235 jobs annually over the next decade. Many positions will be located in Ontario and Quebec in the transportation equipment manufacturing industry.
Biomedical Engineer
Biomedical engineers work with medical researchers, scientists, and manufacturing companies to address injuries and physical disability problems. They make computer systems and software used throughout the healthcare system and play a part in designing equipment used in hospitals and doctors' offices. Biomedical engineers in Canada also help design and create artificial body parts, like hip joints, knee replacements, and prosthetic limbs.
Biomedical engineering is expected to see a 6% increase by 2030, with 1,400 job openings annually.
Chemical Engineer
Chemical engineers are tasked with using technical, STEM knowledge to solve problems in the manufacturing and production of various products in the food, pharmaceutical, fuel, and other industries. They play an essential role in designing and developing chemical manufacturing processes using a high degree of math, physics, chemistry, and biology knowledge.
Although the need for chemical engineers fluctuates based on the necessity of production, it is a career path with potential due to the pursuance of alternative fuels in the coming decades.
It's estimated there will be about 400 openings per year for chemical engineers in Canada over the 10 years.
Electrical Engineer
Electrical engineers perform electronic engineering, which means they have the exciting task of bringing an electronic device to life through researching, designing, testing, and supervising the manufacturing process to create the product.
Electrical engineers work with various electrical devices and systems, such as power generation equipment, navigation systems, communications systems, and electric motors.
Over the next several years, there are expected to be about 1,800 job openings annually in the electrical and electronic engineering fields. The latter 5 years of the coming 10-year period will expect to see a slightly lower 1,350 job openings per year; however, replacement demand will become important during this time and continue to keep positions available.
Environmental Engineer
Environmental engineers typically work to help solve complex environmental issues. They use principles from the engineering industry in tandem with concepts from chemistry, biology, and soil science to design systems, housing, and other elements that help solve issues related to the environment.
Their work usually includes creating elements that affect public health, water treatment systems, waste disposal methods, air pollution, and recycling. The Government of Canada's Job Bank forecasts a surplus of work opportunities for environmental engineers between 2019-2028.
Computer Hardware Engineer
Computer hardware engineers use engineering concepts to address issues with computer systems. Essentially, they develop computer systems, including researching, designing, and testing to ensure that computer systems are running smoothly, efficiently, and securely. They deal with memory devices, networks, routers, and circuit boards, along with other computer components.
Based on expansion and replacement demand, the Government of Canada's Job Bank forecasts an expected total of 10,300 job openings between 2019-2028 for computer engineers.
Industrial Engineer
Industrial engineers are intimately involved in the manufacturing process of their chosen work setting. They are responsible for engineering systems that bring efficiency to the forefront. Industrial engineers manage these systems to integrate machines, workers, materials, information, and energy, so the produced product or service is made with as little waste as possible.
Industrial engineers will see less than 600 job openings per year over the next 5-10 years, with 70% of these openings necessitated by replacement demand. However, with only 360 degrees given annually from Canadian universities, entrants into the field may find ample employment opportunities.
Nuclear Engineer
Nuclear engineers work with nuclear energy and radiation to find ways to utilize these elements in the medical field. Nuclear engineers go through the research and development process to create instruments and systems used to benefit from radiation and nuclear energy.
Employment in the nuclear field is ideal for those seeking long-term job security. A 2019 study found that the nuclear industry accounted for 76,000 jobs in Canada, with 10 reactors in Ontario alone. Some of these are expected to remain in operation into the 2060s, requiring continual new hires in the nuclear engineering field.
Petroleum Engineer
Petroleum engineers use technical engineering knowledge to design and develop extraction methods for gas and oil. They focus on efficient, environmentally sound ways to access these deposits and extract fuels from old wells.
In Canada, most petroleum engineers work for Alberta's oil industry. There will be about 60 openings per year in this field over the next decade.
Software Engineer
Software engineers are in charge of researching, designing, and writing software programs and computer operating systems for businesses, companies, and governments. They evaluate these software systems to ensure they work correctly. Software engineers also identify weaknesses in software programs and work to make them more efficient with enhanced cyber security features.
Canada forecasts about 1,250 openings per year for software engineers over the next 5-10 years, with over half of these jobs in Ontario.
What Can Be Done for Better Engineering Education?
The Ontario Society of Professional Engineers (OSPE) is working within the engineering community. OSPE has opened a mentorship program to help more engineers get involved in the engineering community. They also changed the membership levels to be more inclusive towards graduates not currently employed as engineers who still want to be part of the engineering community.
To improve education about existing engineering fields and their growing job openings, it is helpful to join a professional engineering society or engineering association to stay up-to-date on the latest trends in engineering jobs.