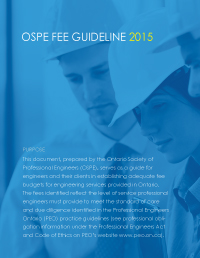 Selecting an engineering service provider is one of the most important decisions a client makes. The success of any engineered project relies on obtaining the most suitable expertise, so choosing the most qualified firm will result in a well-planned and designed project.
Published biennially, OSPE's Fee Guideline for Professional Engineering Services is prepared for use by engineers and their clients in Ontario to establish adequate fees for engineering services provided. The fees identified in the document reflect the level of service professional engineers must provide to meet the standard of care and due diligence identified in the Professional Engineers Ontario (PEO) practice guidelines (see professional obligation information under the Professional Engineers Act and Code of Ethics on PEO's website www.peo.on.ca).
To download the full version of OSPE's 2015 Fee Guideline, click here.