Whether you're a new grad, a young professional or an experienced pro, one common misconception that many of us may have fallen prey to at one time or another is that once you've got your degree – or better yet, once you've entered the job market – you're set for life.
The reality is that the job market is a competitive space, no matter what stage you're at in your career. A quick Google search on how to become and stay marketable to current and prospective employers provides an abundance of tips on how to maximize your opportunities. Three suggestions of high priority across the board are:
Networking
Taking initiative
Doing your research
As an OSPE member, you have the opportunity to put all three of these suggestions into practice in a convenient and proactive fashion at our specialized Engineering Employment Events (E3s), which provide job seekers with an exclusive opportunity to connect with hiring employers. Ask questions, make a lasting impression, and gauge whether a particular company is the right fit for you.
Our spring E3s proved to be a great success for both job seekers and employers:
Our April 7 E3 for seasoned professionals, welcomed 80 job seekers with 5 years + experience, and 12 employers looking to fill senior-level positions. Randstad also delivered an informative presentation to the participating employers on important trends and data from recent Canadian labour market studies, including the type of skills most sought after by employers. According to their data, the top top-ranking skills in demand among those surveyed were proficiency in AutoCAD and Quality Assurance (QA) procedures.
Our May 18 E3 for recent graduates and young professionals, welcomed 90 job seekers with 0 – 4 years of experience, and 7 employers looking to fill junior or entry-level positions. Mercer discussed the OSPE-Mercer Engineering Compensation Survey Program, which serves to keep you up-to-date on hiring and compensation trends across the profession. While last year's survey was Ontario-focused, this year's survey will be of national scope.
Job seekers shared their experiences online:


Employer testimonials:
"Arcon Forensic Engineers has attended several of the Ontario Society of Professional Engineer (OSPE) Engineering Employment Events (E3). As specialists in the investigation of complex and large loss insurance claims, we are looking for a very specific candidate profile and the OSPE E3 events help us to identify those candidates quicker and more cost-effectively than with traditional recruiting methods. The E3 event allows us to quickly get to the second step of the interview process by understanding the personal qualities of the candidate, in addition to their paper qualifications through a 5-10 minute conversation during our first meeting. We recommend OSPE's E3 events as a streamlined/expedited process to meet with prequalified candidates from the engineering community." – Arcon Forensic Engineers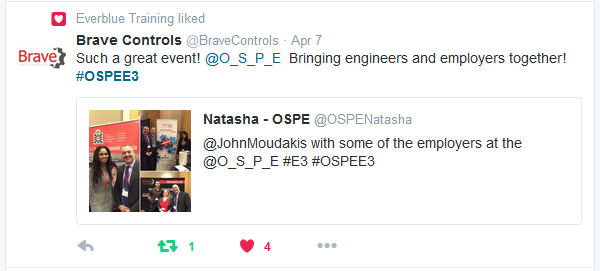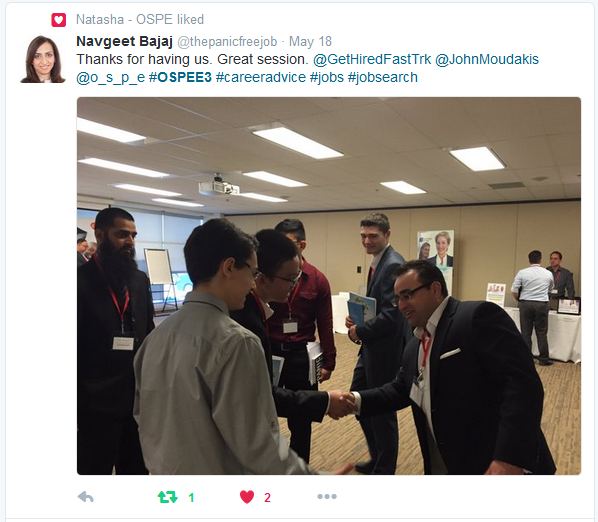 Intrigued by OSPE's E3s?
Stayed tuned for our third and final E3 of 2016, which will be held on September 14 in Mississauga. Hosted in partnership with the Ontario Association of Certified Engineering Technicians and Technologists (OACETT), the event will welcome engineering grads, licensed engineering professionals, and engineering technicians and technologists to connect with hiring employers. Don't miss out on this great networking opportunity!
Employers register here.
Job seekers, check here for updates on participating employers.
Not a member yet? Click here to become a member and start taking advantage of the career services that OSPE is ready to offer you.