It's been two months since the launch of OSPE's new and improved Career Centre. Since then, we've helped match loads of qualified engineers with employers from all over Canada.
No matter your discipline or what stage of your career you're in, our Career Centre will match you with an employer that's right for you.
Here are the TOP 7 reasons you'll find your next job on OSPE's Career Centre:
1. OSPE's Career Centre pulls jobs from all over the web!
Unlike our previous job board, our new Career Centre pulls jobs from external sources, as well as providing you with tailored postings from OSPE's network of employers, to deliver you more options when looking for your next role. This creates a one-stop shop for all job seekers, meaning that you no longer have to navigate between different accounts and websites for your job search—putting all your attention on what's important!
2. Jobs are posted from all over Canada
We may be the Ontario Society of Professional Engineers, but that doesn't mean we want to limit where our engineers can find work! Since the new Career Centre pulls jobs from external sources, we've got a lot of out of province, and even some out of country options for those individuals looking to start a new chapter.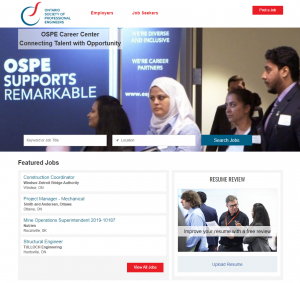 3. Get a FREE resume review when you sign up
Has it been a while since you applied to a new job? Do you have new work experience you're looking to add to your resume, but are unsure how to translate it properly onto the page? Well, when you upload your resume for employers to find, you will receive a free resume review as well!
The resume review will ensure your design is up to date, and your most important skills are highlighted—crucial factors in a job market!
4. Personalized job email notifications
Our new Career Centre allows you to set alerts for yourself based on the kind of job you're looking for. Whether it be by specialization, keyword, career level, or even location, set your preferences in the Job Alerts section to be notified anytime a posting matching your needs gets posted.
5. Short on time? Save job applications for later
If you've found a posting that you like, but don't have the time to apply to it right away, click the star in the top right-hand corner of the post. That will save the job for later. Once you're ready to apply, go to your "My Account" dashboard and you'll see all of your saved jobs at the bottom of the screen.
6. Stay up to date on the latest postings
Subscribe to OSPE's Job Flash email newsletter. It won't be as tailored as your Job Alerts, but this biweekly email will outline all the latest postings so you never have to miss out on new opportunities! Subscribe and get the head start on your application.
7. Connect directly with employers on OSPE's Career Centre
If an employer likes your application, they can contact you directly on our Career Centre. Just go to "My Contact Request" in your account dashboard to see which employers are interested.

We hope that everyone is able to find their next role on the OSPE Career Centre. If you run into any issues on the site, as always, be sure to contact us.