On the surface, the Toronto Rehabilitation Institute (TRI) might look like any other hospital in the heart of Toronto's Discovery District. But, within the doors of Canada's largest academic hospital for adult rehabilitation and complex continuing care, you'll discover the centrepiece of TRI's research facilities – the iDAPT Centre for Rehabilitation Research (iDAPT).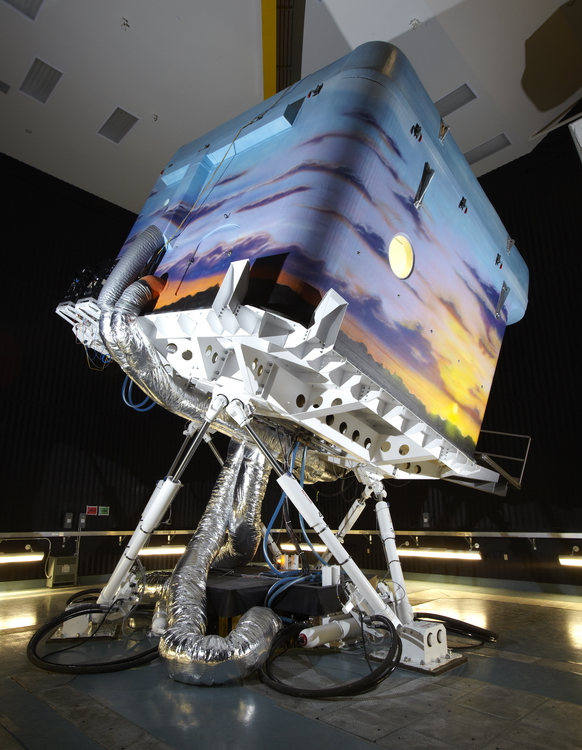 iDAPT is a unique space where ideas can be cultivated and tested in real-life settings to help solve problems related to the prevention of disability, the restoration of function following injury or illness, enabling independent living and the optimization of the rehab system.
Head 50 metres below the hospital, and there lies the iDAPT Challenging Environment Assessment Laboratory (CEAL), a group of one-of-a-kind biomechanics and simulation laboratories. OSPE recently had to the opportunity to visit this massive underground lab, which includes the world's first 6-degree-of-freedom hydraulic motion platform that can be configured with portable, self-contained labs or "pods," each featuring its own customizable testing environment. Here, researchers are able to safely and accurately measure difficulties encountered in the real world and evaluate the impact of new treatments and technologies developed at Toronto Rehab.
Let's take a closer look inside three of TRI's iDAPT CEAL labs:
StairLab
The StairLab is a controlled environment with a fully instrumented staircase for examining safety standards and injury prevention with regards to stair design. Researchers are able to test a variety of design variables, such as stair depth, tread width and material, or handrail height and width, to study people's body movements and mechanics when climbing up and down stairs. By fitting test subjects with a robotic harness, researchers are able to safely shift the customized stairs to examine how subjects fall, or recover from a fall, on stairs to develop better staircase designs and mobility devices.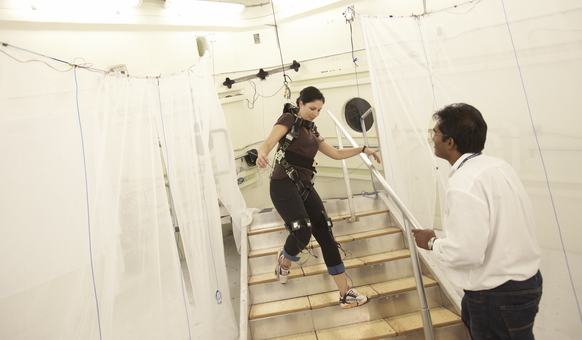 To facilitate accurate data collection during an experiment, every CEAL lab is equipped with state-of-the-art motion capture systems, eye-trackers and force plates. In the case of the StairLab, force plates embedded in the stair treads allow researchers to measure ground forces as study participants take each step. Load cells in the handrails measure the amount of pressure applied by participants while they climb the stairs or attempt to save themselves from a fall. Surround sound systems afford a means for additional data collection and allow control engineers or researchers who develop, code and monitor the program protocols to communicate with the test subject and/or research assistant who are inside the lab during an experiment.
In addition, reflective markers on the stair platform and lab floor are used to provide researchers with a full frame of reference when examining participant activity on the stairs via the lab's cameras. Participants also wear reflective markers that allow researchers to track joint movements during testing.
Research conducted in TRI's StairLab has proven to have practical applications for improving building codes and construction standards. For example, based in part on evidence from hundreds of tests in this controlled environment, the regulated tread width for stairs was increased by two inches in the Ontario Building Code, a modest change that is expected to save 39 lives and prevent 13,000 serious injuries by 2020.
WinterLab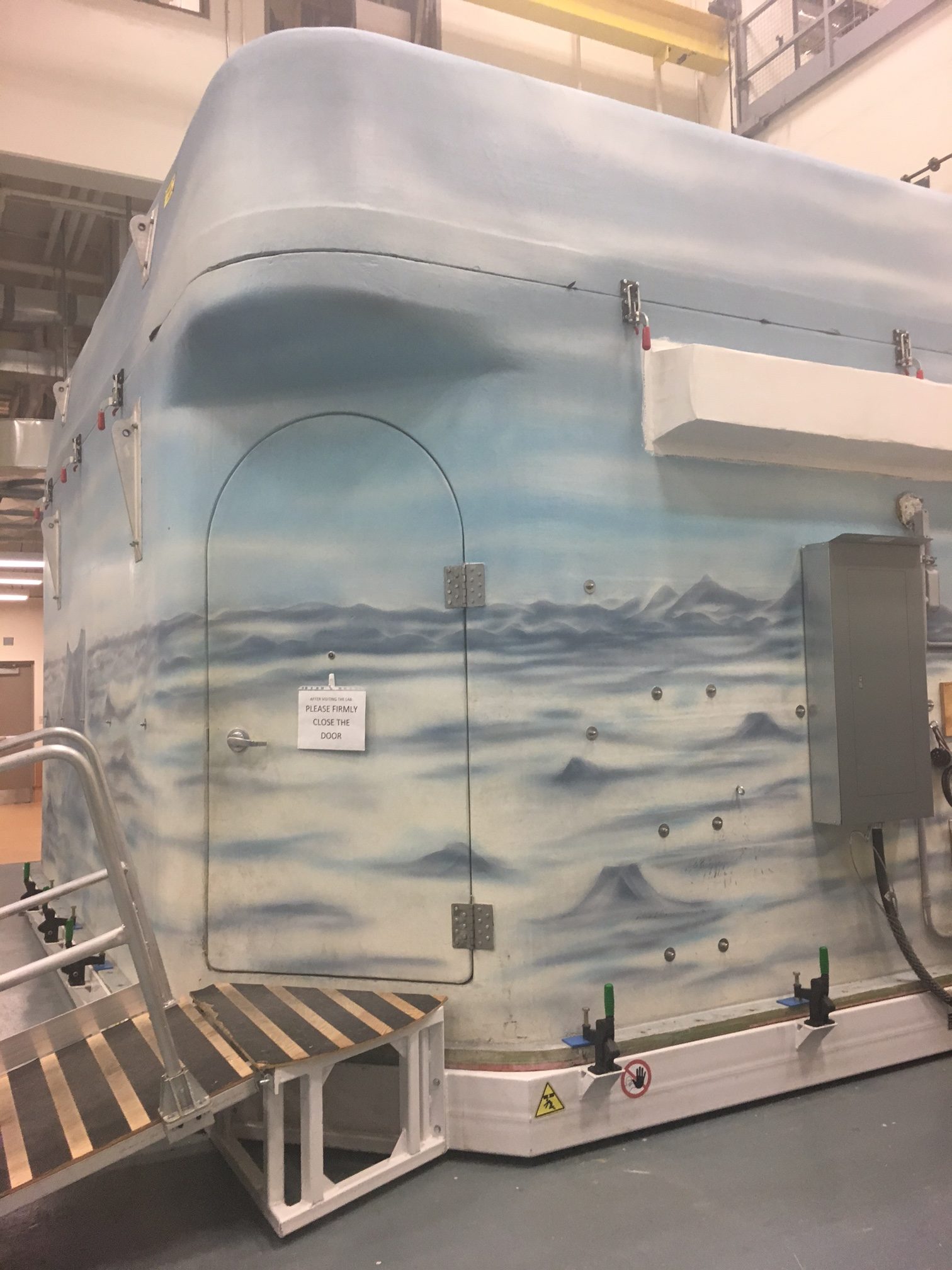 Because winter is a challenging experience that Canadians deal with annually, the WinterLab allows researchers to run safe and controlled tests in various winter conditions year-round, in a way that nature simply doesn't allow. Equipped with a snow machine and temperature controls, researchers can test winter conditions that range from 30 kilometre per hour winds and varying amounts of snow, to dry versus wet ice.
In the WinterLab, researchers can therefore develop and test the performance of winter clothing, footwear and mobility devices under various conditions. Currently, researchers have developed a standardized protocol for testing the performance of different brands and designs of winter footwear. By tipping and shifting the WinterLab, researchers can also gauge factors like the slope or angle at which the tread of a given pair of shoes loses the friction participants need to walk safely without slipping or falling in a different of winter conditions.
With this type of data, researchers and industry partners can not only develop shoe soles made of different materials and with different tread designs for maximum effectiveness for the winter, but they can also work towards developing a standardized rating system that would help consumers make informed purchases. In fact, this fall, WinterLab launched a website publishing all of the data from their winter boot testing online in a convenient format for consumers.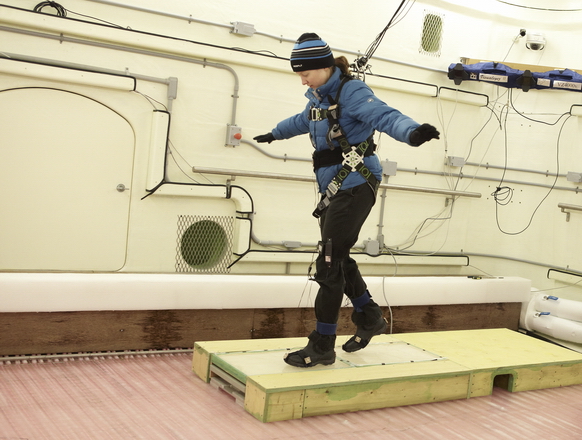 DriverLab
The DriverLab is the newest of the CEAL labs. The lab is currently undergoing testing to ensure the standardization of all data collection before researchers begin running full experiments within this multi-sensory environment. To date, TRI's DriverLab is the most realistic driving simulator available in Canada.
Featuring the base of a real Audi vehicle that is mounted on a turntable, the whole car turns when study participants use the vehicle's steering wheel in the simulator. The lab is encased by a floor to ceiling curved projection screen that displays 360 degrees of high resolution 3D images of actual highways and local roads. Participants are immersed in a full streetscape that is projected from all angles, including in the vehicle's rear view mirror. This realistic visual imaging system is supplemented by high-quality surround sound and moveable interfaces that allow researchers to manipulate various environmental features.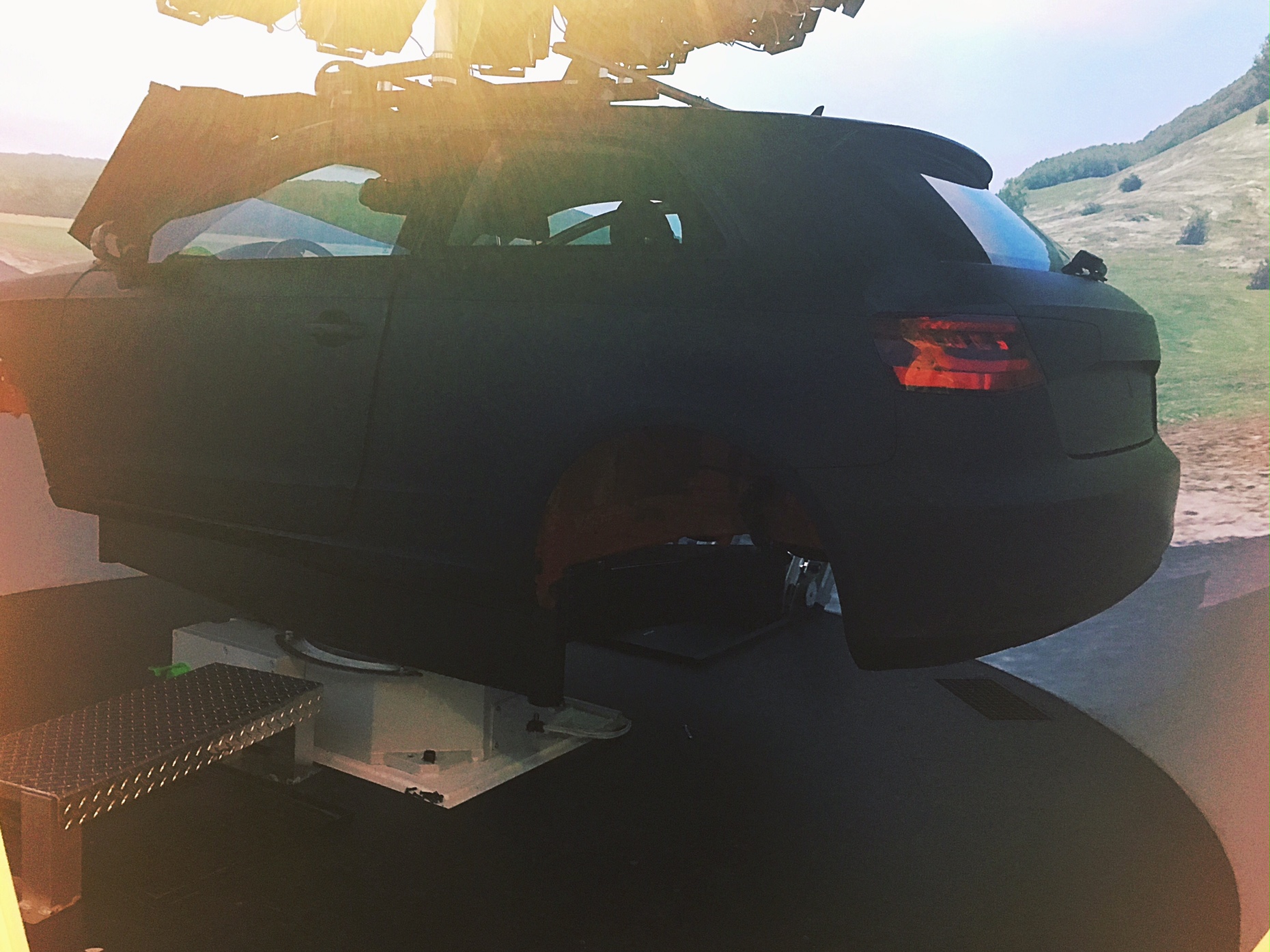 Furthermore, an adjustable lighting and sprinkler system allows researchers to test different combinations of driving conditions, including daytime and nighttime driving, and participants' responses and reaction times to variables like oncoming headlights or rain. Researchers can also adjust everything from the number of virtual cars on the road, to the number of traffic lights or pedestrians.
In the future, the DriverLab could be used to explore things like viable modifications to the licensing system in Ontario. Losing a driver's licence — whether from age, injury or medical illness — can be devastating for a person's independence. Being able to test practical options for a modified de-licensing system that would allow these individuals to safely reobtain or keep their licence by driving under certain restricted conditions, could greatly improve the quality of life for many Ontarians.
You can learn more about the iDAPT Research Centre in the September 2016 issue of The Voice magazine.
Plus, visit these pages for more information on the Toronto Rehabilitation Institute (TRI), the iDAPT Research Centre or the Challenging Environment Assessment Laboratory (CEAL).