J. Paul Santerre, PhD, P.Eng., FBSE, FAIMBE, FAAAS, FCAHS
Professor, University of Toronto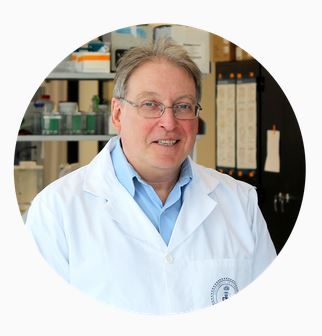 As a leader in biomaterials and polymer science, Dr. Paul Santerre matched his research on medical polymers and regenerative medicine with an entrepreneurial spirit to found Interface Biologics—a biotechnology company that builds on his extensive work on biomedical polymers and their application for medical devices, with a specific focus on blood-contacting materials and drug delivery applications.
A professor in the Institute of Biomaterials and Biomedical Engineering at the University of Toronto, Dr. Santerre has led Interface Biologics to become a true Canadian success story—particularly with the commercialization of its EndexoÔ family of anti-thrombogenic polymer additives. Medical catheters made with the firm's Endexo-modified polyurethanes captured 45 per cent of the company's Canadian market sales within one year of its launch. More importantly, the technology prevents blood clotting on medical instruments like catheters, vascular grafts and dialyzers—an enormous problem that reduces the service life of these devices and threatens patient safety. The company now boasts $5 million in annual revenues while employing 26 chemists and chemical engineers in its Toronto facilities.
In addition to his industrial and medical contributions, Dr. Santerre led the Institute of Biomaterials and Biomedical Engineering as director from 2008-2013. He has helped develop and mentor the next generation of biomedical engineers, turning young undergraduate and graduate students into engaged, highly motivated and creative independent researchers and engineers. Many of these individuals are now active in Interface Biologics initiatives or have launched their own start-up companies.
​
A tireless proponent of innovation and entrepreneurship, Dr. Santerre conceived and helped launch a new professional graduate program in biomedical engineering that trains engineering students to form start-up companies and bring their own ideas to market. As co-founder of the University of Toronto's Health Innovation Hub, he helps to expose trainees (ranging from undergraduate students to clinical residents in hospitals) to the process of entrepreneurship, mentors them and introduces them to investor and key opinion leader communities with a health care focus. The initiative grew from seven companies in its first year of operation to over 70 health care start-ups being supported over the past three years, assisting now more than 30 client companies.
Learn more about the Ontario Professional Engineers Awards (OPEA) Gala.