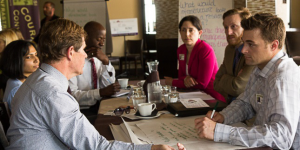 The Ontario Coalition for Sustainable Infrastructure (OCSI) brings together the combined resources of six well-established organizations to work toward sustainable infrastructure in Ontario. The coalition comprises: Municipal Engineers Association (MEA), Municipal Finance Officers' Association of Ontario (MFOA), Ontario Good Roads Association (OGRA), Ontario Public Works Association (OPWA), Ontario Water Works Association (OWWA) and Water Environment Association of Ontario (WEAO).
The mission of OCSI is the promotion of "Safe and Sustainable Infrastructure". To that effect, the Ontario Coalition for Sustainable Infrastructure hosted the 2015 Courageous Conversations Infrastructure Forum on May 26 to open up the conversation.
Leaders from 20 organizations within the municipal and public works sectors in Ontario met in Toronto on May 26, including representatives from the province to discuss some of the funding and fiscal challenges to building resilient communities. Three provocateurs contributed significantly to the conversations: Glen Murray, Minister of the Environment and Climate Change; Mel Cappe, representing Canada's Ecofiscal Commission; and Gerry Lashley from Intact Insurance.
OCSI has since released the Outcome Statement from the 2015 Courageous Conversations Infrastructure Forum. The outcome of the day was four "Big Ideas" for building resilient communities:
Identifying the economic benefits of climate change mitigation and adaptation
Encouraging innovation by municipalities
Supporting leadership by the Province
Planning and funding for resiliency
"Climate change has become a reality for many communities in Ontario who are dealing with intense rainfall and flooding," stated Carl Bodimeade, Chair of OCSI. "The emerging challenge (and opportunity) is how we prioritize and fund the required infrastructure improvements to make our communities more resilient."
OCSI will continue the conversation and discussions of these four "Big Ideas", moving them from ideas to actions. The Outcome Statement is available on the OCSI website.