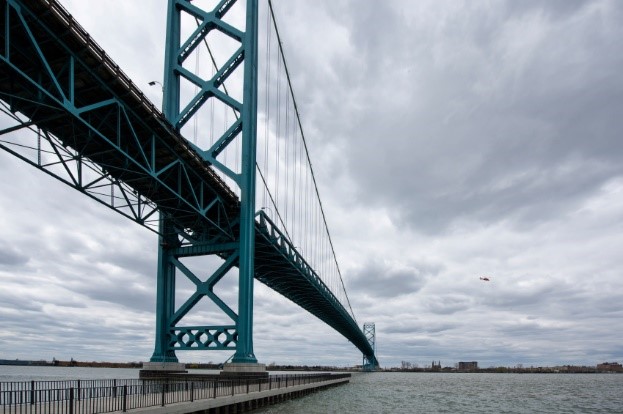 As any Ontarian knows, Ontario is home to many beautiful bodies of water. From the greatest of the Great Lakes to the noble rivers that bring water to our towns, Ontario is filled with some truly magnificent waterways. And what's more impressive than water? An amazing bridge over top of it!
Thanks to its many bodies of water and its large border with the United States, Ontario is also home to lots of great bridges. We've put together a list of 5 of the most impressive and intriguing bridges that our province has to offer. Let's take a look!
Rainbow Bridge
While 'Rainbow Bridge' might conjure up images of a secret Mario Kart level, it's actually the name of the bridge that connects Niagara Falls, Ontario to Niagara Falls, New York. Rainbow Bridge is 4 lanes wide and spans a total length of 440 metres.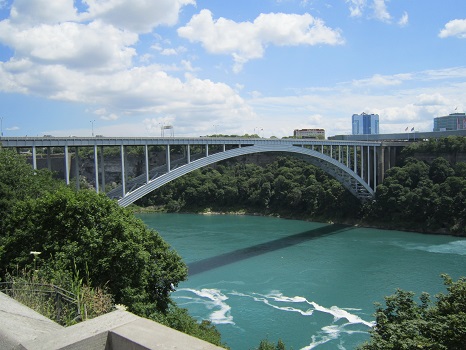 Sitting just downstream from the mighty Falls, the Rainbow Bridge began construction in 1940, shortly after the collapse of the Honeymoon Bridge (the structure that had previously connected these two identically named cities). To ensure that the newly constructed bridge didn't suffer the same fate, Rainbow Bridge was constructed with its abutments and approach spans on top of solid rock at an appropriate height within the gorge. In total, it took over 5500 tons of steel to complete the bridge.
So, why call it Rainbow Bridge? The actual origin of the bridge's name is still up for debate. While some say that it's due to the rainbow that often sits over the Falls, others credit it to a delivery boy's mistake that somehow stuck permanently.
Humber Bay Arch Bridge
The Humber Bay Arch Bridge is definitely not the longest bridge on our list – it stretches a modest 130 metres across the Humber River. However, this mixed-use pedestrian/bicycle pathway is a gorgeous example of engineering flawlessly integrating with the natural world around it.
Built in 1994, the Humber Bay Arch Bridge consists of two massive white steel pipes, bent into arches and gripping the deck of the bridge with a series of 44 stainless steel hangers. Much like the other bridges on this list, this bridge forms a connection between two separate places – although, in this case, it's the core of Toronto and the inner suburb of Etobicoke.
Thousand Islands Bridge
The Thousand Islands Bridge is huge – 1014 metres in total, to be exact. Connecting Ganonoque, Ontario to Alexandria Bay, New York over the majestic St. Lawrence River is no easy feat, but the Thousand Islands Bridge definitely takes it in stride.
Construction of the bridge was completed in 1938 with over 6550 tons of steel, 30 000 barrels of cement, and 575 000 hours of labour used in total.
4. Peace Bridge
A simple and elegant name for a simple and elegant bridge. The Peace Bridge connects Buffalo, New York to Fort Erie, Ontario and outruns even the Thousand Islands Bridge at a whopping length of 1091 metres. It's one of the busiest border crossings in Canada, second only to the Ambassador Bridge, meaning that over $40 billion worth of trade travels across the Peace Bridge every year! Talk about a bridge that pays for itself.
Ambassador Bridge
The Behemoth. The Big Kahuna. The Ambassador Bridge. Built in 1929, it truly is a sight to behold to this day.
This massive crossing clocks in at an impressive 2286 metres, completely eclipsing the other bridges on this list. As mentioned above, the Ambassador Bridge is the busiest border crossing in all of North America – it's responsible for 25% of all US/Canada merchandise trade! Stretching between two historical titans of industry – Detroit, Michigan and Windsor, Ontario – the Ambassador is one of the most profitable bridges in the country.
The bridge consists of 21 000 tons of steel lifted 46 metres above the Detroit River by two main towers that dive as deep as 35 metres below water level. The Ambassador Bridge is truly an engineering marvel and represents a symbolic connection between Ontario and our neighbours to the South.
Did we miss any of your favourite Ontario bridges? Leave us a comment below and let us know! We'd love to hear from you.