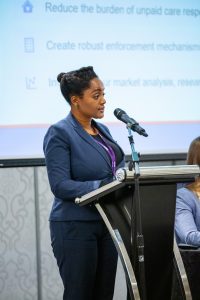 On July 8, OSPE's President and Chair, Réjeanne Aimey, P.Eng., hosted our very first virtual town hall for OSPE members to learn more and ask questions about our recent submissions to the provincial and federal governments.
These submissions highlighted how the province and country can recover economically from COVID-19 and the roles that engineers and the engineering profession will play in this recovery. You can view our submissions here, under the Government Submissions tab.
The engineering community believes that Ontario and Canada's economic recovery plan requires short-term investments in key sectors that will propel our province and country to continued growth in the next months and years to come. These measures should support technologies that drive efficiencies and reflect the work force reality post COVID-19.
OSPE and the engineering profession's commitment to safeguarding public interest is especially important in these uncertain times. Engineers have responded to the COVID-19 crisis by uniting to retool, pivot, and otherwise discover innovative solutions to this pandemic. We are proud to see engineers focus on leading the way over the last few months.
Our town hall provided a summary of the recommendations put forward through our immediate and short-term submissions to all in attendance. Our President and Chair, then took the time to answer some of the pre-submitted questions as well as questions from the live audience. You can read the full transcript of the Q&A portion here.
Participants then had the opportunity of rating the importance of each of OSPE's recommendations through question polling. Below are the polling questions and the results.
We would like to thank all OSPE members that participated in our virtual town hall! Stay tuned for announcements on future virtual town halls.
If you have any suggestions on issues that OSPE should be advocating for, please contact us at advocacy@ospe.on.ca