While the saying goes to "follow the yellow brick road", here at the Ontario Society of Professional Engineers (OSPE) – we follow the yellow tags.
On September 20, 2016, OSPE launched its first official public awareness campaign, inviting the general public and all OSPE members and partners from across Ontario to participate in promoting and celebrating the engineering profession. Beginning on the 20th, participants were asked to:
Tag an object or structure that an engineer was involved in creating with one of OSPE's specially designed #AnEngineerWasHere tags
Take a photo of the designated feat of engineering
Share the photo on social media with the hashtag #AnEngineerWasHere

We are thrilled to report that the #AnEngineerWasHere campaign was a great success thanks to the active participation of our dedicated members and partners, as well many new contacts who enthusiastically joined in online.
The #AnEngineerWasHere campaign was designed to remind Ontarians that engineers make the world 'work'. Where and how you live, travel, learn and experience the world is made possible by the expertise of engineers. From soaring towers and city grids to cars, phones and computers, the work of engineers impacts almost every part of daily life.
On September 20, OSPE also brought the public awareness campaign onto the streets of Toronto to further contextualize the critical role that the engineering profession plays in society. Home to the CN Tower – one of Canada's most iconic feats of engineering – and with more high-rise buildings under construction than any other North American city, Toronto seemed to be a fitting backdrop for the launch of the campaign.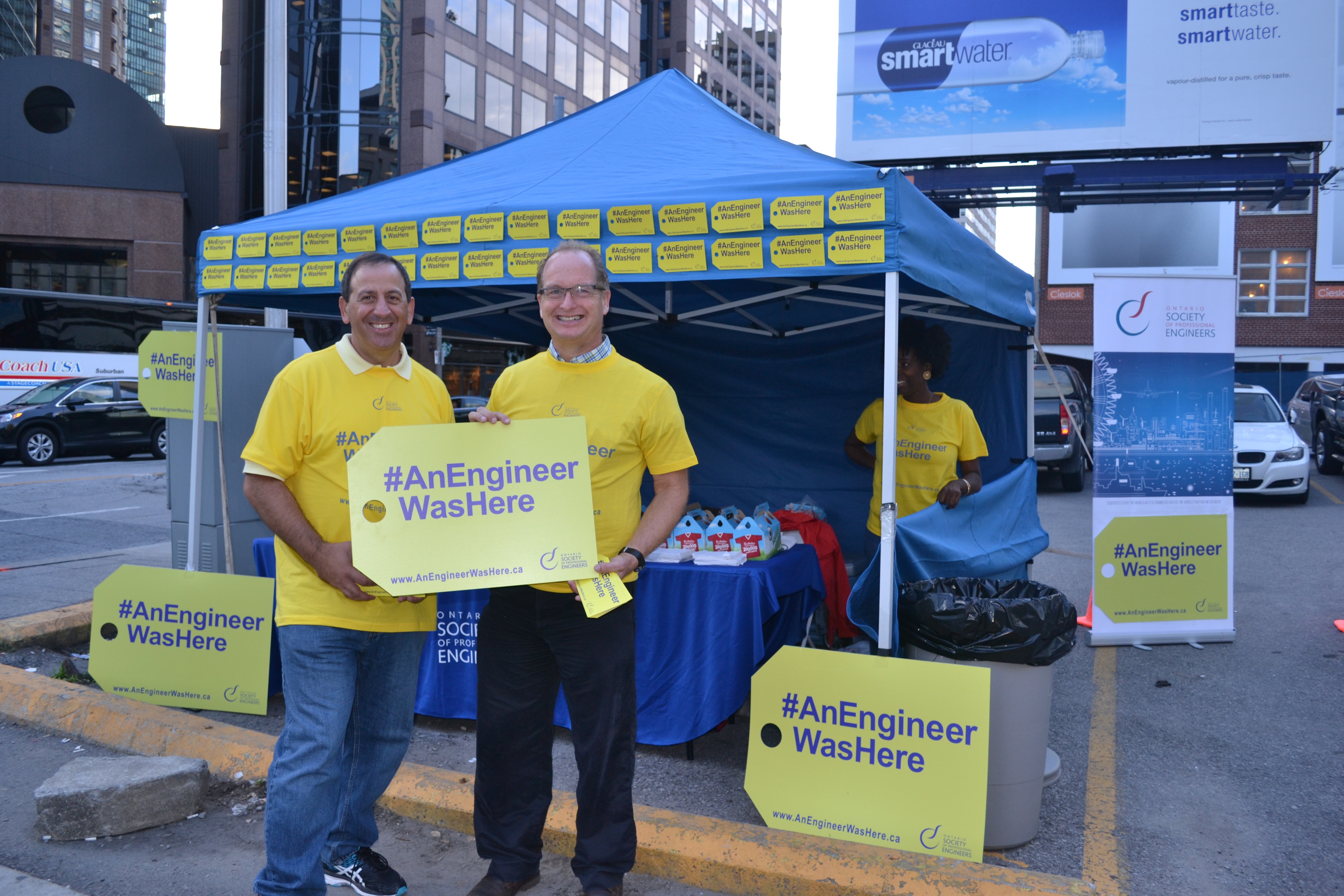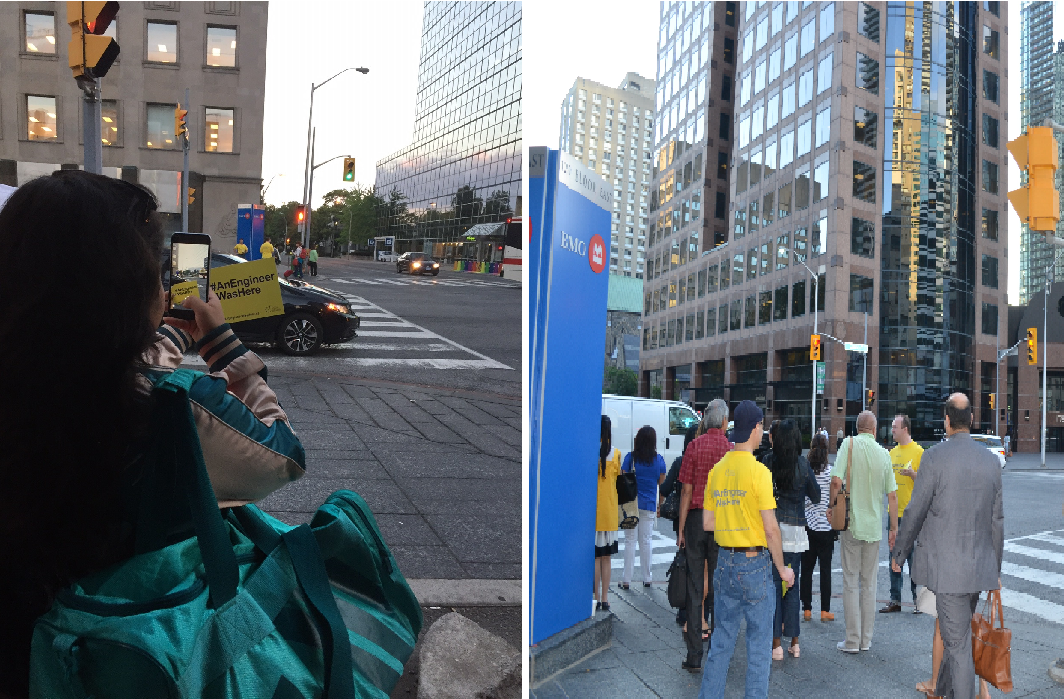 Interacting with passersby at the busy intersection of Church and Bloor streets in the heart of Toronto, the OSPE team handed out free coffee, doughnuts and #AnEngineerWasHere tags to generate greater excitement and awareness about the technical expertise and problem solving skills that engineers possess. Ads on TTC subway screens and radio ads on NEWSTALK 1010 and 680 News further expanded the reach of the campaign and directed people to www.anengineerwashere.ca for more information on what it means to be an engineer in Ontario.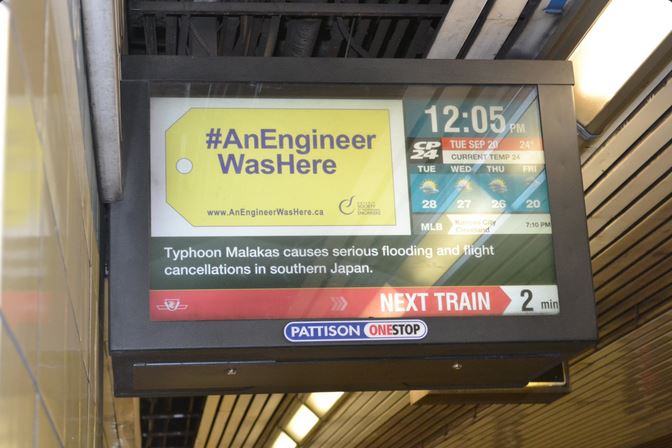 Have a listen to one of three OSPE ads that aired on NEWSTALK 1010 last week:
One of OSPE's main goals is to move the engineering profession into a position of leadership – where it plays a proactive role in helping confront global challenges like climate change, sustainability and population growth. Currently, engineers are not adequately consulted regarding the issues facing Ontario and Canada, so OSPE is working to remind government that it needs to appreciate and consult with engineers before critical decisions are made. Part of doing so means spreading general awareness about engineers' expertise in functions like planning, systems integration, and total life-cycle costing, each of which are paramount to the success of modern public policy.
A step in the right direction, OSPE's small but mighty #AnEngineerWasHere tags made a big splash online. Participants ranging from influential political figures like Toronto Mayor John Tory; MP Jamie Shmale; Leader of the Official Opposition, Rona Ambrose; Former Leader of the Official Opposition Tim Hudak; MPPs Jim McDonell, the Honourable Kevin Flynn and the Honourable Glen Murray; and Jake Skinner, Thames Valley District School Board Trustee and Ontario PC Nomination Candidate in London West, all shared their appreciation for the contributions of Ontario's engineers on social media using #AnEngineerWasHere.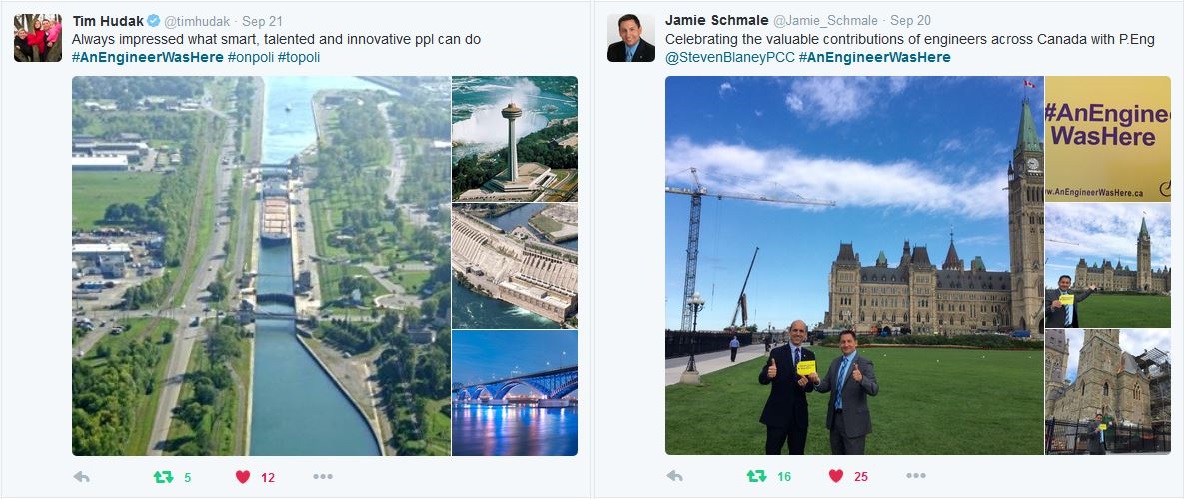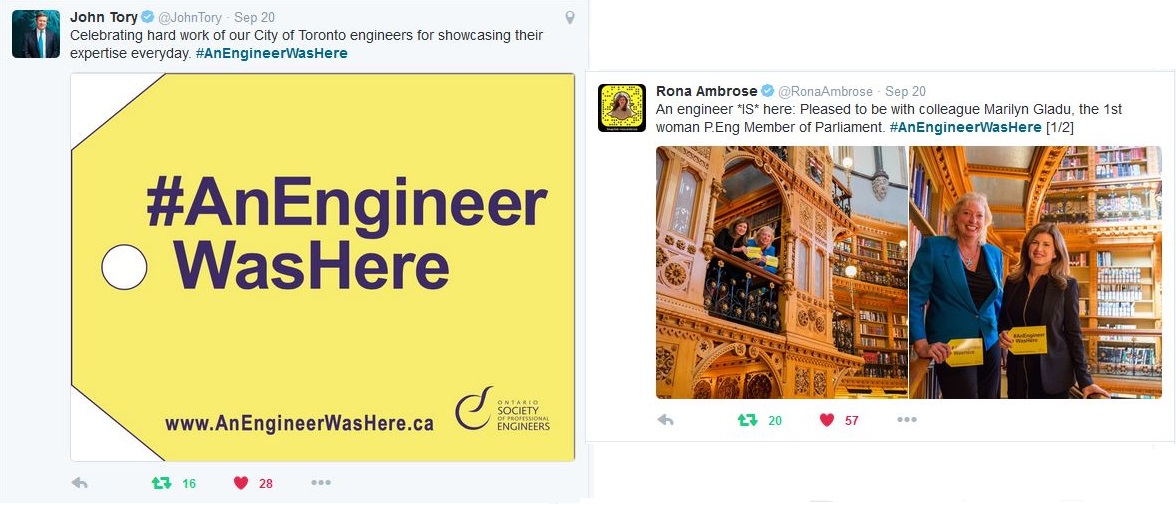 A number of Ontario's engineering schools and student engineering societies also shared their unique photos, demonstrating students' eagerness to contribute to the profession and to society as a whole.


Other notable participants that helped spread the campaign messages included engineering employers like the CN Tower; Siemens Canada; Metrolinx; Xerox; Hatch Global; RV Anderson; the Ontario Mining Association; and the Conservation Division of the Canada Science and Technology Museum, Canada Aviation and Space Museum, and Canada Agriculture and Food Museum in Ottawa; among many more.


The Numbers
OSPE's members and partners have been extremely creative as they help us build an extensive photo gallery of engineering feats representative of the diverse fields of the profession – a gallery which continues to grow every day.
On September 20th alone:
A total of 430 tweets, 169 Facebook posts and 40 Instagram photos were shared with the hashtag #AnEngineerWasHere
On-site at the Church and Bloor activation, the OSPE team interacted with nearly 12,000 people, sharing the campaign messages
The OSPE team distributed approximately 3,000 #AnEngineerWasHere tags with additional campaign information
Tweets using the hashtag #AnEngineerWasHere reached an audience of close to 400,000, with over 814,000 impressions
On Instagram, total engagement (favourites and comments) was about 2,000 and on Facebook, total engagement was approximately 2,270 (likes, shares and comments)
OSPE acquired a total of 86 new followers across its Twitter, Instagram and Facebook channels
There were 548 sessions on AnEngineerWasHere.ca and 767 sessions on ospe.on.ca
#AnEngineerWasHere… Today & Everyday
 OSPE would like to thank everyone who has helped share the #AnEngineerWasHere hashtag online over the past week. We encourage you to keep the conversation going by continuing to use #AnEngineerWasHere to share posts that highlight the work and expertise of engineers on all of your favourite social media channels. Since the work of engineers impacts our lives everyday, let's continue to show our appreciation for the profession by reminding all Ontarians that everywhere they look, #AnEngineerWasHere!
Visit AnEngineerWasHere.ca for more information and to get your #AnEngineerWasHere tags.