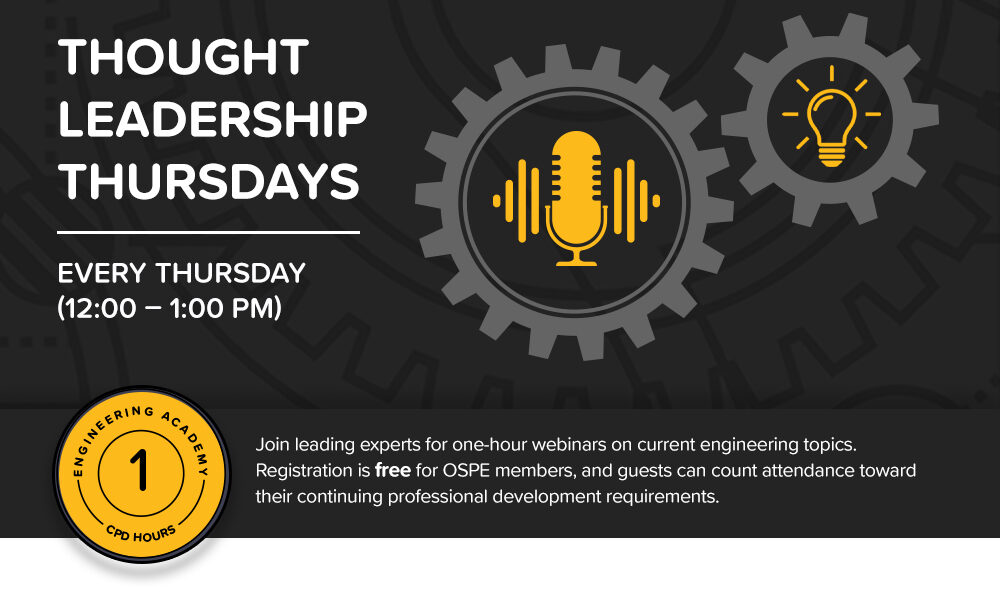 The following webinars are currently scheduled, with

many more to come

:
September 14 – Sustainable Cybersecurity for Engineers
September 28 – Legacy Petroleum Wells – Challenges & Opportunities
October 5 – Physical Security During the Rise of the Machines
October 12 – Understanding the Challenges Facing the Ontario Electrical System
October 19 – Risk-Based Infrastructure Planning
October 26 – Engineering Designs and Chemical Safety: A Vital Duty for Professional Engineers
To register please click here.
Is there a topic you'd like to see a webinar on?
Do you have expertise to share with the OSPE community?
CPD requirements are set by Professional Engineers Ontario. Based on our understanding of those requirements, OSPE offers a number of activities and courses designed to help the engineering community meet those standards. However, PEO does not endorse or validate any providers at this time. Further, all participants in OSPE programs should consider the requirements of their discipline/practice area in managing their individual CPD strategies.