On January 23, 2020, OSPE was invited to deliver recommendations to the Standing Committee on Finance and Economic Affairs, ahead of Ontario's 2020 Budget. OSPE CEO Sandro Perruzza had the honour of sharing the priorities of Ontario's engineering community. Click here for a full transcript of the day, including the Q&A period with Sandro.
OSPE's presentation and message was clear: Engineers Create Wealth.
Engineers do so through the development and commercialization of new technologies that are then exported to global markets and attract foreign direct investment in Ontario.
Ontario is experiencing a fundamental technological and economic shift. This creates demand for a highly skilled, specialized workforce that engineers can fulfill.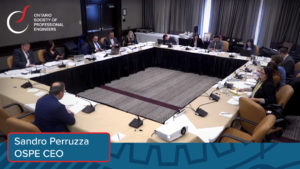 Engineers will lead these industries into the future. Engineers understand innovation and the reality of Ontario's financial and fiscal future. Engineers believe in the importance of investing and developing key sectors that will provide high returns and contribute broadly to the wellbeing of Ontarians. Engineers are inventive thinkers who develop comprehensive solutions that consider costs, benefits, sustainability and public safety—the complete lifecycle and integration of projects.
OSPE's recommendations are in line with this thinking. Engineers can drive the economy while protecting the environment and the public interest. Ontario's engineers are redefining their role as visionary leaders, capable of innovating to find holistic top-to-bottom solutions that consider all aspects of a project.
Summary of OSPE's Recommendations for the 2020 Ontario Budget
Engineers Make Life More Affordable
Implement new regulations where surplus emission free electricity is priced separately from dependable electricity.
Engineers Preserve and Protect the Environment
Modernize the Building Code.
Develop a policy on plastic use, including a ban on single use plastics.
Increase electric vehicle adoption.
Invest in hydrogen technology.
Tackle flooding, stormwater and watershed management challenges.
Ensure safe drinking water is available for all Indigenous Communities.
Invest in small modular reactors.
Encourage the use of Distributed Energy Resources
Engineers Connect People to Places
Transform and Improve the transit system governance and infrastructure investment process.
Become a leader in connected and automated vehicles.
Engineers Make Ontario More Competitive
Develop the Ring of Fire.
Create a data governance framework.
Invest in growing the advanced manufacturing sector.
Foster a diverse and skilled labour force.
Address the skills gap in STEM.
Address the underrepresentation of women and other equity seeking groups within engineering.
These recommendations are essential for the continued economic prosperity of our province. Ontario's engineering community is ready to engage and provide solutions!
The Government of Ontario will release its budget in late March. Stay tuned for our analysis of this upcoming budget and our assessment of how it will impact the engineering community.