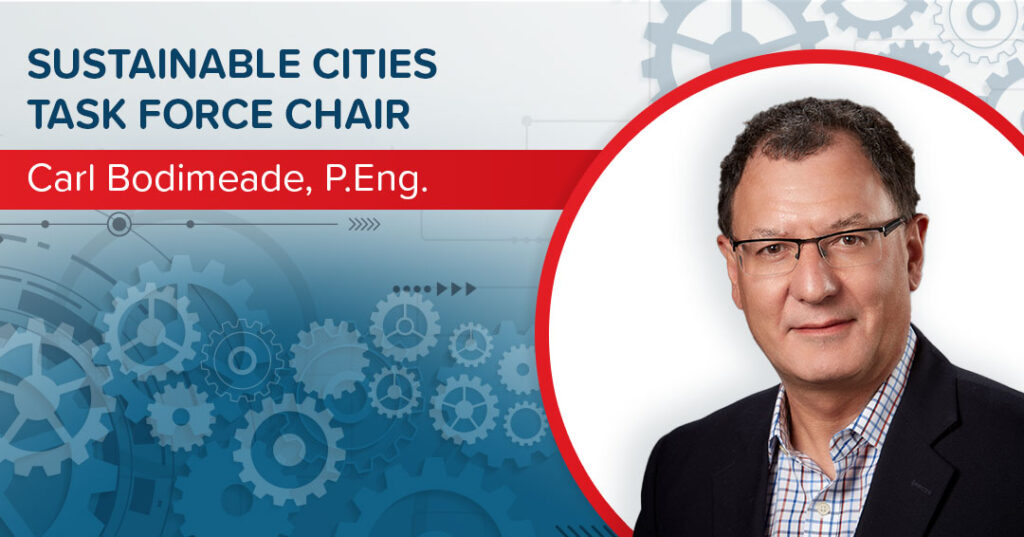 OSPE is pleased to announce the appointment of Carl Bodimeade, P.Eng., as Chair of the Society's Sustainable Cities Task Force. Carl brings decades of engineering and project management experience to this role, and begins his one-year term in January 2023.
---
Over the course of his career, Carl has planned a wide range of projects in the water and wastewater, urban infrastructure, brownfield development, and power sectors. He frequently serves as a panelist and moderator for discussions on infrastructure funding, sustainability, and urban resiliency. In addition to his work with OSPE, Carl also chairs the Canadian Water and Wastewater Association's Utility Leadership Committee, and previously chaired the Ontario Coalition for Sustainable Infrastructure.
The Sustainable Cities Task Force was formed in 2022 through a merger of OSPE's Environment and Infrastructure Task Forces. Its key areas of focus are promotion of green building retrofits, concrete aggregate reuse, and adoption of Qualifications-Based Selection in Ontario. Carl thanks Dave Carnegie, P.Eng, and Oliver Xiao, P.Eng – the previous chairs of the Environment and Infrastructure Task Forces – for their leadership, and looks forward to continuing OSPE's work in these important areas.
For more information, view the complete list of OSPE's Committees, Task Forces and Working Groups.