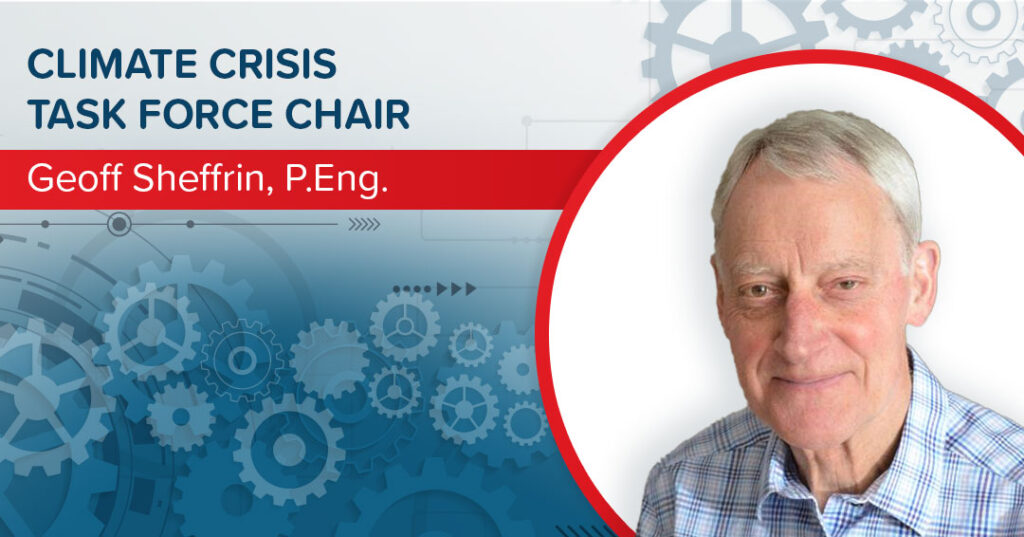 OSPE is pleased to announce the appointment of Geoff Sheffrin, P.Eng., as Chair of the Society's Climate Crisis Task Force. Geoff began his one-year term in January 2023, and brings extensive experience in management, consulting and engineering to the role.
---
Along with graduate degrees in mechanical and manufacturing engineering, Geoff's resume includes senior executive positions in the pharmaceutical, food and cosmetics industries. He also has over 20 years of consulting experience in process engineering, manufacturing, and technical and strategic management.
Geoff is a committed climate activist, having previously discussed the topic on OSPE's podcast and in a plenary session at our 2022 Engineering Conference. He also launched his own podcast (Mother Nature Doesn't Give a Crap) in 2022.
The newly-formed Climate Crisis Task Force is focused on supporting sustainable infrastructure solutions and green initiatives in Ontario's long-term energy plan (including electric vehicle adoption, green power grid infrastructure, and sustainable nuclear power options.) Geoff looks forward to leading OSPE's work in these critical areas, and equipping OSPE members to combat the climate crisis.
For more information, view the complete list of OSPE's Committees, Task Forces and Working Groups.