On March 10th, 2020, the Ontario Society of Professional Engineers hosted a panel discussion and networking event on Remotely Piloted Aircraft Systems (RPAS) in partnership with Downsview Aerospace Innovation and Research. The purpose of the event was to discuss the current state of the RPAS industry in Ontario and Canada at large, while exploring the role that governments, higher education institutions, and industry must play to ensure the continuous role of this sector.
Alongside growth comes a new set of technical and social challenges affecting the economy, environment, and society. As such, engineers must take a leadership role to ensure that public interest is protected, while also promoting the socio-economic benefits of these new technologies.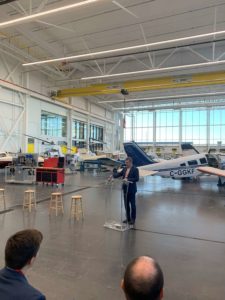 The event began with a presentation from Jonathan Hack, P.Eng., who served as a OSPE past President and Executive Director and is currently working in Applied Research, Innovation and Entrepreneurship Services (ARIES), at Centennial College. Hack discussed the importance of consortiums such as DAIR to strengthen Canada's aerospace sector by increasing collaborative research and development, accelerating technology adoption, and addressing the projected skills shortage in the aerospace industry. He outlined the importance of aerospace to Ontario's economy, as it contributes over $3 billion annually in direct GDP impact, is home to over 200 aerospace companies, employs 25,201 employees (direct) with another 19,688 (indirect), and has a significant export market (to customers and project partners around the world). Hack rounded up discussed the role that Centennial College and others play in research and innovation. As an example, he mentioned the Centennial College, Safran Landing Systems and Bombardier / De Havilland Aircraft of Canada collaborative project to investigate next generation landing gear technologies (electrification, additive manufacturing).
Hack's presentation was followed by the launch of OSPE's report on Drones titled Growing the Drones Industry in Ontario. The key findings and recommendations of the report were presented by its author Samuel Looper. Looper is an engineering student currently completing a major in Robotics at the University of Toronto. He is passionate about both technology and policy and dedicated to leveraging emerging technologies to bring tangible benefit to our communities. His passion was demonstrated as he outlined the key recommendations made in the report, which include:
A roadmap for the integration of autonomous aircraft in our airspace: Transport Canada has one of the most progressive drone regulatory frameworks in the world. Next, they must work with stakeholders in industry, academia and provincial government to develop the future of drone regulation. Drone technology's true value will only be unlocked once fully autonomous RPAS operating beyond visual line of sight (BVLOS) are authorized and integrated in our national airspace. The FAA has a 5-year timeline for this regulatory realignment, Canada must step up and do the same. 2.
Bridging the gap in RPAS technology transfer from research to industry: Currently, most of our research on drones is never applied for commercial purposes. RPAS must be represented in programs such as Ontario Centers of Excellence (OCE), the Next Generation Manufacturing Supercluster (NGen) and the Downsview Aerospace Innovation and Research (DAIR) hub. Ontario's strong network of colleges must be leveraged to integrate drone technology for client industries.
Ontario taking leadership in drone commercialisation: Ontario must lead drone commercialization by setting standards for commercial operations, with the help of local industry, and developing pilot programs to lead collaborative efforts towards advanced drone operations in delivery, inspection, and automation.
Through this, Looper set the stage for the discussion. He introduced the four panelists:
Kathryn McCulloch, Partner (RPAS, Aviation, Estates) at Dentons
Michael Cohen, Chairman of Unmanned Systems Canada, President & CEO of Industrial SkyWorks
Jeremy Wang, EIT, Co-Founder of Ribbit, PhD Candidate at the University of Waterloo
Marco Mariotti, Senior Engineer, RPAS Airworthiness and Certification, Transport Canada
State of the Industry
Panelists were asked where they think the RPAS industry is today. Kathryn McCulloch began by providing some context on the state of regulation: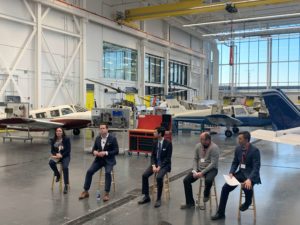 "Drones inherited much of the legal and regulatory framework from manned aviation. Manned aviation operates on a few key premises, one is that the planes are pretty big and the other one is that there is someone on board. So drones present a drastically different scenario and yet for a while the regulations that they were under were quite the same as aircraft. Recently, they have been amended several times, and in June 2019 we received a new set of regulations for visual line of sight operations for smaller drones. Transport Canada has in everything that they have done really focused on two principles when regulating… the two key things are ensuring certainty for businesses so that there is a regulatory matrix that everyone understands and they can build their businesses based on. And then safety, so we have seen guidance material, we've seen exemptions for first responders, we've seen a whole bunch of steps that take us towards those two goals."
Industry representative Michael Cohen agreed that the recent regulatory changes were significant, however, he believes that there is much do be done to take the industry to where it needs to be. Specifically, to signal to the capital markets that Canada is open for business in this technology in order to truly leverage the potential of the industry:
"It really breaks down to: the technologists are moving at the speed of imagination, a great quote I am borrowing from the Secretary of Transportation in the U.S, and then of course the regulators are move at the speed of safety. In this type of technology, the first tier of safety runs down to regulation, to regulate our environment of course. The tier that follows…is capital, and so until we get through the barrier of regulation, before we can get to real capital that needs to then flow to the imagination stuff, we are not going to get out of the sand dunes. Now the bright side of the Canadian front is on June 1st, 2019, we got quite a bit of regulation around the smalls, we did a really good job… What do we need to do now? We need to get that bucket increased on size. Because once we can get bigger things in the air, we can do bigger missions, and then once we get beyond the visual line of sight of a pilot then we can start to do really interesting things."
RPAs Regulation
Marco Mariotti discussed the current state of regulation as it pertains to autonomy:
"To answer the basic question of autonomy, we aren't there yet. As far as Transport Canada is concerned an RPAS/drone is an aircraft and an aircraft has to be piloted. There has to be somebody there at the controls. Whether they are on the ground or in the aircraft, it doesn't make a huge difference to us right now…we want to see the ground stations provide enough command and control of the system so that it can operate as autonomously as is possible. There are lots of operators that simply program, hit the button and off it goes but there is someone there that can intervene if something goes wrong. So, I am not trying to put a damper on autonomy, it is the future, we will get there but Transport Canada likes to take baby steps, and incrementally. We want to learn to crawl before we learn how to walk and before we learn how to run. It is prudent for every citizen, and industry, that we take the time to get it right."
Mariotti continued by discussing the work of the Civil Aviation Regulatory Advisory Council (CARAC) which is expected to publish new work that will expand the notion of how drones can operate in Canada. "TC feels strongly that solutions need to come from industry, not the regulator, which is why consultation through CARAC is so vital." He concluded by indicating the importance of harmonization in regulation, specifically as it pertains to what other regulators around the globe are doing.
In line with this, McCulloch says that the reason aviation is highly productive and safe is due to rigorous international standards. She mentioned that currently this doesn't exist for drones given that each country is developing its own regulatory framework at different speeds, some more permissive and some more restrictive. She added that when developing regulation, it is important to account for other statutes that impact the industry such as labour and employment, privacy, statutes that define who owns the airspace, and international treaties amongst others.
Leveraging Canada's Expertise in Aerospace, Robotics, and AI
Looper outlined that Canada has a leading research ecosystem in areas such as aerospace, robotics, and AI. However, there are barriers to effectively leverage the potential of this research. One of the things Canada is an expert in is aerospace, robotics and AI research. When asked how to leverage the expertise, Jeremy Wang, Co-Founder of Ribbit stated: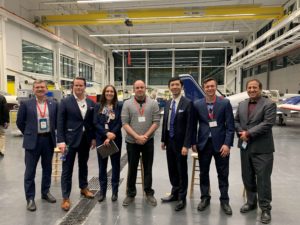 "I think increasingly the academic community is realizing that impact matters more than impact factor. That actually working with industry to produce commercializable outputs is more valuable than journal publication in XYZ journal. Certainly, a lot of the culture around academia is still about closed doors research, but it is changing, and as Jonathan said earlier, we are at a time where the lines are blurring when it comes to what is the purpose and role of Universities and Colleges, in terms of working with industry, training the next generation, developing new technologies, and increasingly colleges are quite capable of doing exactly what universities can do. If you look at the landing gear project that Centennial has been part of, if you look at, for example, the fact that Safran also works with UofT for similar landing gear simulations, you have to ask yourself 'why work with one institution over the other?'. So what I would say is that at this time where the drone technology itself is quite mature and maybe the challenges are in how we adapt a particular piece of software, a particular multirotor, to a specific industry, now would be a great time for industrial partners like the oil and gas company, the energy company to come together with the colleges for the training, work with the universities to actually build technology, and let businesses do the business part."
Public Perception and Awareness
Mariotti articulated that the biggest gap that currently exists is public perception and their willingness to accept drones as a part of their daily lives:
"Some may argue that RPAS/drones are not noisy, but anybody that has been in a park or has had neighbours flying them knows that they are currently pretty noisy. Generally, people don't like noise, with noise over their heads being even less palatable. They don't like looking up and seeing flying objects relatively close to them, that are getting larger and can do more damage not just to people but to infrastructure, and so the biggest paradigm that we have to change is how people look at RPAS/drones. The PWC UK has a really good document about how people view drones. Although people are excited about the advancing technology, they are very cautious, and skeptical about application and integration. The biggest change that has to happen is we have to have something of blatant usefulness and convenience to the general public for them to individually accept having these drones fly over our houses."
Kathryn agreed with this indicating that it is a significant paradigm shift for the general public and so people will likely digress to what they are comfortable with:
"Particularly in a legal sense, it comes up in the privacy context more than anything, that people are getting really concerned about what data and what information can be collected from a drone, and I think that is probably one of the biggest concerns that they have in their minds, put aside that they are all transmitting their data through Google about their whereabouts and where they bought their groceries, but in an increasingly litigious society I expect we will see a whole bunch of privacy litigation as it relates to drones."
What is next?
The panel concluded with a discussion on how the drone industry is likely to evolve. Key themes included:
Integration into aerospace with manned and civil aviation to ensure commercial viability.
Quadradic growth that we saw in manned aviation will translate into the RPAS industry.
Automated landing, taxing, and take off, increasingly the scope of autonomy will be much broader, and technology will be augmenting or replacing the human component.
In Canada we need to take a leadership role, understand what others are doing and work with them. There will be fully autonomous aircraft in the future. Stay tuned for more updates from OSPE's Research and Innovation Task Force on this topic.