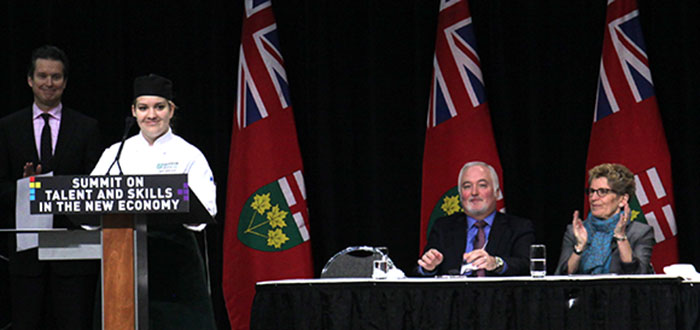 This blog post was prepared by OSPE's CEO Sandro Perruzza.
OSPE was once again invited to present the engineering perspective at an exclusive event focusing on the talent and skills required by Ontario's workforce in order to thrive in the new economy.
Quick facts about the Summit
Common themes from panels made up of employers, students and industry
 Multidisciplinary teams are key to company success. Engineers, accountants, artists, marketing and communications specialists all need to work together to ensure success. New skills like teamwork, collaboration, group innovation, communications and inclusion are what's needed, not solely individual work.
Co-ops, internships, apprenticeship, experiential learning & recognition of international education/licencing are important to round out formal education. The classroom alone does not make a graduate 'job-ready' and a quick contributor to the workplace. Companies do not have the resources any longer to supplement the additional educational components after the graduate enters the workforce due to shrinking budgets and profit margins. Canadian companies find it time-consuming and costly to incur the additional expense of 'job-ready' training.
There is a need for more diversity in Science, Technology, Engineering and Math (STEM). More women, First Nations, people from the LGQT community and other under-represented groups are needed in the STEM sector. Diversity and inclusion leads to different perspectives in problem solving, resulting in better solutions and successful business outcomes.
We need to create new partnerships and have more organizations involved in developing the workforce. Colleges and universities can't be expected to do it all. They shouldn't be competing with each other. (i.e., colleges offering university courses and vice versa).
From Students: Other needs include better labour market data, more financial literacy in high schools, coding in high schools, credits for experiential learning and earlier discussions about potential career paths early on in high school.
What I found interesting is that there was representation from the STEM sectors in the employer and industry panels, but none for the student panel.
The Summit participants discussed the following questions, which are being fed into the Premier's Highly Skilled Workforce Expert Panel, which includes Mr. Hardt.
What type of workforce does Ontario need to adapt to the demands of a technology-driven knowledge economy? Is the highly skilled workforce description, as defined in the previous section, the best definition for Ontario? If not, how should it change? What is it missing? What indicators would best measure progress
What partnerships are needed to support development of a highly skilled workforce?
How are employers and educational institutions preparing workers and learners for an increasingly digital and technological world?
Ensuring supply meets demand is a tenet of any successful economy. Employers report being unable to find skilled job candidates. Research also suggests that Canadian businesses are investing less than other countries in workplace training. What can employers do to support the knowledge-based economy?
What existing policies, programmes or initiatives to create a highly-skilled workforce can be scaled up or broadened to reach more people?
The Expert Panel is tasked with developing a vision and a strategy for the government that will provide an integrated approach to bridge education, training and skills development with the demands of an evolving economic landscape.
Once again, OSPE was the only organization representing the engineering profession present, which signals the Government of Ontario's recognition of OSPE as the voice of Ontario's engineers.