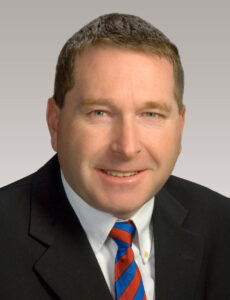 At OSPE, we are happy to announce that Dave Crocker, P.Eng. will be accepting an Engineering Medal for Management at the 2023 OPEA Gala on November 3.
As Vice President of Global Engineering & Technology at General Dynamics Land Systems (GDLS), Dave Crocker leads a global team of innovative engineering talent.
Supporting the delivery of next-generation solutions for the defence industry, Dave is an innovator who develops industry-leading technology for ground combat vehicles. As a key member of the GDLS executive leadership team, he is responsible for streamlining processes, attracting top talent, and establishing partnerships in North America and beyond.
Dave and his teams have significantly improved mine-blast survivability, helping keep the men and women who serve in uniform safe from harm. He has led many transformational projects for GDLS that have set the bar for other defence companies to emulate. The inventive and advanced design review and engineering processes Dave is responsible for have enabled his team to lead in the defence industry. The result is the creation of a strong culture of innovation in a global team with thousands of professionals who are focused on agility, excellence, and innovation.
A Mentor, Teacher, and Coach
Dave has a reputation in the industry as a mentor, teacher, and coach. He is the executive sponsor of one of the company's Employees Resource Groups, RISE, which supports young professionals. He also mentors several engineers and helps them pursue professional development opportunities and achieve leadership positions at GDLS.
When he is away from his professional role, Dave has volunteered as a coach with Junior Achievement London and delivered guest lectures on engineering leadership at Western University and many other professional forums. He is an avid biker and outdoorsman and has enjoyed coaching in the London Youth Soccer Association as well as clubs in Australia and Wales while serving in leadership roles in those countries for GDLS.
Visit the Society Notes blog to read more about the talented and deserving OPEA awardees of 2023.