On April 9, 2019, OSPE hosted its 10th annual Lobby Day and MPP Reception that brought Political Action Network (PAN) representatives, Task Force and Board members together with elected officials, staffers and leaders from various sectors. OSPE welcomed more than 35 MPPs from all political parties for the release of the Energy Task Force's latest report Retail Electricity Price Reform: Path to Lower Energy Bills and Economy-Wide CO2 Emission Reduction, including the Honourable Greg Rickford, Minister of Energy, Northern Development and Mines.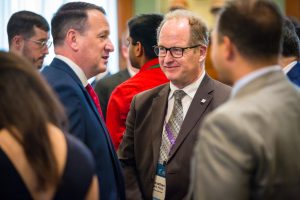 "We know that the Ontario Society of Professional Engineers has been a strong voice and advocate for skilled professionals who can not just lead this industry, but provide and inform government with great ideas of how to overcome some of those major challenges and turn what would otherwise be issues into real opportunities."
Parliamentarians from each political party also spoke, including: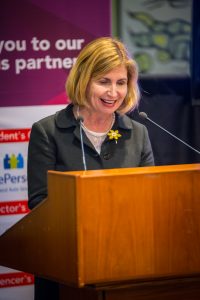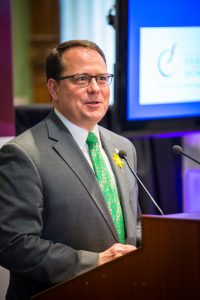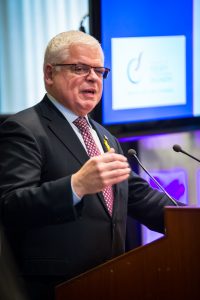 All acknowledged the important contributions engineers make to Ontario's social and economic wellbeing.





OSPE's New Electricity Price Reform Paper and Research Report
This report highlights OSPE's commitment to collaborate with government, industry, academia and other stakeholders to solve Ontario's problems with evidence-based solutions.
Ahead of the reception, Emily Thorn-Corthay, P.Eng., and Paul Acchione, P.Eng., Chair and member of OSPE's Energy Task Force, met with Rod Phillips, Minister of the Environment, Conservation and Parks, as well as with NDP Energy Critic, MPP Peter Tabuns.
In their discussion OSPE members identified the fact that Ontario is wasting a significant amount of surplus emission free electricity because the current system charges too much for energy use and too little for fixed system costs.
OSPE representatives highlighted the key opportunity the Government of Ontario has in implementing electricity price reform that will reduce energy bills and greenhouse gas (GHG) emissions, without imposing additional costs on the electricity system.
OSPE's report highlights two key recommendations for government:
Revise current legislation and regulations which prevent consumers from purchasing surplus emission-free electricity at its wholesale market energy price; and
Collaborate with the Ontario Energy Board and Local Distribution Companies to deploy voluntary smart price plans for various consumer groups. These plans should include the following features:

Retail price components should align with the actual fixed and variable electricity costs
Retail prices should encourage peak power demand reduction via load shifting/levelling, conservation and energy efficiency
Retail prices should encourage use of surplus emission-free electricity for fossil fuel displacement
The design of these voluntary smart price plans should take into account the state of technological capability of the LDCs' metering and communication infrastructure.
OSPE's research concludes that there will be sufficient surplus emission free electricity in the long term to displace 36% of the fossil fuel use in 1.3 million homes.
OSPE also estimates that the annual total energy bill savings that a typical residential consumer can expect using the proposed Energy Plus Peak Demand Smart Price Plan outlined in the report would be approximately $800/year for a fuel oil consumer with a carbon price of $50/tonne CO2, and $720/year with no carbon price.
Outcomes from the 10th Annual Queen's Park MPP Reception and Next Steps
Both Minister Phillips and MPP Tabuns applauded OSPE's research, recommendations, and the involvement of engineers in such an important file affecting all Ontarians. Minister Rickford also agreed to meet with engineers to further discuss how he and Minister Phillips can collaborate on OSPE's recommendations.
Throughout the day, OSPE President Jonathan Hack, P.Eng. and OSPE CEO Sandro Perruzza met with several other Ministries including the Ministry of Labour, Ministry of Training, Colleges, and Universities, and the Deputy Attorney General to discuss government priorities and provide recommendations on how to involve engineers in tackling the issues facing Ontario.
OSPE CEO, Sandro Perruzza closed the reception by reiterating that OSPE will continue to provide evidence-based policy recommendations that shed light on the importance of engaging engineers, who possess crucial technical knowledge that can benefit society as a whole.
Do you have questions about the new report on electricity price reform? Leave your questions for OSPE's Energy Task Force in the comments section below.
All photos are copyright Martin Brown Photographer