The Environmental Careers Organization of Canada (ECO Canada) recently released a report entitled Energy Efficiency Employment in Canada, which focuses on Canadian energy efficiency employment. This report is a result of a comprehensive survey conducted in the fall of 2018 with 1,853 business establishments across the country.
For this study, energy efficiency is defined as the production or installation of energy-saving products and/or provision of services that reduce end-use energy consumption.
This study revealed three key findings:
The energy efficiency workforce in 2018 was large
In 2018, the sector directly employed approximately 436,000 workers across 51,000 establishments within the following key industries: construction, manufacturing, wholesale trade, professional and business services and utilities. Together, these generated $82.6 billion in estimated energy efficiency operating revenues in 2018.
Job creation within the sector in 2019 is expected to occur at a faster pace than the Canadian economy as a whole
The energy efficiency workforce is predicted to grow rapidly, at an 8.3% rate from 2018-19, creating more than 36,000 jobs.

Employers generally experienced difficulties hiring energy efficiency workers, mainly due to the lack of qualified workers
At least 70% of energy efficiency employers in each of the six industry groups reported experiencing hiring difficulties, where the lack of qualified workers was frequently cited as a reason for the hiring challenges.
Overall Findings
Establishments:
About 51,000 establishments were involved in energy efficiency activities. Among them, 77% were found in the construction industry.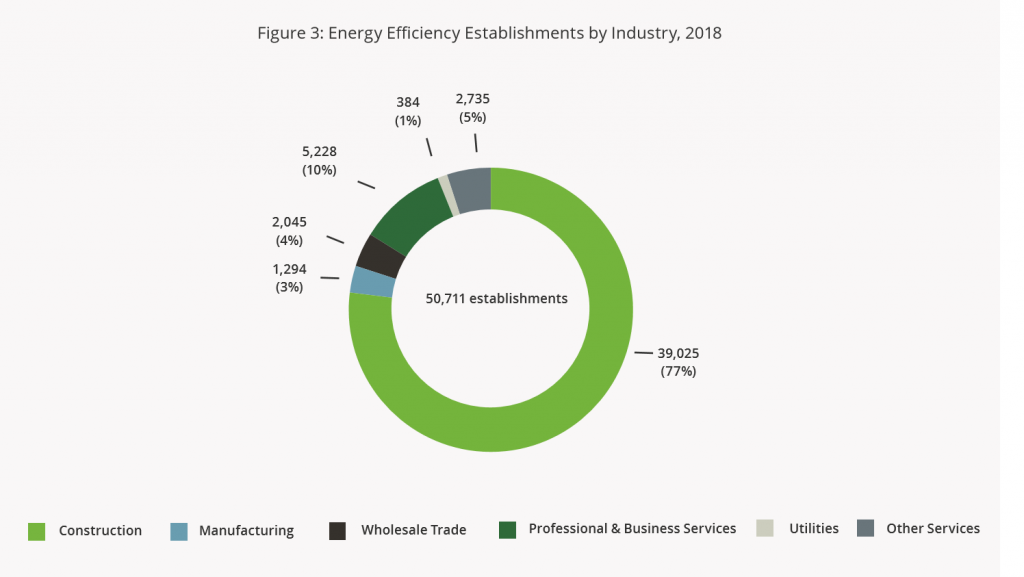 Revenue Contribution:
12.1% of firms indicated 100% of their total revenue was raised by energy efficiency-related goods and services, and more than half of all firms indicated that these goods and services accounted for at least 50% of their 2018 revenue.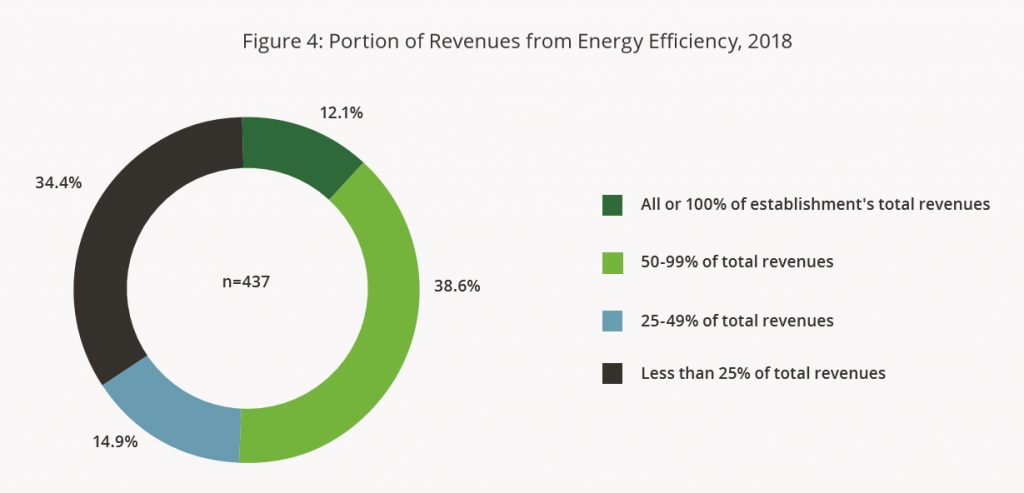 At the same time, energy efficiency respondents were positive about the future net revenues from energy efficiencies at their firms – 52% were optimistic that their energy efficiency revenues were going to increase over the next 12 months, while only 7% predicted a decrease.
Employment:
This study revealed that close to 436,000 permanent workers were directly employed in Canada's energy efficiency sector in 2018, which represents about 2.3% of all jobs in Canada.
The energy efficiency workforce is, on average, less diverse than the national workforce. Just 18% of workers were reported to be female, and 2% indigenous, both figures below the national average.
However, on average, the sector employs more 18 to 34-year-olds than the national work force average (42% versus 33%).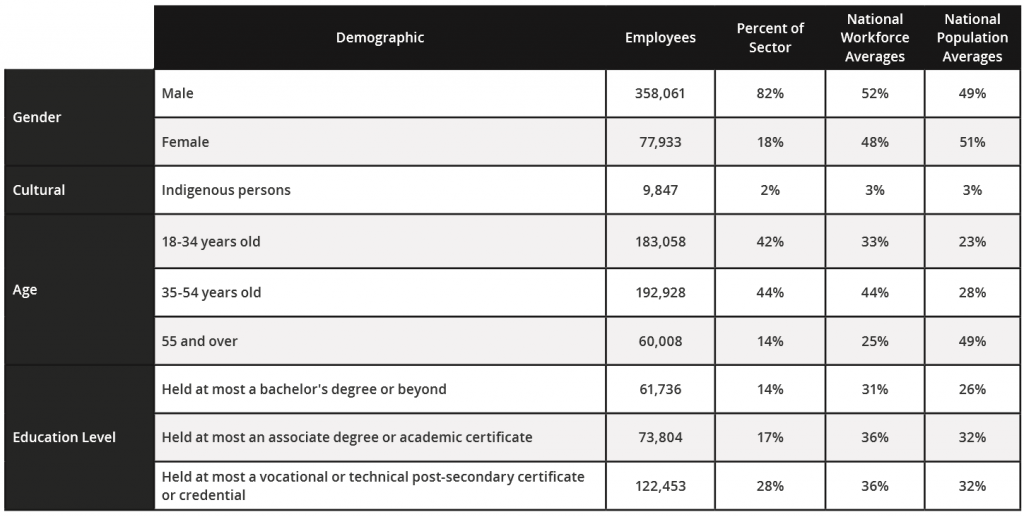 Canada and the United States Comparison
The United States has been measuring energy jobs with a consistent methodology since 2016. In March 2019, the fourth US Energy and Employment Report was released by the National Association of State Energy Officials (NASEO). The data was collected using a nearly identical methodology to the one used by ECO Canada in this report.
Canadian energy efficiency employment makes up a greater share of Canada's economy, at 2.3% versus 1.9% in the United States.
Policy Implications for Ontario and the rest of Canada
This recent study reveals the unique opportunities of investing in energy efficient programs in order to keep stimulating this growing sector.
Further investment in this sector, would not only help fight climate change, but would also stimulate the economy by creating more jobs for Canadians across the entire country. The energy efficiency sector is critical to the success of transitioning Canada to a low-carbon economy. Not only does it help lower national energy consumption, it also reduces energy costs for businesses and individual consumers.
At the same time, fossil fuel conservation increases productivity and enhances competitiveness, while reducing carbon emissions. Traditionally there hasn't been any conservation programs focused on diesel, propane, fuel oil or other hydrocarbons other than small incentives for natural gas. It is suggested that the government consider incentive programs for their fuel, as well as further invest in electricity conservation programs which are the lowest cost resource.
The Government of Ontario's "open for business and open for jobs" approach does not seem to support the growth of green jobs, despite evidence that this sector will contribute significantly to the economy.
Robin Edger, Ontario regional director with the Pembina Institute says the "new [Progressive Conservative] climate plan fails to acknowledge that other economies are transitioning to cleaner technologies and that there is a global market for low-carbon products and services worth an estimated $7.5 trillion a year."
Ontario's 2019 Budget does not provide many funding opportunities and incentives for the low-carbon sector and could cost the province thousands of jobs in clean innovative industries, affecting Ontario's overall economic future.
Government policies that help the energy efficiency sector thrive will lead to a more productive and sustainable workforce, that will help grow the economy while managing the environment.
What do you think of the government's recent approach and their environmental plan?