Effective government and public relations requires a long-term commitment to relationship-building and communication. Established in 2006, OSPE's Political Action Network (PAN) is a grassroots initiative that aims to influence policy makers at the provincial level. PAN volunteers put advocacy into action across the province by meeting with their Member of Provincial Parliament (MPP) to discuss issues that concern the engineering community. PAN reps work to raise the profile of the engineering profession among government, industry and the public.
Curious if PAN might be a good fit for you?
OSPE member Cristina Mazza, a master of science in management student, shares her experience as a PAN volunteer:
—
Getting better acquainted with public policy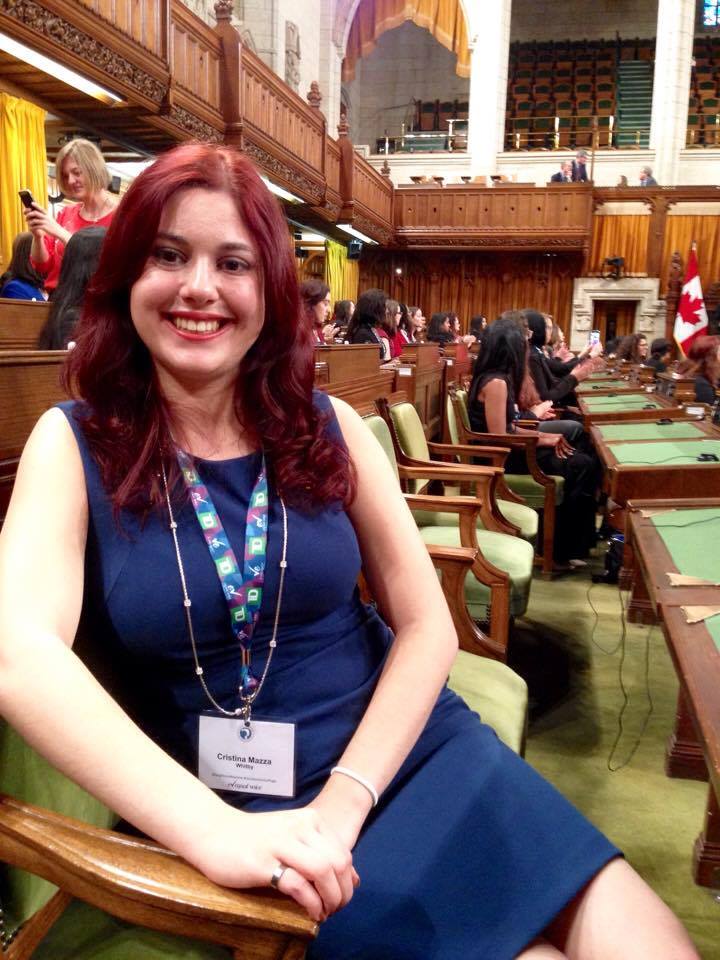 I've always had an interest in politics so in June 2016, I decided to apply for the opportunity to attend a national Women in Politics Summit and take my seat in the House of Commons. I first got involved with politics and public policy through Equal Voice's Daughters of the Vote initiative, through which I was selected to represent my riding, Whitby.
Meeting my Member of Parliament Celina Caesar-Chavannes was an amazing experience, especially when we discussed the role that a background in science and engineering can play in this space. She explained how she brings a scientific, research-oriented mindset to her work in politics and this was something that resonated with me.
Through Daughters of the Vote I also had the opportunity to speak in the House of Commons about the need for clean, affordable and reliable energy for Canada's northern and remote communities – an issue I became interested in as an energy systems engineering student.
Getting involved in OSPE's Political Action Network
In March, I heard about OSPE's Political Action Network. After reading several summaries of PAN meetings, I knew this was something I wanted to get involved with. In late July, I emailed OSPE expressing my interest and, by August, I was scheduled for my first PAN meeting!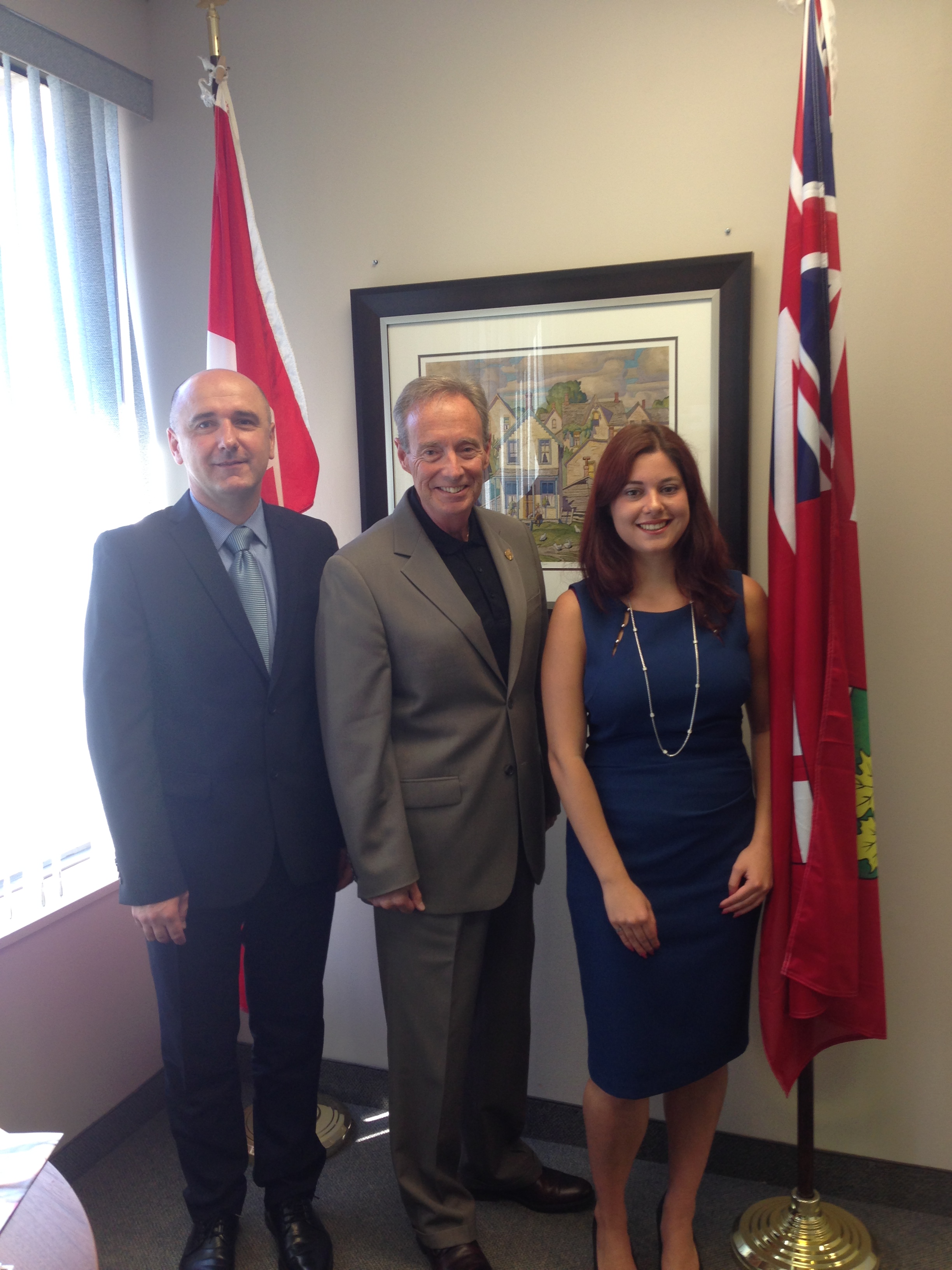 While this was somewhat intimidating as an engineering student, I had the pleasure of being paired with Mehemed Delibasic, P.Eng., a seasoned PAN member and fellow Whitby-Oshawa constituent, who introduced me to the process. We met a few days before our PAN meeting with MPP Lorne Coe (Whitby-Oshawa) to develop a meeting agenda.
The topics we brought forth to MPP Coe centred on OSPE's submission to the Ministry of Energy, Power to Lead, Qualifications Based Selection (QBS), as well as the underemployment of Ontario's engineering graduates.
While 'lobbying' often implies an interest group putting pressure on government, my first PAN meeting provided a completely different perspective. We had an extremely fruitful exchange of ideas from both sides of the table. MPP Lorne Coe was well prepared to discuss the materials OSPE shared with his constituency office in advance of the meeting, so that we could plan follow-ups for both sides.
Regarding high energy costs in Ontario, MPP Coe raised concerns about Ontario's deficit and asked thought-provoking questions about how OSPE's recommendations could be implemented most practically. We also discussed QBS for infrastructure projects and the need for analysis on how it could be adapted to the Ontario experience. When it came to discussing the employment challenges facing recent engineering graduates – something I myself could relate to – MPP Lorne Coe, the PC Critic for Post-Secondary Education, provided advice, reports to review, names of people to approach and details he hoped to see in future OSPE reports.
What my PAN experience has taught me thus far

While still a PAN novice, I learned quite a bit about engaging with government. It is essential that any member of the engineering community is able to consider different perspectives on various issues and break down complex information during non-technical discussions.
I was shocked to find out that only 6 out of 338 federal MPs are engineers, and that an engineer has never served as Canada's Prime Minister. In much the same way that Parliament amplifies the voices of all Canadians and Queen's Park represents all Ontarians, engineers – regardless of their discipline – also protect the public interest by using their technical expertise to uphold public safety and improve quality of life. I'm grateful that through an organization like OSPE, I can help ensure the engineering profession is heard and valued by policy and decision-makers.
Fellow engineering students or recent graduates, I highly recommend that you consider getting involved in the realm of public policy. The views of engineers can get lost or misrepresented in politics, and as up-and-comers in the engineering profession, we can offer valuable and unique perspectives. The more you get involved, the better you will understand the political process and avoid the cynicism that many of us have experienced about politics at one time or another. If there's one way to break out of that cynicism and actually invoke change, it's definitely the Political Action Network!
Are you interested in learning more about PAN? Email advocacy@ospe.on.ca with any questions or to find out more about available opportunities to become a PAN volunteer.