POST 1 of 3 IN A BLOG SERIES DISCUSSING EACH PARTY'S ENERGY POLICY COMMITMENTS FOR THE UPCOMING 2018 ELECTION
On Saturday, November 25, the Ontario Progressive Conservative Party presented its platform, 'The People's Guarantee,' in preparation for the 2018 Ontario General Election.
At a high-level, the Ontario PC platform presents five foundational policy commitments – one of which aims to reduce hydro bills by an additional 12% on average.
Policy recommendations developed by OSPE's Energy Task Force are featured prominently in this section and represent the majority of the efficiencies and cost savings that account for the proposed 12% reduction.
OSPE applauds the Ontario PC Party for their approach to energy, including the adoption of three of OSPE's key energy policy recommendations – engineering solutions that could save ratepayers between $730 million and $1.13 billion per year.
Move conservation program funding to the tax base instead of the rate base to reduce residential and commercial electricity rates by approximately $430 million per year.
Place a moratorium on new energy contracts to immediately save $100 million annually and as much as $500 million annually by 2025.
Exercise all feasible exit clauses for non-essential procurement of existing, signed energy contracts to save ratepayers approximately $200 million per year.
These initiatives reflect a selection of fully costed and actionable recommendations that OSPE prepared in an advisory document issued to the Minister of Energy and all three major political parties during the summer of 2016.
Beyond itemized savings, the platform also notes intent to "reform the energy planning system to make it expert led and more transparent." This reflects a longstanding ask that Ontario's engineers have expressed regarding energy policy.
As OSPE highlighted earlier this year, in 2016 the province wasted a total of 7.6 terawatt-hours of clean electricity – an amount equal to powering more than 760,000 homes for one year, or a value in excess of $1 billion.
Depoliticizing planning decisions and empowering engineers to make high-level planning and design decisions is a necessary change that OSPE has called on for more than ten years. This type of action will enhance the efficiency and functionality of Ontario's power system and will result in significant cost savings for ratepayers – a direction OSPE hopes all three parties will ultimately endorse.
The platform notes that the Ontario government needs to "work with small, medium and large manufacturers and businesses to find a long-term stable solution" – something OSPE has championed for the creation and retention of good, well paying engineering jobs across Ontario, especially for energy intensive sectors.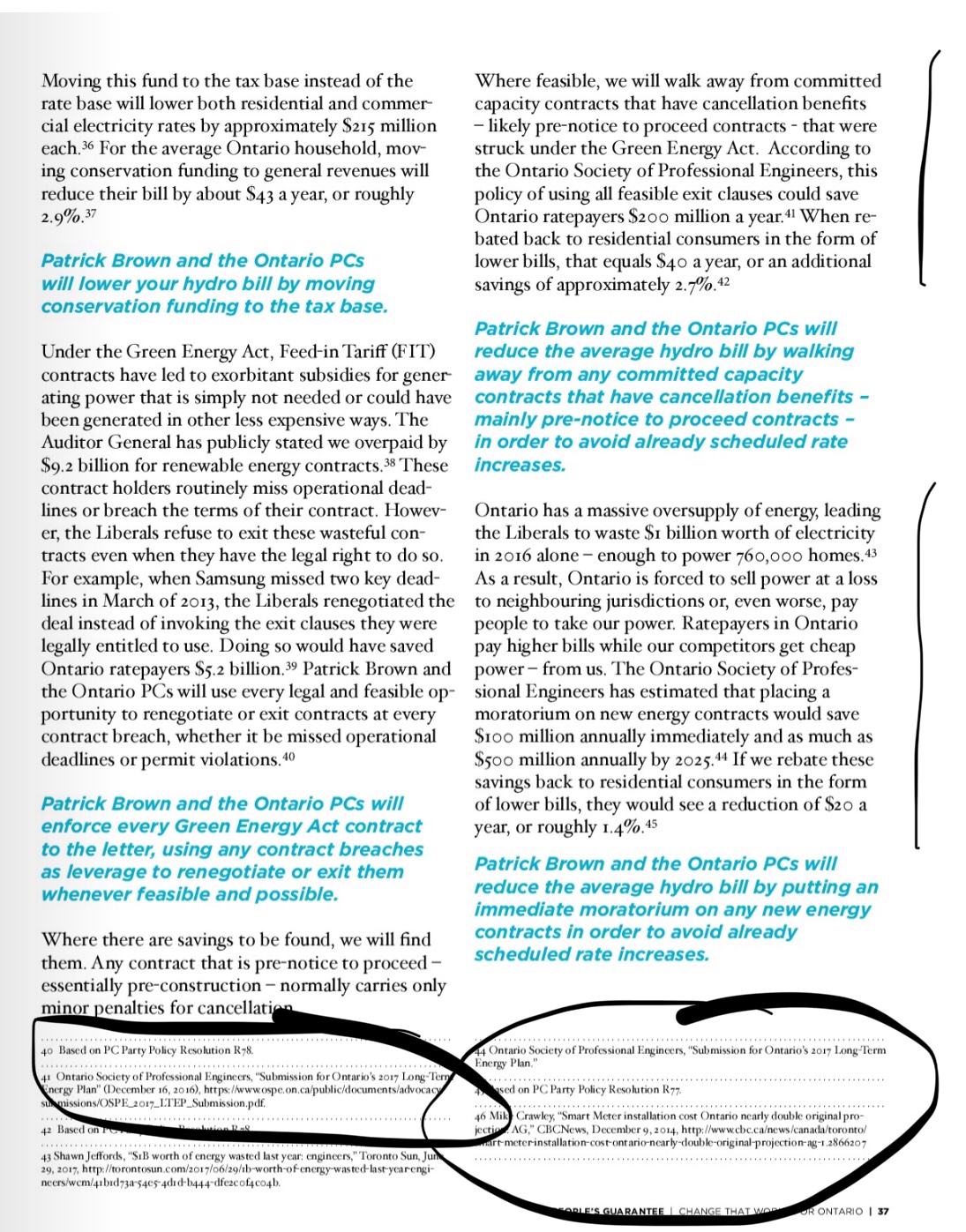 The PC platform goes on to state that Ontario "…should explore all options, including: a single stable industrial rate, allowing manufacturers to access cheaper power when providing a direct economic benefit like an expansion, providing support for combined heat and power programs, or exploring fuel switching programs that allow for Ontario companies to purchase power at an affordable rate instead of sending it to competing jurisdictions at a loss."
As detailed in OSPE's recent report, Empower Ontario's Engineers to Obtain Opportunity, these policy initiatives could help Ontario capitalize on its surplus clean electricity.
Perhaps the most transformative opportunity, from an economic and environmental perspective, is the potential to establish an interruptible retail electricity market for the sale of surplus clean electricity to Ontario consumers. This market would incentivize the proliferation of electric vehicles and storage technologies, support the development of clean hydrogen fuel, reduce overall carbon emissions and drive made-in-Ontario innovation for fuel switching, signaling and other smart systems and technologies.
The creation of an interruptible market is not something explicitly mentioned in the PC platform, but it is something OSPE hopes all three major parties will come to support in 2018.
OSPE's Energy Task Force will continue to provide strategic engineering input to Ontario's Ministry of Energy and all three political parties. We are pleased to note that over the last ten years, the majority of OSPE's recommendations have been acknowledged and implemented, saving Ontarians hundreds of millions of dollars. But more can be done to optimize Ontario's energy system by engaging with Ontario's engineers.
Looking to the future, OSPE continues to support the policy development process of all three major political parties and welcomes the opportunity to meet with political officials to discuss additional ways Ontario can leverage the expertise and involvement of engineers to achieve optimal outcomes across all government portfolios.