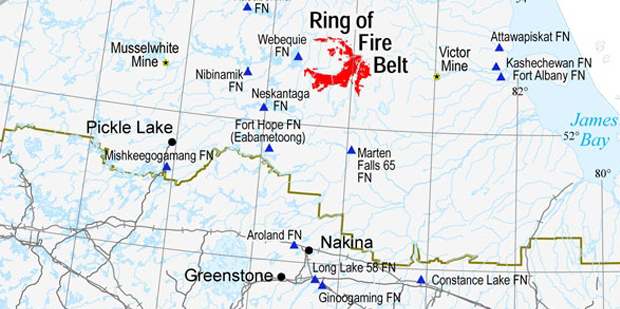 On January 28th, several members of OSPE's Ring of Fire Working Group attended a lecture with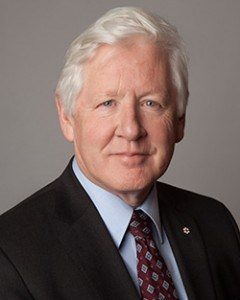 Bob Rae, the former NDP premier of Ontario and the former interim leader of the Liberal Party of Canada. Entitled "Corporate social responsibility and the Ring of Fire," the event was organized by the University of Toronto's Lassonde Institute of Mining and attracted engineering students, faculty, alumni, engineers, corporate sector representatives, and stakeholders from the mining sector. Rae's topic was timely as this region holds much promise as a potentially significant economic driver in Ontario for the coming decades.
Rae's talk highlighted how the issues facing the Ring of Fire in Northern Ontario are actually global in nature and impact other mines, industries, and communities around the world.
In line with the global economic impacts mentioned during Rae's lecture, several news outlets have recently reported on a potential working partnership between Ontario-based KWG Resources Inc. and China Rail Construction, one of China's three state-owned rail groups. Employing over 2,000 engineers, the Chinese railway company hopes to play an active role in the construction of a railroad to the Ring of Fire area to help expand their rail construction industry globally. China is also a major consumer of chromite, using the mineral to produce large quantities of high-quality steel. Carefully considered partnerships like this could thus be a lucrative boost to Ontario's mining economy.
(http://www.northernminer.com/news/kwg-resources-turns-to-china-for-help-in-ring-of-fire/1003751315/)
Conservative opposition parties and leaders such as MPP Toby Barrett have consequently been participating in public debates contesting the slow pace at which developments and approvals are happening with regards to the Ring of Fire. Liberal MPPs such as Michael Gravelle, Minister of Northern Development and Mines, however, have reiterated that the Ontario government is proceeding with caution to carefully consider all environmental impacts and to work collaboratively with First Nations communities to ensure that all stakeholders are taken into consideration before diving into this billion-dollar infrastructure venture.
(https://www.baytoday.ca/local-news/ring-of-fire-stalled-or-not-two-mpps-square-off-190475)
Similarly, Rae began his January lecture by outlining the historic tension between corporate social responsibility and resource development due to differing views surrounding land and treaties rights between the Government of Canada and its provinces, and First Nations.
Rae noted that mining companies have always had social responsibility embedded in their operations. For instance, the evolution of laws surrounding worker health and safety are indicative of corporations practicing social responsibility. With this said, Rae noted that when major mining enterprises pull out of a region due to poor economics in the commodities market, junior mining companies are more likely to fill this resource development space. These junior companies often do not have the resources that major companies have to adequately address the key corporate social responsibility issues that Rae outlined during his presentation.
All parties involved in resource development believe that First Nations should benefit from the extraction of resources on their lands. However, Rae noted that there have been examples where First Nations communities were intentionally excluded from benefitting from resource development and were pushed off their land (i.e., the Sudbury nickel developments of the 19th Century). Rae noted that this attitude will change as one of the recommendations from the Truth and Reconciliation Commission Final Report speaks to the rules of engagement between First Nations and mining companies. He also underscored the complexities and challenges facing the federal government in moving forward following acceptance of this report.
Rae also noted that temporal complexities between the major parties involved in mining projects creates a complex environment for finding common ground:
Companies view time in terms of financial quarters; time is something that passes quickly and involves financing deadlines, approvals, and must be used expeditiously to limit (fiscal) uncertainties
Government views time in terms of election and budget cycles; things move quickly or slowly depending on where the government is in its cycle
First Nations view time in terms of the wellbeing of the 7 generations to come; they want to help projects advance, but require time to ensure that past mistakes are not repeated
Representatives of OSPE's working group also took the opportunity to ask Rae his views on the similarities and/or differences between what Finland has done to develop its chromite deposits in the far north and what he sees as the purpose of Ontario's new Ring of Fire Corporation.
To learn about OSPE's position of the Ring of Fire, read our 2016 pre-budget submission to the Ministry of Finance. For more background on this mining development, click here.