On January 30th, 2020, Rotman's Centre for Gender and the Economy, hosted Towards a Feminist City (II): Gender and Diversity in the City Building Industry. The event included a panel discussion of experts from the non-profit, private, and public sectors. Among them was Taya Cook, Director of Development at Urban Capital, who along with Sherry Larjani, Managing Partner at Spotlight Development, is spearheading the first all female led real-estate development in Canada: Reina.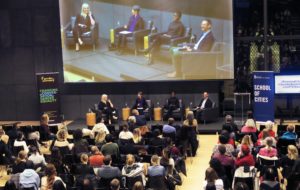 As she explained, working in a male dominated industry, Cook has always been one of the only women in the room. She became acutely aware of the lack of female representation in the industry while reading a Toronto Life article on top development industry minds and noticed a glaring problem: they were all men.
In response, Cook created her Reina team, consisting of twelve professional women, three of whom are engineers: Stacy Meek – EXP (Environmental Engineer), Fatima Shakil – Adjeleian Allen Rubeli (Structural Engineer) and Tara Chisholm – WSP (Civil Engineer). Their unique skillset and experiences disrupted the process by which condominiums have traditionally been conceived. They undertook a consultation, prioritizing listening and collaboration, to understand the needs and wants of families and individuals today.
Cook provided numerous examples of how input from the community was integrated into the design of the condominium. For example: Due to rising housing prices and precarious employment, more adults in their twenties are being forced to live at home with their parents. This creates demand for a new kind of condo unit that ensures privacy while facilitating family interactions. To respond to this, the Reina development has designed units that include two private units with separate bathrooms, bedrooms and kitchens, while sharing a living room space for family time.
This is an exceptional example of how bringing diverse perspectives and experiences together can lead to better design. Still, a much larger conversation must be had regarding diversity and inclusion in city and community building. The environment within a city/community must capture the experiences and needs of all residents. These needs are shaped by gender, race, ethnicity, sexuality, religion, ability, and socio-economic status, amongst others.
We are seeing an emphasis placed by government on creating inclusive communities. This specific attention on integration requires consideration of how diversity dimensions and built environments intersect on a day to day level. By understanding what kind of demographics are making infrastructure decisions, and revealing the blind spots those perspectives create, we can move closer to achieving inclusive community building.
Engineers are a key part of city and community building. OSPE believes engineers can lead the charge when it comes to developing new infrastructure for our evolving society. We believe the incorporation of professional skills to be of vital importance to the changing world, one that places priority on collaboration, creativity, and innovation. The engineering profession is strengthened by equity, diversity and inclusion.  Ultimately, this will determine whether we have communities and cities that work for everyone or those that only work for some.