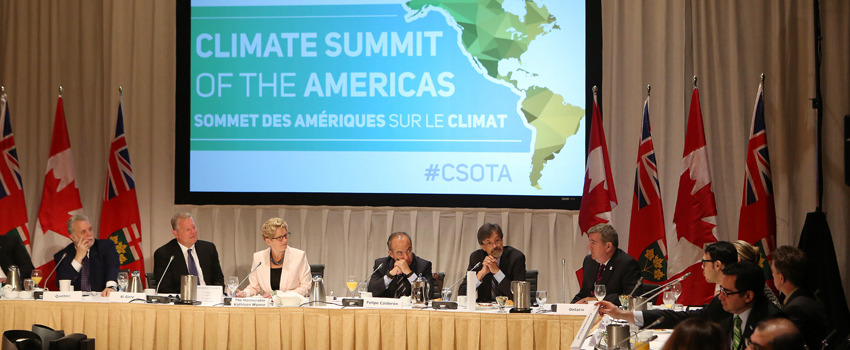 If you've been following the news across Ontario over the past few days, you'll know that coverage of the Climate Summit of the Americas has been front and centre. OSPE CEO Sandro Perruzza was in attendance at this invitation-only forum, which brought together high-profile leaders who echoed each other's sentiments that action needs to be taken to tackle climate change now – because inaction will bring greater economic uncertainty and higher social costs.
The conference, coupled with the release of the joint Climate Action Statement, a document outlining the climate commitments that the leaders of State/Provincial and Municipal governments across the Americas have collectively agreed to, demonstrates that momentum and collective action is building. The summit reaffirmed that climate change is real and the impact is severe.
However, there are still some North Americans who don't believe climate change is a man-made problem, and believe that the cost of implementing an action plan outweighs the benefit. Meanwhile, there is a strong coalition of people and organizations across North America who have joined together to address this global issue by building Climate Change Action plans, including First Nations communities, four Canadian provinces (British Columbia, Alberta, Ontario, and Quebec), and 39 American states.
Guest speakers at the summit dispelled the myth that fighting climate change will destroy the economy by outlining how British Columbia, Quebec, and California have seen an increase in their Gross Domestic Product (GDP) following the implementation of carbon pricing models.
The business community attending the summit also sent a strong message – whether it's a cap-and-trade or carbon pricing system, businesses will likely adapt to market conditions and continue to thrive. However, the business community demanded that government be transparent by creating policies that are easy  to understand, with expected outcomes clearly identified. Businesses also called for a uniform, national carbon pricing policy rather than a patch-work system, so that their organizations can devise a structure that works for everyone.
In terms of the province of Ontario, the summit solidified OSPE's belief that Ontario should be at the forefront in combatting climate change. There is, however, some concern and mistrust among some Ontarians towards the government's cap-and-trade program, namely that the money raised through cap-and-trade will become a revenue stream for the province.
OSPE will continue to advocate to government that money collected through a cap-and-trade or carbon pricing system should be invested in new, green technologies and public infrastructure. As former United States Vice President Al Gore stated at the summit, engineers and the engineering community have a key role to play when it comes to helping organizations adapt to climate change, to find innovative solutions and develop green technologies.