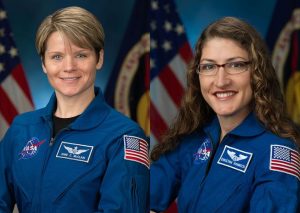 On Friday, March 29, astronauts Anne McClain and Christina Koch were set to make history by completing the first all female spacewalk. However, the spacewalk was cancelled. CNN released an article titled; Nasa has scrapped its first all-female spacewalk for now because there aren't enough space suits that fit. Shortly thereafter, other news outlets followed suit with similar headlines. It seems nearly impossible that in 2019, a renowned corporation such as NASA could make such a blunder as not to have enough space suits to fit their female astronauts – and frankly the situation was not as simple as the headlines had made it out to be.
During her first space walk on March 22, 2019, McCain realized that although she had been trained in a large space suit, a size medium fit her better. The issue was that only one medium could be configured in time for the second walk seven days later. According to ARS Technica, sometimes space suits fit differently in microgravity than in ground tests, so it was reasonable that NASA felt compelled to select another astronaut for the space walk. Ultimately, the astronaut's safety and comfort were the priority.
Nonetheless, this incident sheds light on an issue that is all too common for women in male-dominated professions. Often, the safety clothing required to complete one's job is not available in women's sizes.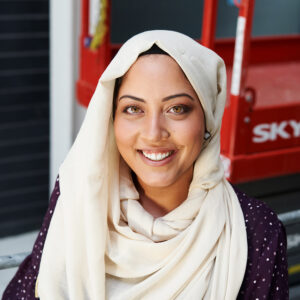 In my own experience, as a Process Control Engineer who wears a hijab, workplace attire has been one of my biggest challenges. Prior to a site visit that would require fire resistant (FR) clothing, a supervisor recommended that I purchase my own FR coveralls. The problem was, the only coveralls I could find in-store were made for men and did not adequately fit my body shape. I was extremely uncomfortable and ultimately settled for men's FR pants and a men's FR top. I was disappointed to have to buy men's clothes that didn't fit but I had a job to do, so I had little choice.
There is a growing awareness that institutions, governments and companies must commit to making equity, diversity, and inclusion (EDI) a reality in all facets of their operations. Organizations are increasingly concerned with attracting top-talent, increasing productivity and staying competitive. Governments are expected to cultivate, support and attract a skilled-work force in order to compete for the world's top enterprises. Engaging and leveraging diverse talent will enable both to meet their desired outcomes.
However, recruiting applicants with diverse identities and lived experiences is only part of the solution. Achieving EDI means ensuring that once you hire the right mix of people, you can foster an internal culture that will enable their success. Safety clothing is a basic element of many engineering workplaces. Ensuring that employees can dress in clothes that fit their body, and accommodate to their cultural and religious beliefs, is an important way to show them that they belong.
OSPE's EDI Committee is working towards facilitating this very process through one of our newest outreach initiatives. Stay tuned! Also, this fall OSPE is hosting an EDI-focused conference called "The EDI Imperative: Changing the Profile of STEAM in Canada."
Have you experienced any challenges in your workplace due to clothing or similar barriers? What changes do you think are required to positively influence the future of engineering safety clothes in Ontario workplaces? Help change the status-quo.