Ontario's Conservative government has recently spent $231M on cancelling over 750 renewable energy projects and contracts.
In the last twelve months, the following legislation and projects have been scrapped:
Green Energy Act, which over ten years expanded renewable energy production while encouraging energy conservation
Drive Clean, a mandatory emissions test required every two years by vehicles and light-duty trucks
White Pines Wind Project in Bay of Quinte, which has already been built
An increasing need to combat climate change means it is extremely important to invest in renewable sources of energy. These renewable energy projects would have not only helped fight climate change, but also stimulated the economy by creating more jobs for Ontarian engineers and the trades across the province.
More and more jurisdictions are moving forward to try and attract further investment in the renewable energy sector. The Organization for Economic Co-operation and Development reported that in 2015, twice as much international capital was invested in clean energy over fossil fuels.
The OSPE believes that government policies which help the energy efficiency sector thrive will lead to a more productive and sustainable workforce; one that allows the economy to grow while simutaneously protecting the environment.
The renewable energy sector is a critical part in transitioning Ontario to a low-carbon economy. An emissions-free electricity grid is the foundation for a low carbon economy. In order to derive the human health and environmental benefits of electrification of the transportation sector (e.g. electric vehicles) and the building heating sector (e.g. heat pumps, solar thermal, or photovoltaic with electric water heaters instead of fossil fuel furnaces), an ultra-low emissions grid is an imperative.
It is true that Ontario currently (and for many years in the future) has surplus emissions-free electricity that is being wasted or sold below full cost to neighbouring states and provinces.  OSPE believes that this surplus emissions-free electricity should be leveraged to de-carbonize the transportation and building sector through electrification rather than cancel renewable energy projects.  In order for this to be possible economically, OSPE recommends that retail electricity pricing be reformed so that homeowners and small and medium businesses can get access to interruptible wholesale electricity prices at less than 1c/kWh on a voluntary basis when there is surplus emissions-free electricity available.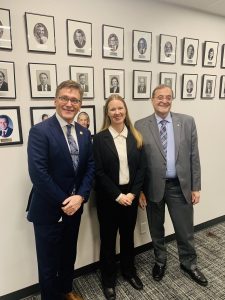 Emily Thorn Corthay, P.Eng., and OSPE's Energy Task Force Chair is "concerned that the cancellation of these contracts has deterred investment in the province and killed local clean jobs".
The Minister of Energy, Northern Development and Mines, Hon. Greg Rickford, has publicly stated that the cancellation of these projects was done in order to reduce electricity prices. However, engineering expertise has demonstrated that this decision would discourage investment in the green energy industry, without any significant impact on lowering electricity bills.
On November 20th, OSPE Engineers and energy experts, Emily Thorn Corthay, P.Eng., and Paul Acchione, P.Eng. had the opportunity to meet with Associate Minister of Energy Bill Walker, and talk about ways in which the province could move forward and reform the current electricity pricing framework. In their discussion, they highlighted the fact that Ontario is wasting a significant amount of surplus emission free electricity because the current system charges too much for energy use and too little for fixed energy system costs.
Hon. Bill Walker Associate Minister of Energy, Emily Thorn Corthay, P.Eng., and Paul Acchione, P.Eng.
During the meeting, OSPE representatives emphasized the unique opportunity the Government of Ontario has in implementing an electricity price reform that will reduce energy bills and greenhouse gas (GHG) emissions without imposing additional costs on the electricity system.
OSPE's Energy Task Force's latest report Retail Electricity Price Reform: Path to Lower Energy Bills and Economy-Wide CO2 Emission Reduction, highlights two key recommendations for government:
Revise current legislation and regulations which prevent consumers from purchasing surplus emission-free electricity at its wholesale market energy price; and
Collaborate with the Ontario Energy Board and Local Distribution Companies to deploy voluntary smart price plans for various consumer groups. These plans should include the following features:

Retail price components should align with the actual fixed and variable electricity costs
Retail prices should encourage peak power demand reduction via load shifting/levelling, conservation and energy efficiency
Retail prices should encourage use of surplus emission-free electricity for fossil fuel displacement
The design of these voluntary smart price plans should take into account the state of technological capability of the LDCs' metering and communication infrastructure.
OSPE's research concludes that, long term, there will be a surplus of emission free electricity to displace the 36% of fossil fuel use in 1.3 million homes.
OSPE also estimates that the annual total energy bill savings that a typical residential consumer can expect using the proposed Energy Plus Peak Demand Smart Price Plan outlined in the report would be approximately $800/year for a fuel oil consumer with a carbon price of $50/tonne CO2, and $720/year with no carbon price.
OSPE will continue to provide evidence-based policy recommendations that shed light on the importance of engaging engineers who possess crucial technical knowledge that can benefit society as a whole.