OSPE has been advocating for regulatory changes to excess soil for years. Engineers have been calling on the government to ensure that soil is treated as a resource and not as waste.
Alongside the Greater Toronto Sewer and Watermain Construction Association (GTSWCA) and the Residential and Civil Construction Alliance of Ontario (RCCAO), OSPE's Excess Soil Management: Ontario is Wasting a Precious Resource report demonstrated the cost savings and environmental benefits to proper management of excess soil.
This report was quoted and referenced by the Government's Made in Ontario Environment Plan.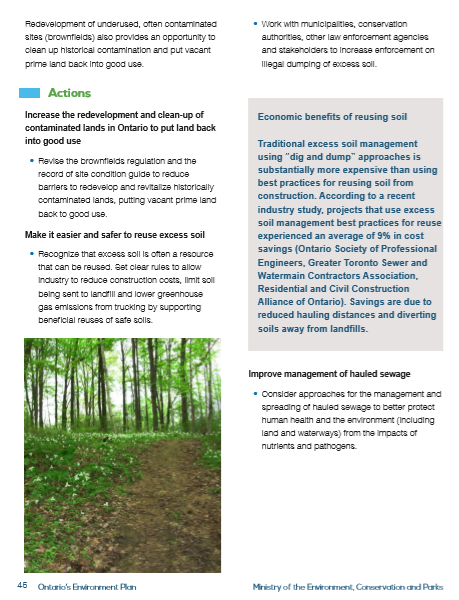 On December 4th, the Ministry of the Environment, Conservation and Parks released the final version of the Excess Soil Regulatory requirements. The Government is moving forward with implementing new regulatory changes that will make it safer and easier for excess soil to be re-used locally and will allow revitalization of historically contaminated lands.
The following regulations have been finalized, all of which fall under the Environmental Protection Act (EPA):
Key Changes
Some of the key changes made to the proposal include:
Revised approach to waste designation that treats excess soil as a resource
Reduced regulatory complexity with some details moved to guidance
Phased in transition time for key regulatory requirements over two to three years to provide time for education and training and to reduce potential impact on existing projects
Further flexibility for reuse through new reuse standards and a new Beneficial Reuse Assessment Tool to develop site specific standards
Amended Timelines
In response to stakeholder concerns regarding sufficient time to amend current contracts and to allow time for necessary guidance to be developed, the government has made the following changes to the time frames:
Upon filing (same as previously proposed): brownfields redevelopment amendments
July 1, 2020 (from January 1, 2020): reuse rules and the waste designation
January 1, 2022 (from 2021): testing, tracking, hauling records and registration
January 1, 2025 (from 2023): restrictions on landfilling soils
Grandfathering provisions – applicable from January 1, 2022 to January 1, 2026, to benefit source sites where work to be done is already stipulated in a contact
OSPE Response
OSPE is pleased that the government has moved forward with regulations that clarify when excess soil is a waste and when excess soil can be reused.
This policy file has been of great importance to OSPE and engineers across Ontario.
The new proposed regulation is clear, well-thought-out and based on the input and observations of excess soil stakeholders and practitioners.
Engineers believe that this will provide greater certainty that the movement of excess soil is being done in a sustainable and safe manner. OSPE believes that these requirements will lead to social, economic and environmental benefits to all Ontarians.
Training and Certification of Qualified Persons (QP)
OSPE continues to support the requirement that Excess Soil Management Plans be prepared and certified by a Qualified Person (QP). It will be critical that QPs have appropriate training, experience and awareness of best practices to achieve the desired outcomes of the proposed regulation.
Professional Engineers Ontario (PEO) and PGO (Professional Geoscientists Ontario) must take an active role in enforcement to ensure that QPs are indeed qualified as the current definition of a QP in O.Reg. 153/04 does not alone achieve this.
Indeed, PEO's attitude is that, as self-regulated, professional engineers with ethical obligations, the engineers themselves will determine whether they are qualified to be a QP. Stakeholders, however, report that they have encountered engineers stating they are qualified, when they aren't. Unless the government, through the Ministry of the Environment, Conservation and Parks or the Attorney General, imposes a certification or professional development process on PEO to ensure QPs are qualified, the status quo will continue.
We recommend that PEO and PGO continue an ongoing dialogue and partnership with the Ministry of the Environment, Conservation and Parks to ensure that QPs remain aware of, and conduct work in conformance with, Ministry expectations, evolving best practices and underpinning science.
OSPE will continue to work with other stakeholders and the Government of Ontario to ensure that these new regulations are implemented properly throughout the upcoming years.