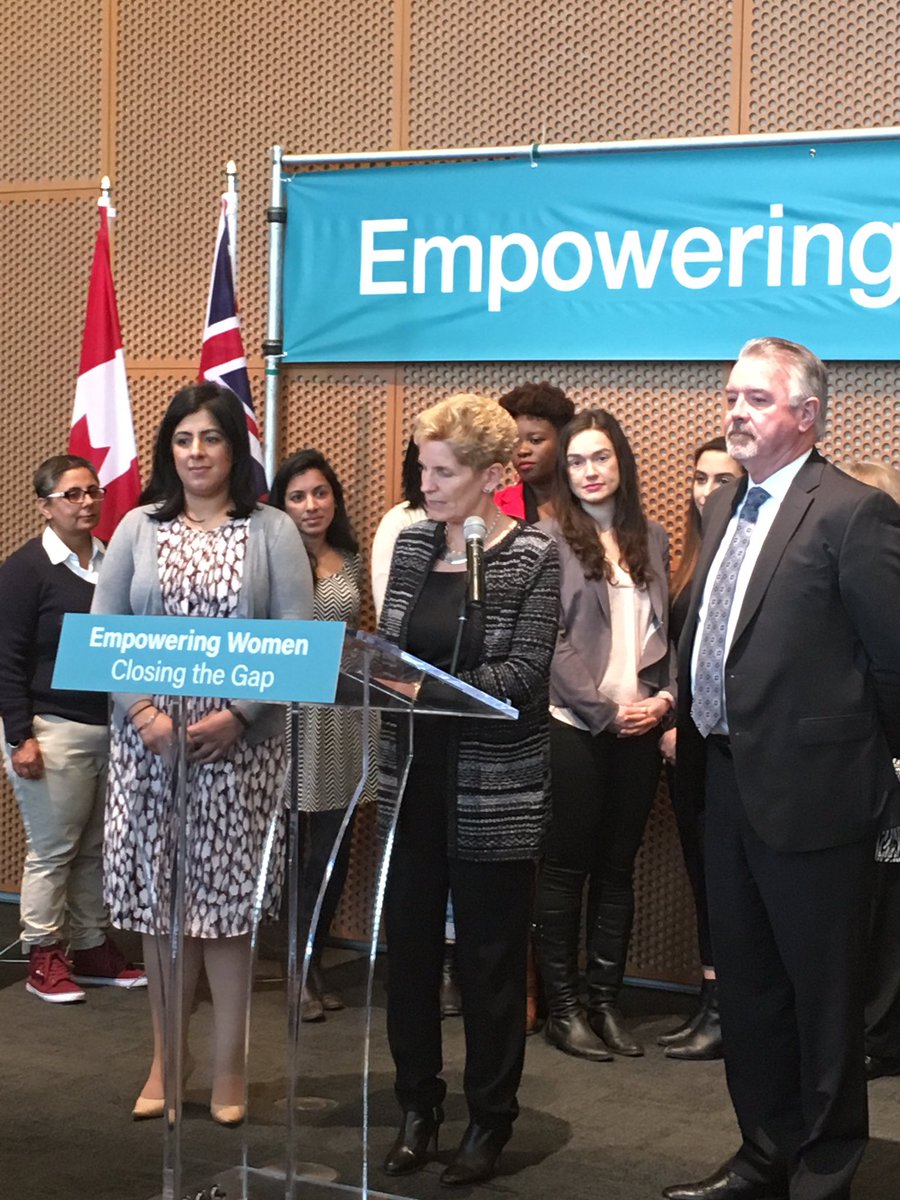 In advance of International Women's Day on March 8th, Premier Kathleen Wynne and Ontario's Minister of Labour Kevin Flynn announced legislation to close the gender wage gap – Bill 3, Pay Transparency Act, 2018 – in Then Now Next: Ontario's Strategy for Women's Economic Empowerment. OSPE's Women in Engineering Advocacy Champions Task Force (WE ACT) contributed recommendations for the development of this strategy in August 2017 and met with the Minister of Labour and Minister of the Status of Women to share our findings.
The province's three-year plan aims to increase gender equity, challenge bias and eliminate barriers that many women face at work, at home and in their communities.
As noted in the aforementioned submission, OSPE's analysis of compensation data from the 2016 OSPE Mercer National Engineering Compensation Survey revealed that, for individuals with one to eight years of engineering experience, the wage gap between men and women was up to 5%. However, the longer one worked in engineering, the wider the wage gap between men and women. The largest discrepancies were evident in the most senior levels of engineering responsibility, ranging from 7% to 10%.
OSPE's submission also included an analysis of a survey conducted in partnership with Western University in 2016 that focused on engineering education and workplace conditions. In this study, 81% of female respondents perceived that men in engineering make more money than women do, even when completing similar work.
A 2017 national survey developed by OSPE for its Let's Break Barriers project echoed these findings. The gender wage gap was among the top three issues women in science, technology, engineering and math (STEM) identified.
Survey respondents shared the following comments and concerns about compensation and pay transparency:
[Best_Wordpress_Gallery id="28″ gal_title="ICYMI: Ontario Government Announces Pay Transparency Legislation #1″]
When asked what kind of workplace policy changes were needed to support women pursuing STEM careers, respondents in OSPE's 2017 survey noted the following with respect to compensation and pay transparency:
[Best_Wordpress_Gallery id="30″ gal_title="ICYMI: Ontario Government Announces Pay Transparency Legislation #2″]
If passed, Bill 3 would require, for the first time ever in Canada, all publicly advertised job postings to include a salary rate or range; prevent employers from asking a candidate about past compensation; prohibit reprisals against employees who discuss or disclose compensation; and establish a framework to require larger employers to track and report compensation gaps based on gender and other diversity characteristics.
This would first apply to Ontario Public Service employees, employers with 500+ staff, and then employers with 250 staff. These large organizations would be required to track compensation and share this information with the province, or face fines.
Ontario accompanies other leading jurisdictions such as Australia, the United Kingdom, and Germany, which have implemented similar provisions. For example, larger employers in Australia with 100+ staff, the United Kingdom with 250+ staff and Germany with 500+ staff must report regularly to government on organizational gender pay gaps and other indicators of workplace gender equity.
OSPE was pleased to attend the Premier's announcement on March 6 in Toronto. As the advocacy body for the engineering profession, the Society is committed to supporting the creation of a more progressive engineering profession – one that's reflective of the province's rich diversity. Ensuring professional engineers, engineering interns, and engineering graduates are fairly compensated for their work will help address the retention of women in the engineering profession, which benefits the economy as a whole."
– Sandro Perruzza
Chief Executive Officer, Ontario Society of Professional Engineers
Including salary ranges on job postings is a step in the right direction. Knowledge is power. That's why our 2017 Claudette MacKay-Lassonde Fall Forum included two sessions about the gender wage gap – which Ontario's Pay Equity Commissioner noted can amount to $500,000 in a woman's lifetime. That's also why OSPE publishes an annual salary survey with Mercer – it's a tool that empowers and equips all OSPE members, especially women, with the information they need to effectively advocate for themselves during a salary negation with their employer."
– Shelly Deitner, P.Eng.
Chair, Women in Engineering Advocacy Champions Task Force (WE ACT)
The province's proposed legislation demonstrates Ontario's leadership to close the wage disparity for women. With small and medium-sized enterprises accounting for a significant number of employers in Ontario, more remains to be done to ensure that all women are covered by this legislation and adequately compensated for their work."
– Jonathan Hack, P.Eng., MBA
President and Chair, Ontario Society of Professional Engineers