On April 22, 2021, OSPE sent a letter to Ontario Premier Doug Ford and cabinet members to outline concerns with the government's response to the third wave of COVID-19. As part of this letter, engineers presented recommendations in three core areas: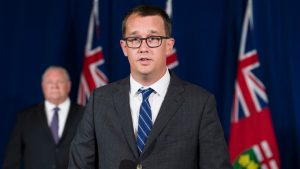 Improve workplace safety by focusing on air quality in workplaces
Support essential workers through paid sick leave
Increase transparency by listening to experts
Under the second recommendation, OSPE asked that the government follow the advice of the medical community and implement paid sick leave. Engineers are on the frontlines of this crisis, working to provide essential operations across the province safely and efficiently. Paid sick leave will help to ensure that essential workers receive the support they need to stay home and self-isolate when sick. This protects everyone in these workplace settings including engineers.
Today, the Hon. Monte McNaughton, Ontario's Minister of Labour, Training and Skills Development, along with the Hon. Peter Bethlenfalvy, President of the Treasury Board, unveiled a sick leave program. This program will include:
Doubling the payments for the Canada Recovery Sickness Benefit (CRSB) to receive up to $1,000.00 per week for 4 weeks if missing work due to COVID-19. The enhancement is contingent on the federal government approving the collaboration. The Ontario government believes that using the existing program is the fastest way to implement this.
Tabling the COVID-19 Putting Workers First Act, which if passed, will provide up to 3 paid sicks specific to COVID-19. This will be available for workers to take sick days for reasons such as feeling unwell, mental health, and caring for dependents. Individuals will not be required to fill out a form or application or produce a sick note to take advantage of this program.
Reimbursements of up to $200.00 per day for up to three days to reduce financial burden on businesses.
This is good news for Ontario workers, including Engineers in this province. The paid sick days will be paid automatically to employees through their employers. There is no action required. Employers can then be reimbursed for these payments through the WSIB. We commend the Ontario government for taking action to protect workers and heeding OSPE's advice. OSPE will continue to urge the province to listen to experts and take the necessary action to reduce the spread of COVID-19, protect essential workers, and secure the health of all Ontarians.