On April 27, 2020, the Government of Ontario released its framework for reopening the province after COVID-19.
This framework outlines the government plan to reopen businesses, services and public spaces. Consisting of three stages, each will last for approximately two-to-four-weeks. The staggered reopening allows for close monitoring of COVID-19 related cases and provides contingency options should a second wave occur.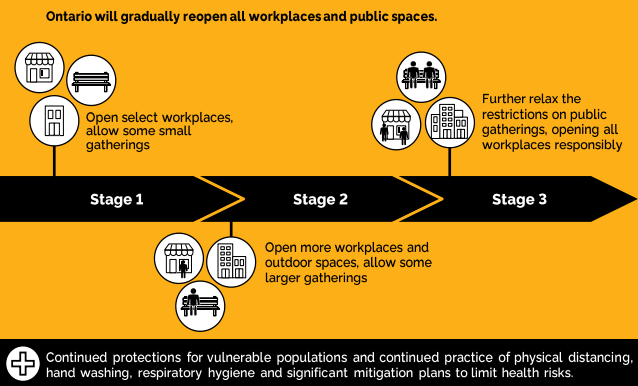 It also provides the criteria Ontario's Chief Medical Officer of Health will use to advise the government on the safe loosening of public health restrictions.
The Ontario Government's Reopening approach is guided by 6 principles:
Responsible: Public health and protecting the people of Ontario, especially those who are most vulnerable and at high-risk, will continue to be paramount and guide a gradual approach to loosening public health measures.
Evidence-informed: Emerging scientific knowledge, public health data, defined criteria and consistent measures will inform the actions of the government, regions and sectors.
Resourced: Sufficient health system capacity to respond to any resurgence in COVID-19 infections will be required to protect health care workers and the public and maintain the regular health system.
Monitored: Public health capacity for rigorous testing, timely contact tracing and case management will need to be in place.
Responsive and Effective: Measures will be implemented quickly, clearly and efficiently, based on health capacity, safety and economic needs, and the need to tighten or restrict measures if surges or further outbreaks occur.
Clear: Plans and responsibilities for individuals, employers and the health care.
OSPE is glad to see that the Ontario Government recognizes the need for a gradual, staged approach for reopening of the province. Engineers are also pleased to see the importance placed on empirical evidence and scientific knowledge when considering easing public health restrictions. Without question, the health and safety of all Ontarians is a top priority. It is OSPE's opinion that an economic remobilization and recovery is pointless if it comes at the expense of public health.
OSPE also recognizes that any decision the provincial government makes must be in collaboration with federal and municipal governments. Alignment between all levels of government will ensure the steady social and economic recovery for Ontario.
OSPE's COVID-19 Economic Recovery Working Group
Over the last several weeks, we have witnessed the tremendous will and talent of all Ontarians and the important role we all play in flattening the curve.
Engineers have shown their willingness to use their skills and talent to help government, industry and front-line workers battle this pandemic.
As part of our ongoing efforts, OSPE has launched a COVID-19 Economic Recovery Working Group, whose purpose is to provide the Ontario government with concrete and actionable recommendations for the short and long-term economic recovery of our province.
OSPE will work with government to determine the best ways in which engineers can help the province prosper and create sustainable wealth and jobs that can support us all. OSPE will ensure that engineers are put in a position to thrive once the economy begins reopening.
For more on COVID-19 and its affect on engineering in Ontario, visit our COVID-19 news page.