On March 24th, 2020, the Government of Ontario announced an immediate electricity rate relief for families, small businesses, and farms.
Time of Use (TOU) rates will be suspended, and instead, the off peak rate of 10.1 cents per kilowatt hour will be maintained 24/7.
This discount will be applied automatically and there is no need for consumers to file an application.
As the Honourable Greg Rickford, Minister of Energy, Northern Development and Mines said, "Ontario is fortunate to have a strong electricity system we can rely on during these exceptional times, and our government is proud to provide additional relief to Ontarians who are doing their part to stay home."
This will have an immediate impact on monthly bills, as the Government estimates families will save more than $20 per month. Small businesses and farms can expect savings between $150 to $300 per month.
| Before the announcement | After the announcement |
| --- | --- |
| | |
Source: Ontario Energy Board
Electricity time-of-use Periods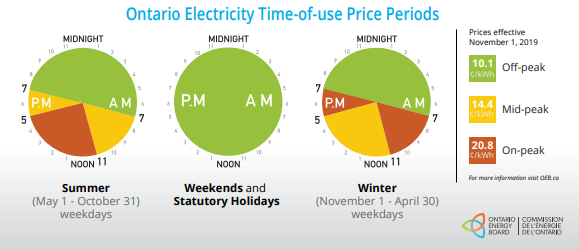 Source: Ontario Energy Board
OSPE and engineers believe this is a positive short-term step. Given the current circumstances, we believe that any relief the government can give consumers is welcomed.
However, electricity bills won't be reduced tremendously, due to the cost structure of our electricity system (high fixed costs and low variable costs). At the same time, not all Ontarians will benefit from this policy decision.
TOU rate consumers are primarily those who have homes and small commercial businesses, who buy electricity from their local distribution company and have working smart meters, which tend to be located in urban settings.
Here is a list of consumers who are not TOU rate consumers, and won't benefit from this announcement:
Any residential, commercial or industrial consumer who buys from a retailer. These individuals could use equivalent relief on their global adjustment charge.
Medium to large industrial consumers who pay peak demand charges and wholesale market prices for energy and who don't benefit from the Industrial Conservation Initiative that provides rate relief to Class A consumers. These consumers could use equivalent relief on their global adjustment charge. These consumers also suffer from having to pick up the tab for costs transferred from Class A consumers who can make best use of the generous terms of the Industrial Conservation Initiative.
Residential and small commercial business consumers who don't have working smart meters (mainly in rural areas) and pay for electricity using tiered electricity rates. These individuals could use equivalent relief on their tiered electricity rates.
For real economic relief and considerable reduction in electricity prices, both in the short and long term, the Government of Ontario and the Energy Board must reform its electricity price plans.
Changes should be implemented that allow consumers to purchase surplus emission-free electrical energy at its low wholesale market energy price. A key component of this reform is to eliminate the legal requirement in the Electricity Act and its regulations to recover the fixed cost of generating electricity from the consumer's energy consumption. Fixed costs should be recovered based on the consumer's share of the fixed cost of generation which is more appropriately determined based on the consumer's peak power demand.
OSPE's most recent energy report Retail Electricity Price Reform: Path to Lower Energy Bills and Economy-Wide CO2 Emission Reduction articulates to government policy makers, regulators, and the public that innovative approaches to retail price plan design can substantially reduce consumers' total energy bills and greenhouse gas (GHG) emissions, without imposing additional costs on the electricity system.
OSPE Energy experts also believe that there is a huge opportunity for an enhanced energy efficiency program in the short run, not only for electricity but also natural gas and other fossil fuels. This would make businesses more competitive. Rather than just providing the equivalent of a government hand-out for reducing electricity rates, the government should provide significant incentives to invest in energy efficient equipment. Such program will provide lasting productivity and competitiveness benefits for companies, rather than simply reducing rates.
Ontario energy policy makers and regulators need to engage closely with engineers and other experts who design and operate our energy systems. Energy systems are among the most technically complex systems in society. A deeper understanding of the fundamental drivers of higher energy costs and emissions is essential in order to find affordable permanent solutionsthatreduce emissions across the entire economy. Knowing how to leverage Ontario's low emission electricity system with its high fixed and low variable costs is key to achieving low emissions at an affordable rate.
OSPE and Ontario's professional engineers and engineering community will continue to work with government to achieve its economic and environmental goals, while trying to help all consumers in Ontario reduce their total energy costs and GHG emissions.
For more on COVID-19 and its affect on engineering in Ontario, visit our COVID-19 news page.