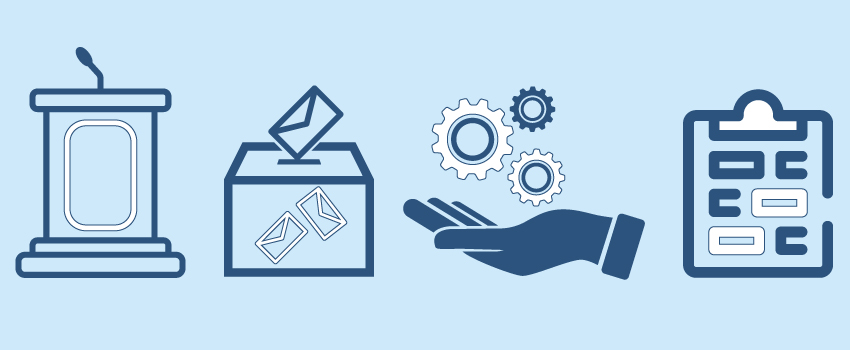 On June 7, 2018, Ontarians will go to the polls to elect the next provincial government. The leaders of the three major political parties – Kathleen Wynne, Patrick Brown, and Andrea Horwath – all say that engineering is key to Ontario's future growth and prosperity.
This fall, OSPE is working on Election 2018: Engineering Ontario's Future, an initiative that will outline key commitments all political parties must make to prove they're heeding the technical, expert advice of the engineering profession, and in turn recognizing the important role the engineering community plays in building the provincial economy and protecting all Ontarians.
OSPE wants to push these leaders to commit their parties to support meaningful policies that will ensure engineers are involved and appreciated, but we need your help.
What issues are most important to you as engineer, engineering intern (EIT), graduate or student? What MUST a political party include in their platform to: 
Support the creation of engineering jobs
Improve working conditions, compensation, and appreciation for engineers
Include engineers in government/policy decision-making
Involve engineers to drive:

Efficiencies
Innovation (new technologies, Smart Cities, etc.)
Jobs, investment, and economic development
Solutions to big social challenges (climate change, digital divide, poverty, etc.)
These are just a few examples of areas where engineers can and are making a difference.
We want to hear from you – what can Ontario do better, and how? What must a political party include in their platform to win your vote in the provincial election in the spring of 2018?
—–
Tell us what you are passionate about by completing this survey before October 15, 2017.
Once submissions are collected and reviewed, OSPE will clearly communicate the commitments political parties must make before the election to prove they recognize and value the important role engineers play in driving Ontario's future.
Join us, and let's create positive change for the engineering community. 

Once you have completed the survey, if you would like to share further insights with OSPE or have any questions, send an email to advocacy@ospe.on.ca, connect with us here on the Society Notes blog, or reach out to OSPE on social media.