Today, the Ontario Society of Professional Engineers (OSPE) issued an open letter to Toronto's Mayor John Tory requesting his support to redevelop the Downsview lands: an incredible, multi-billion dollar opportunity to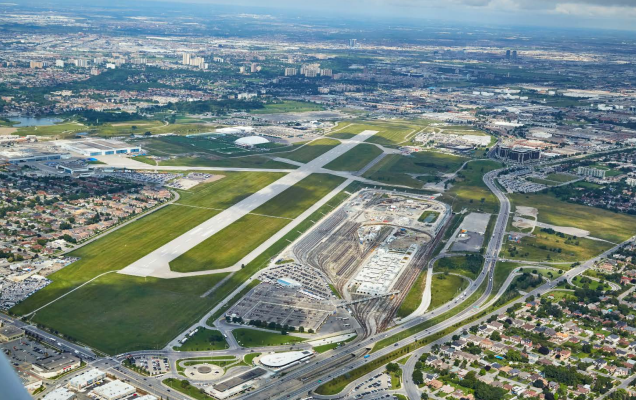 increase Toronto's housing supply, attract investment, create jobs and establish the city as a global centre for engineering innovation.
Spanning an impressive 375-acres, this development opportunity at Downsview supersedes previous urban development success stories such as New York's Hudson Yards and London's Canary Wharf (24 and 97-acres respectively).
Not only is its sheer size unprecedented—Downsview is also shovel-ready, presenting Toronto with a turnkey public project that complements existing infrastructure.
Unlike most urban renewal projects around the globe, developing the lands at Downsview would take advantage of existing public infrastructure stock, thereby avoiding the time and resource costs typically associated with the construction of new service and transit linkages. The Downsview lands are situated at the epicentre of three world-class universities and benefits from exceptional connections to existing subway, rail and highway transportation infrastructure.
Developing Downsview can improve the flow and functionality of Toronto's transit network.
The development of the Downsview lands promises to improve ridership and the efficiency of the entire transit network by encouraging two-way passenger flows. Allowing for mixed-use development will significantly increase transit ridership by new Downsview residents and commuters.
To support Toronto's strategic priorities related to housing, job creation and innovation—the timing of this opportunity couldn't be better.
Toronto is one of the highest growth cities in the world. Year-over-year, demand for housing continues to outpace supply, creating access and affordability pressures, particularly for families.
As such, it is well understood that Toronto requires additional mixed-use developments to grow sustainably as a city. However, it is also understood that the scarcity of development lands has made it difficult to encourage mixed-use developments. Often, when land becomes available for development, the parcels are not large enough to support a mix of housing. Thus, developers have an economic incentive to almost exclusively build high-density residential towers.
Rezoning the Downsview lands for mixed development will diversify the location, density and types of housing (and employment) in Toronto, working to support the updated growth plan for the greater Golden Horseshoe region.
Not only will Downsview increase Toronto's stock of mixed development, existing property owners will see their lands appreciate in value and utility.
Relocating the seldom-used Downsview airport will improve area real estate values by eliminating a visual encumbrance and reducing noise and light pollution. Furthermore, the relocation of the airport will lift existing height restrictions for neighbouring lands, encouraging greater residential and commercial development.
The redevelopment of Downsview will act as a catalyst for local engineering jobs and innovation.
While OSPE has always supported the Downsview Aerospace Innovation and Research (DAIR) initiative, engineers realize the greater potential that Downsview has to offer.
DAIR will remain an ongoing partnership between Centennial College and Bombardier that connects students with industry, resulting in experiential learning, ground-breaking research and the recruitment of highly-skilled graduates for well-paying jobs. It's exactly the kind of partnership model our association envisions for engineering students and recent graduates of all engineering disciplines, across Ontario.
The availability of new lands also means the potential for an all-purpose Downsview Innovation Hub: a 21st century mixed-development community where global talent lives, works, and thrives—building our city up.
__________________________
If Toronto is going to be a global player in the new economy, it needs to be a leader in the new age of engineering innovation. Support for cutting-edge innovation related to advanced manufacturing, artificial intelligence and autonomy will define the cities that succeed the next decade. Downsview is not only a natural fit for a major innovation hub, but also an opportunity to create a smart, connected community of social and economic benefit to the City.
Anchored by ongoing investments from Bombardier and Centennial College, there is already significant investment interest from multiple public and private organizations who understand the impressive potential of this project. These organizations view Downsview as the future home of innovation in Canada and OSPE could not agree more.
To view the complete letter,

click here.