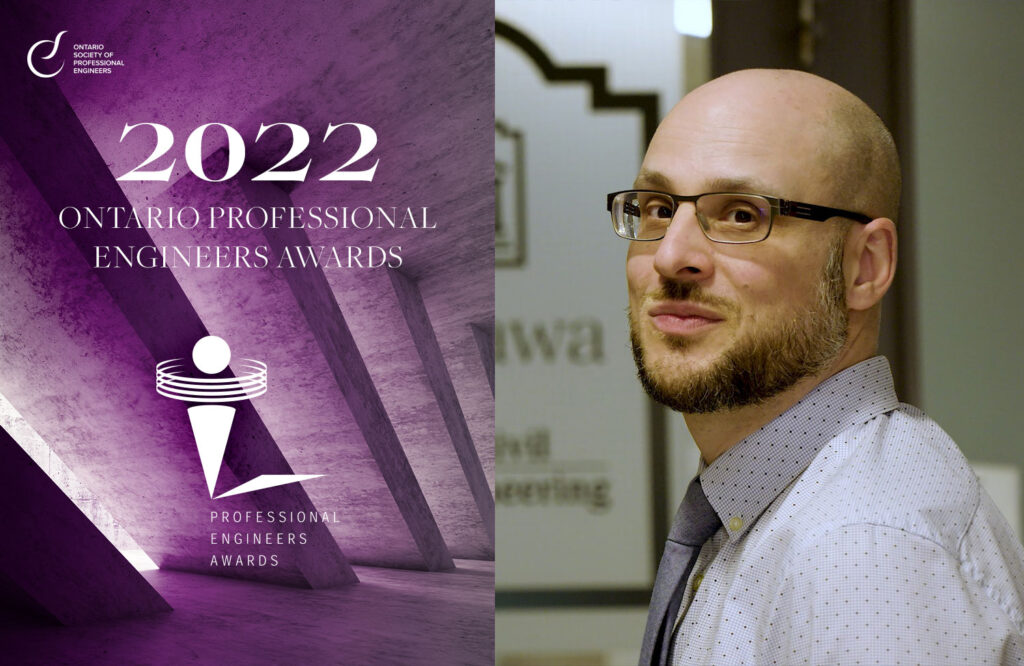 Last month at the 2022 Ontario Professional Engineers Awards, Dr. Robert Delatolla, P.Eng., received the Engineering Medal – Engineering Excellence. We are pleased to share his citation for this coveted award.
---
Dr. Delatolla mobilized his engineering research group during the pandemic to develop a method to measure SARS-CoV-2 viral genetic signal in wastewater. He was the first in Canada to do so, and one of the earliest in the world to develop a method to measure SARSCoV- 2 in wastewaters. He was also able to modify his method during the pandemic to produce daily, realtime SARS-CoV-2 wastewater surveillance data for Ottawa Public Health. His engineering group was the first laboratory in the world to provide daily, real-time wastewater surveillance data to a public health unit and Ottawa Public Health has used the wastewater signal produced to measure disease incidence in the city.
Building on this success, Ottawa Public Health and the province of Ontario directly actioned the wastewater data in Ottawa to initiate stricter restrictions in the city to prevent transmission of COVID-19. More recently, they have used the wastewater signal as a leading indicator of disease levels in the city of Ottawa.
Citing success in Ottawa, Dr. Delatolla's work has been expanded across Ontario via the provincial Wastewater Surveillance Initiative (WSI), with the SARS-CoV-2 wastewater signal now being used as a leading indicator of disease in the province. Dr. Delatolla has worked together with the Ontario Science Table to conceive the provincial initiative and trained numerous laboratories in the program on how to measure COVID-19 in wastewaters.
Dr. Delatolla has also adapted and applied SARS-CoV-2 wastewater surveillance to First Nation communities, long-term care facilities, correctional facilities, and campus residences, dramatically expanding the impact of the discovery.