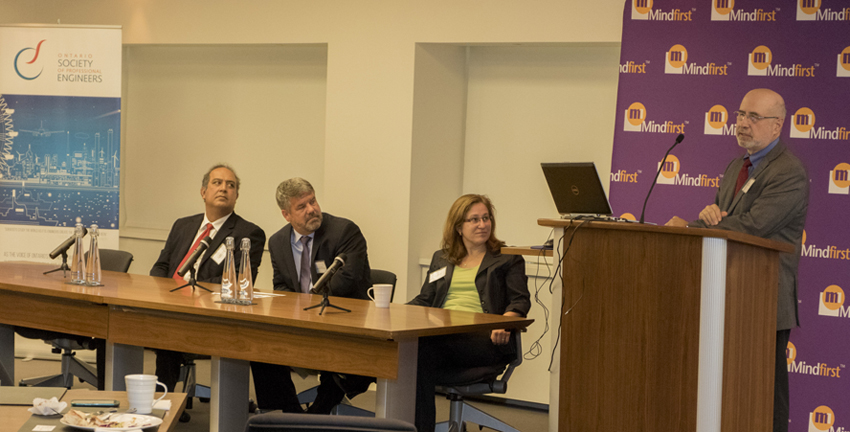 Building on the successful luncheon panel discussion Engineering Innovation to Drive Toward a Low-Carbon Transportation Sector on October 16, OSPE and Mindfirst, a Clean Technology and Sustainability consulting firm, are presenting a series of seminars in 2016 that will centre on sustainable community infrastructure.
The October 16 event offered an in-depth and engaging discussion on electric vehicles. From an overview of the benefits of driving electric cars, to research findings on their energy efficiency, to how electric vehicles impact the grid, panelists shared their insights into this clean technology and the economic and health benefits it offers. Pictures are from the event are available on our Facebook page.
OSPE would like to thank Cara Clairman, President and CEO, Plug'n Drive, Tim Curtis, President, Niagara-on-the-Lake Hydro, Dr. Saeid Habibi, Professor, Mechanical Engineering, McMaster University, and Robert Stasko, President and CEO, Science Concepts International for contributing to the success of this event.
Future luncheon seminars will include the types of infrastructure that foster sustainable communities. Stay tuned for event announcements on OSPE's blog. The first OSPE-Mindfirst event is scheduled for early February 2016.
In the meantime, the next Mindfirst event is a full-day Future of Nuclear 2015 Conference on November 10 in Toronto. OSPE members receive a 20% discount by using the code FoN2015OSPE. The early bird discount rate is valid until Friday, October 23, so register today.