OSPE has been advocating for regulatory changes to excess soil for years. Engineers have been calling on the government to ensure that soil is treated as a resource and not as a waste. Alongside the Greater Toronto Sewer and Watermain Construction Association (GTSWCA) and the Residential and Civil Construction Alliance of Ontario (RCCAO), OSPE's Excess Soil Management: Ontario is Wasting a Precious Resource report has demonstrated the cost savings and environmental benefits from proper management of excess soil.
Fortunately, the Government of Ontario has been listening to OSPE and engineers across the Province.
Our initial report was quoted and referenced by the Government's Made in Ontario Environment Plan in 2019. The Government has been moving forward with changes under the Environment Protection Act (EPA).
OSPE continues to support the requirement that Excess Soil Management Plans be prepared and certified by a Qualified Person (QP). It will be critical that QPs have appropriate training, experience and awareness of best practices to achieve the desired outcomes of the proposed regulation. Professional Engineers Ontario (PEO) and PGO (Professional Geoscientists Ontario) must take an active role in enforcement to ensure that QPs are indeed qualified as the current definition of a QP in O.Reg. 153/04 does not alone achieve this.
OSPE and engineers have been key in the development of updated practices regarding Excess Soils treatment and management.
Once again, our leadership in the subject allowed us to attend the Excess Soil Symposium this year. Dr. Madeh Piryonesi, OSPE Excess Soil Project Manager, had the opportunity to be part of an exciting panel regarding the business case for excess soils regulation.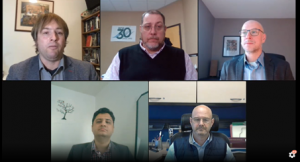 Panel Discussion: The Business of Excess Soils
David McGilivray, WSP Canada
Madeh Piryonesi, Ontario Society of Professional Engineers
Grant Walsom, P.Eng., XCG Consultants Ltd.
Ashley Herman, Freshway Development
OSPE's Current Excess Soil Work
Pits and quarries can a be a great receiving site for excess soil. Ontario has 5000 active pit and quarry sites. There are also 8,000 abandoned sites that need to be rehabilitated. Some of these sites require hundreds of thousands of cubic meters of material for rehabilitation. OSPE is currently working on a project to identify best practices for rehabilitating aggregate pit and quarry sites with beneficially reused excess soils, and to consider how elements of the On-Site and Excess Soil Management Regulation (O. Reg. 406/19), Excess Soil Quality Standards and Beneficial Reuse Assessment Tool (BRAT) may be applied to licenced and unlicenced aggregate operations. This project is conducted with the support of the Ontario Ministry of Environment Conservation and Parks (MECP) and in consultation with industry experts. The output of the project is a scientific report. This scientific report will be used to develop a Best Management Practice (BMP) for QPs and municipalities, which will be released by the end of February.
The BMP will complement the regulations and will address issues discussed in O. Reg. 406/19 and accompanying rules through the lens of a pit or quarry setting, such as soil quality, sampling and auditing, groundwater quality and record keeping. Furthermore, it will delve into issues specific to pit or quarry rehabilitation by backfilling, which are not explicitly considered by O. Reg. 406/19 and Soil Rules. Examples of these issues are microbiological contaminants and invasive species. Other areas covered by the BMP are the best practices for approving received loads with recommendations about site control. Public engagement and best practices for engaging neighbouring communities and Indigenous groups are discussed as well. Finally, best practices to reduce the impact of pit and quarry rehabilitation on the humans and the natural environmental are presented. This is followed by a discussion about potential impacts of climate change on pits and quarries and thus climate change adaptation plans.
OSPE also had the opportunity of providing comments to the Government's consultation ERO 019-2462 Extending Grandfathering for Infrastructure Projects and Providing Additional Flexibility for Excess Soil Reuse.