March 8 is International Women's Day (IWD) and OSPE is celebrating the incredible work of our staff, members and the engineering community at large. This year, IWD's theme is #BreakTheBias, calling on the global community to not only acknowledge the biases women face from all intersections, but to make commitments to break  biases.
DiversifySTEM, an OSPE initiative in alignment with our values, is populated with microlessons to help you keep up with equity, diversity, and inclusion (EDI) information and trends. We believe the engineering profession must become more equitable, diverse and inclusive in order to thrive. Following this year's International Women's Day theme of "Break the Bias", take some time to check out a few of the lessons, such as:
Address Unconscious Bias
The Power of Women on Boards
The Business Case for Gender Diversity
Understanding Workplace Harassment
Discrimination and Working Women
Engineering Technologists & Technicians: Challenges Facing Women
Alongside DiversifySTEM, OSPE has a Diversity and Inclusion Task Force where members meet to discuss and advise OSPE on policy issues related to diversity and inclusion.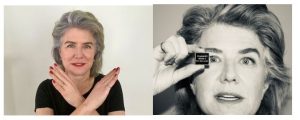 Lauren Briens, P.Eng., an OSPE member and a Diversity and Inclusion Task Torce member, participating in the International Women's Day #BreakTheBias campaign.
OSPE believes in building an equitable engineering industry at core. This International Women's Day, join OSPE in not only celebrating women in engineering, but working to make this space a more inclusive one.