On March 28, the governments of Ontario, Saskatchewan, New Brunswick and Alberta agreed to a Strategic Plan for the Deployment of Small Modular Reactors outlining the path forward on the development and deployment of small modular reactors (SMRs).
The plan highlights how SMRs can provide safe, reliable and zero-emissions energy to power our growing economy and population, while creating new opportunities to export Canadian knowledge and expertise around the world.
The report identifies five key priority areas for SMR development and deployment:
Positioning Canada as an exporter of global SMR technology by propelling three separate streams of SMR development, covering both on-grid and off-grid applications.
Promoting a strong nuclear regulatory framework that focuses on the health and safety of the public and the environment while ensuring reasonable costs and timelines.
Securing federal government commitments on financial and policy support for new SMR technologies that would lead to vast economic benefits across the country and help meet our emissions reduction targets.
Creating opportunities for participation from Indigenous communities and public engagement.
Working with the federal government and nuclear operators on a robust nuclear waste management plan for SMRs.
Ontario is home to brilliant talent that can capitalize on this deal and OSPE and the engineering community is excited for the potential growth this will bring to Ontario's economy and the advancement of our overall climate goals.
On March 30th, OSPE facilitated an event to discuss this policy issue: Small Modular Reactors and the Future of New Nuclear Energy: An Opportunity for Ontario.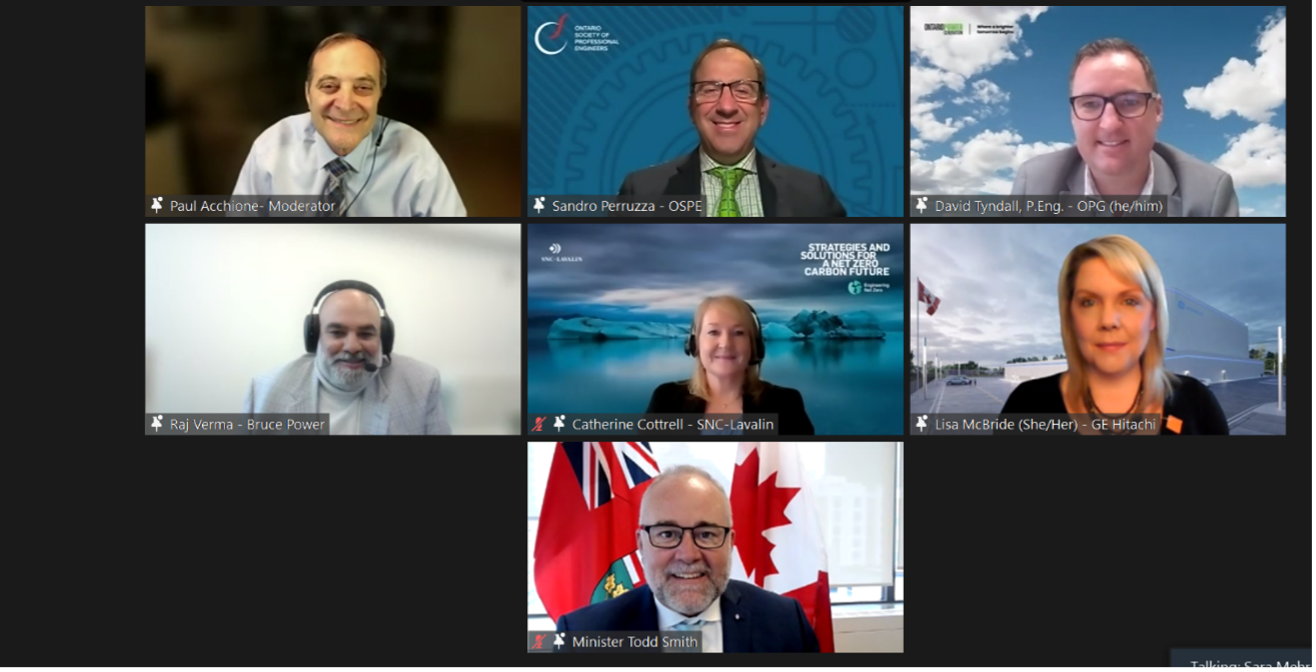 OSPE supports the development of SMR's because nuclear energy is known to be an effective way to reduce atmospheric emissions, including greenhouse gases. A review of major industrial jurisdictions confirms that dependable low emission electricity can be produced affordably with any combination of nuclear energy and hydroelectricity for our base-load electricity requirements.
As a supporter of Canada's SMR Action plan, OSPE is responsible for engaging both non-nuclear engineers and the public and understand the role SMR's play in meeting our energy and environmental goals. The overall discussion was moderated by Energy Task Force Subject Matter Expert Paul Acchione, P.Eng.,and counted with the presence of the followed esteemed panelists:
Lisa McBride, Country Leader, Small Modular Reactors, GE Hitachi
Raj Verma, Bruce Power
David Tyndall, P.Eng., Director New Build Engineering, OPG
Catherine Cottrell, Senior Director, Product Development, SNC Lavalin
The Honourable Todd Smith, Minister of Energy, joined the conversation to show his support for the SMR agenda. Ontario is positioning itself as a leader in economic growth with nuclear energy solutions working as a backbone of the province's clean energy agenda. Ontario comes to the national table remarkably positioned to advance SMR development with our strong nuclear supply chain and the grid scale SMR project in Darlington, projected to be completed by 2030.
OSPE continues to draw in provincial leaders to look to engineers when in need of solutions. The event panelists are all well-versed in the world of nuclear energy and believe we are on the brink of becoming a key player in the SMR and nuclear energy field.
If you missed the event, make sure to watch for the full event video on our YouTube channel. If you have solutions for OSPE's advocacy, please email advocacy@ospe.on.ca.