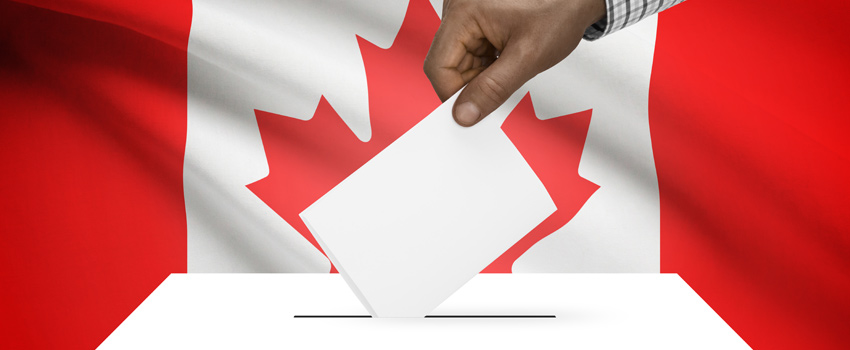 Election campaigns across the country are heating up as we move closer to an October 19 vote for the next government of Canada.
As a non-partisan organization, OSPE considers it a civic duty for all Ontarians to vote based on a clear understanding and knowledge of the platforms of each party a candidate represents. OSPE is aware that many voters make their decisions based on parties they have always voted for, and/or what they hear in the media. In the weeks leading up to the election, OSPE will extract information from each official party platforms on issues impacting engineers and engineering for our members and the general public as a whole. We will also link a sampling of media articles on our Daily News Review (OSPE members can subscribe to this on their member profile page) as well as set up a web page where we will list new party platforms as they arise.
OSPE is pleased to provide you with a list of select positions that each of the four major parties have officially provided on their websites. Each party communicates their position differently, so in the interest of non-partisanship, OSPE has carefully selected key position statements. Please visit the respective home pages of each party to view more detailed outlines of the party platform. Only the engineering issues that are mentioned in one form or the other on all party websites are provided. OSPE notes that transportation and transit, for example, are major issues we are working on, but all four parties do not mention these as distinct and separate topics. If these issues continue to be ignored in official party platforms, OSPE will contact party headquarters with a questionnaire to elicit such information.
Key Issues Impacting Engineering:
Infrastructure

Conservative Party of Canada 
Allocate a portion of federal retail gasoline taxes to the provinces and territories to fund infrastructure.
Support for using the P3 funding model to expand and hasten the renewal of Canada's infrastructure.
New Democrat Party 
Fix roads and bridges by transferring an extra cent of the existing gas tax to municipalities.
Shorten commute times by partnering with cities on a Better Transit Plan — creating 31,000 good jobs in the process.
Liberal Party of Canada
Dramatically increase the federal government's use of clean technologies in energy, buildings, and procurement, in order to help create domestic demand for clean technology firms, and to support Canadian entrepreneurs.
Deepen commitment to work with other governments to protect Canada's freshwater through education, geo-mapping, watershed protection, and infrastructure investments in the best waste water treatment technologies.
Green Party of Canada 
Necessary funds for improvements and repairs can best be supplied by an infrastructure bank – an iBank owned by Canadians.
Supports a transfer of 1% of GST revenues to municipalities for transit expansion and for repairs and improvements to streets, parks, water systems, schools, and community centres.
Energy

Conservative Party of Canada 
Develop a renewable and non-renewable energy framework which takes into account outstanding obligations and which will meet long-term requirements for domestic consumption and export.
Support exploration for fossil fuels, pipeline construction, transportation efficiencies and plant improvements to increase energy conversion efficiencies and reduce pollutant and greenhouse gas discharges.
Support the application of nuclear energy and its associated industries to provide energy to Canadians while reducing negative impacts on the environment.
Support and encourage the private development of alternative sources of energy and fuels, including: wind, solar, and geothermal sources of energy; alternative transportation fuels including bio-diesel from oil seed crops and methanol, ethanol or methane from biomass and organic waste; fuel cell technology and the use of hydrogen as transportation fuel.
New Democrat Party 
Kickstart renewable energy production and drive down climate-changing emissions.
Liberal Party of Canada
As a full partner in the work, already underway by provinces and territories, develop a Canadian Energy Strategy that delivers energy security and energy conservation.
Improve energy efficiency standards for consumer and commercial products to ensure they reflect the most up-to-date technology, creating competition amongst manufacturers to develop the most energy-efficient technologies.
Work with the United States and Mexico to develop an ambitious North American clean energy and environmental agreement.
Green Party of Canada 
Introduce a carbon price through a fee and dividend system, which will encourage private sector investment in Green Tech, Green Energy – Green Jobs.
Environment/Climate Change

Conservative Party of Canada 
Promote alternative energy (such as wind, solar, geothermal), transitional fuels (such as biodiesel, ethanol, natural gas), and the development of hydrogen as a fuel.
Enhance tax incentives for energy efficient measures which lead to a cleaner environment.
Work with the provinces and territories to promote the development of ecological recycling plants, using incinerators that capture waste gas and transform it into energy.
Legislate emissions caps to fight smog-causing pollutants such as nitrogen oxide, sulphur dioxide, and volatile organic compounds.
New Democrat Party 
Protect the environment for future generations while growing the economy and creating good jobs.
Make big polluters pay to clean up their mess and strengthen laws to protect Canada's lakes and rivers.
Liberal Party of Canada
Attend the Paris climate conference, and within 90 days, hold a First Ministers meeting to work together on a framework for combatting climate change and reducing Canada's carbon emissions.
Partner with provinces and territories to establish national emissions-reduction targets, and ensure they have targeted federal funding and the flexibility to design policies to meet these commitments, including their own carbon pricing policies.
Phase out subsidies for the fossil fuel industry in order to fulfill Canada's G-20 commitment.
Increase the amount of Canada's protected marine and coastal areas from 1.3 percent to 5 percent by 2017, and 10 percent by 2020.
Reverse the $40 million that Harper cut from the federal government's ocean science and monitoring programs.
Work with the provinces, Indigenous Peoples, and other stakeholders to use marine resources efficiently.
Renew commitment to the protection of the Great Lakes, the St. Lawrence River Basin, and the Lake Winnipeg Basin.
Restore $1.5 million in federal funding for freshwater research.
Conduct a wholesale review of the Conservatives' changes to the Fisheries Act and the elimination of the Navigable Waters Act, to re-establish lost protections and incorporate more modern safeguards.
Complete robust species at risk action plans and strengthen protections for endangered species.
Green Party of Canada 
Work with provinces to ensure no new coal-fired electrical generation plants are built in Canada.
Push for the global reductions in greenhouse gas emissions that are required to achieve a target of 350 ppm to cap the maximum global temperature increase at 1.5 degrees.
Work with Canada's renewable energy sector to accelerate the construction of green infrastructure, ensuring a majority of Canada's energy needs come from renewable sources by 2025.
Introduce a carbon price through a fee and dividend system, which will encourage private sector investment in green technology and green jobs.
Offer rebates of up to $5,000 for Canadians purchasing efficient vehicles, including electric vehicles.
Science/Innovation/Research

Conservative Party of Canada 
Supports the establishment of a single authority or single window to review big science projects according to published guidelines.
Support the creation of an independent Chief Scientist who would advise and report to Parliament on scientific matters, and help coordinate science policy issues within government, and internationally.
Support the funding of innovation, technology and research through the granting councils.
Support a competitive peer review process and enhanced transparency and accountability to determine who shall receive grants through these councils.
Work with stakeholders in all fields of research and various industry sectors to expand the Scientific Research and Experimental Development (SR&ED) and other tax credits.
New Democrat Party 
Reward small businesses by lowering the tax rate from 11 to 9 percent.
Kickstart creation of the next generation of good-paying manufacturing jobs by investing in innovation and clean technologies.
Liberal Party of Canada
Invest $200 million annually to create sector-specific strategies that support innovation and clean technologies in forestry, fisheries, mining, energy, and agricultural sectors.
Work with provinces, territories, universities, and colleges to support emerging clean tech companies, including research, the commercialization of new products, and training Canadians to be properly skilled for the industries of the future.
Join with the provinces to set stronger air quality standards, creating incentives for investments that lead to cleaner air, healthier communities, and better quality of life for all Canadians.
Green Party of Canada 
Develop timelines, funding strategies and targets for retrofitting existing buildings in Canada, with the goal of retrofitting 100% of Canada's buildings to a high level of energy efficiency by 2030.
Invest in undergraduate research fellowships to support innovation, and encourage more young Canadians to pursue careers in science, technology, engineering and math.
Make sure you register to vote in the October election at www.elections.ca/home.aspx.
Sources

Conservative Party of Canada, Policy Declaration (2013), accessed August 25, 2015, http://www.conservative.ca/media/documents/Policy-Declaration-Feb-2014.pdf
New Democrat Party, "The Issues,"accessed August 25, 2015,  http://www.ndp.ca/issues
Liberal Party of Canada, "The Plan,"accessed August 25, 2015,  https://www.liberal.ca/realchange/
Green Party of Canada, "Our Vison,"accessed August 25, 2015,  http://www.greenparty.ca/en/our-vision