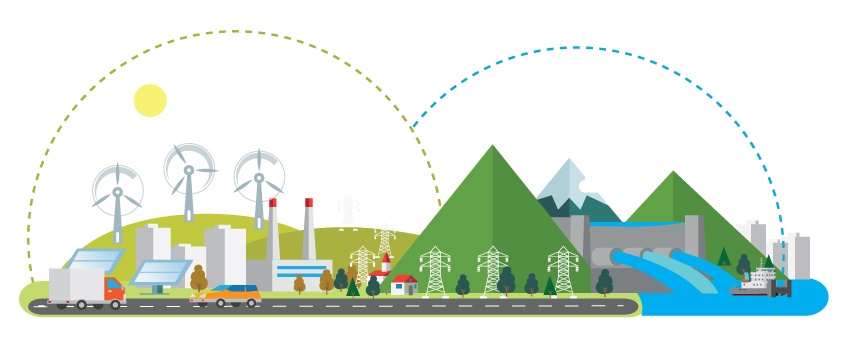 Ontario achieved an 80% reduction in CO2 emissions compared to 1990 from its electrical sector before the end of 2015. In its latest report, Ontario's Energy Dilemma: Reducing Emissions at an Affordable Cost, the Ontario Society of Professional Engineers discusses this achievement, and provides recommendations on how Ontario can reduce greenhouse gas emissions (GHG) in other sectors of the economy at an affordable cost.
"There is not a lot of room to make our electrical system in Ontario more carbon-neutral – we have to 'green-up' other areas of the economy," said Rhonda Wright Hilbig, P.Eng., mechanical engineer by training, power systems engineer by trade. She has spent 10 years working in technical customer service and power quality, and 15 years in project management for Ontario's power system operator.
Wright Hilbig, who contributed to OSPE's report, explains that demand for power in Ontario is less than the amount of carbon-free capacity we have. "The best way forward for Ontario is to use our assets in electricity to displace carbon in other sectors of the economy, like transportation and industrial. There is an opportunity here, and in this report we're attempting to quantify that opportunity."
Recommendations for Ontario
Pay more attention to the math, engineering and economics of energy production
Set realistic timelines for the necessary research and development and subsequent commercial deployment that typically takes 20 to 40 years depending on the current technology
Ensure that detailed economic and environmental analysis is undertaken and informed by engineering studies for any proposed carbon reduction technology before implementation decisions are made
Investigate the means by which Ontario can best incentivize the use of surplus carbon-free electricity to displace fossil fuels in other sectors
Ensure appropriate technology-neutral, market-based pricing mechanisms are put into place so that the marketplace can independently develop GHG reduction solutions that are the most economically and environmentally efficient
The primary author of the report, Paul Acchione, P.Eng. and OSPE Past-Chair, concludes, "having achieved our long term emission reduction goals for the electrical sector, we now face a much more difficult challenge in reducing emissions for our transportation and thermal energy needs.  Let's learn from and leverage our experiences in transforming our electrical sector.  By careful engineering and economic analysis, we should be able to achieve our long term emission reduction goals across our entire economy at an affordable cost."
This report is the second in a series of reports by OSPE's Energy Task Force relating to climate change and GHG reduction. The first report, Engineering a Cleaner Economy: Examining Ontario's Carbon Pricing Program and the Role of Innovation, was released in September 2015. A third report on Smart Electricity Pricing will be issued in the near future. It will identify how smart electricity pricing in combination with carbon pricing programs can leverage Ontario's very low emission electrical power system to displace fossil fuels in other sectors.
What do you think? Share you thoughts in the comments section below.