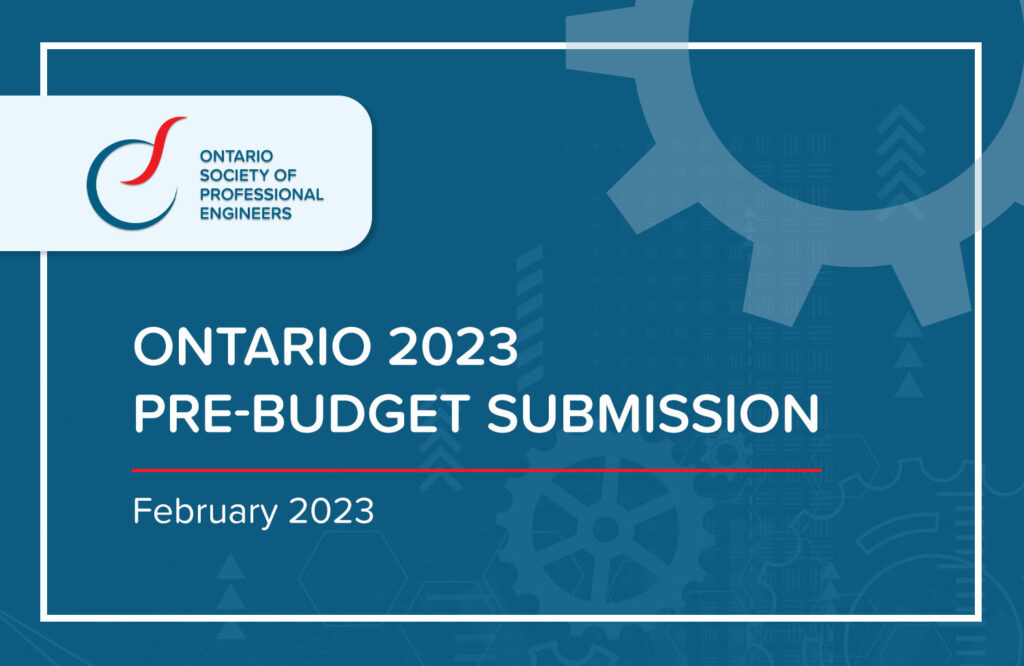 Each year, OSPE responds to the province's call for consultation on the annual budget – and this continues in the 2023-2024 fiscal year. On February 6, we submitted a thoughtfully curated response informed by our membership, flagging areas of value for public safety, professional accountability, economic prosperity and inclusivity.
---
In times of economic uncertainty, it is more important than ever to prioritize the development of the engineering workforce in Ontario. Engineering is vital to Ontario's economic growth, and investing in the sector can provide much-needed job opportunities and drive innovation. Our pre-budget submission identifies ways to deepen the engineering talent pool, diversify our STEM field and attract international talent, and mitigate the effects of the climate crisis.
OSPE responded to the provincial pre-budget consultation with the following recommendations:
Engineering Workforce Development During Times of Economic Uncertainty
Deepening the engineering talent pool by expanding opportunities for international engineering graduates to enter the Ontario workforce through bridging programs with international post-secondary institutions.
Diversifying Ontario STEM through investments that support neurodiverse individuals and their journey to competitive STEM professions, in collaboration with accredited organizations.
Moving the needle through procurement policies by working with municipalities to implement EDI considerations in their procurement processes.
Proactively Engineering After COVID-19
Updating regulation to implement Indoor Air Quality recommendations by monitoring, maintaining and standardizing infrastructure and practices for safer indoor air:

Mitigation of Airborne Disease Transmission
Ventilation
Filtration
Ultraviolet Germicidal Irradiation (UVGI)
Avoiding Additive Air Cleaning and Alternative Methods
Transparency and Public Education
Reviewing the Provincial Building Code to consider a health-oriented standard of ventilation and filtration for new and existing infrastructure.
Mitigating the Impending Effects of Our Climate Crisis
Withdrawing amendments to the Greenbelt Plan to respect the economic and agricultural impact these protected lands have provided the past few decades.
Investing in an Excess Soil Aggregates Framework to provide clear guidelines for project leaders, include a lens of transparency, and capitalize on engineering capabilities.
Engaging with climate experts and Indigenous leaders by convening two separate panels to conduct transparent conversations with Indigenous leaders and environmental experts for the needs of climate safety and reconciliation.
Subsidizing EV charging stations to combat a lack of electric vehicle sales and to position Ontario as a federal leader.
OSPE continues to amplify the voices of Ontario engineers and the general public by proactively advocating for our member-informed agenda with public officials. Read our full response here.
If you would like to get involved or learn more, email advocacy@ospe.on.ca.