Scott Johnson was Radiohead's 33-year-old drum technician who was killed at Downsview Park in 2012 when a temporary stage collapsed. The Coroner's Inquest begins today as a mandatory proceeding under the Coroners Act following the death of a worker on a construction project.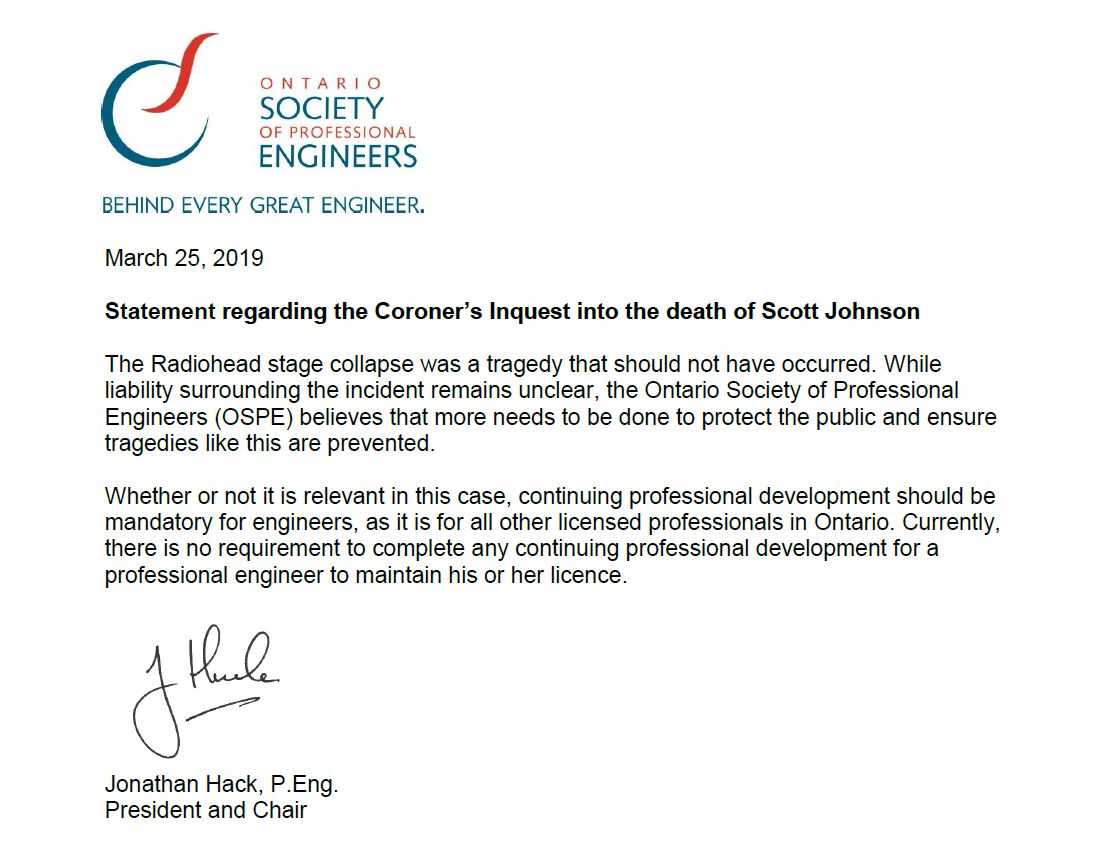 After the mall collapse in Elliot Lake, OSPE recommended that a mandatory continuing professional education program be put in place by the regulator – Professional Engineers Ontario (PEO). Both PEO and Commissioner Paul Bélanger agreed, and it was one of the recommendations that came out of the Elliott Lake Commission of Inquiry.
PEO now has a Practice Evaluation and Knowledge (PEAK) program, but it is not compulsory nor has it been effectively adopted by licence holders. In March 2018, about 30% of PEO licence holders completed the evaluation, but in March 2019, only 21% have done so. Additionally, only 15% of licence holders have reported that they completed the recommended professional development requirements.
What is OSPE doing about it?
—
OSPE has been in communication with Attorney General Caroline Mulroney for several months regarding these and other issues within the engineering profession. The Ministry of the Attorney General is responsible for ensuring that PEO, the engineering regulator, is effectively carrying out its mandate under the Professional Engineers Act.
OSPE and Consulting Engineers of Ontario, an organization representing engineering industry, have raised concerns regarding the effectiveness of the regulator and its governance practices. We have been instructed by the Attorney General to work together with the regulator to solve the problems identified, which we are currently attempting to do, but have yet to come to an agreeable solution.
---
Former engineer Domenic Cugliari has never been an OSPE member. He is listed as "retired" on the engineering regulator's licence holder directory.
---
UPDATE (June 16, 2021) – OSPE is elated to see that Professional Engineers Ontario will be moving forward with mandatory professional development for licence holders.