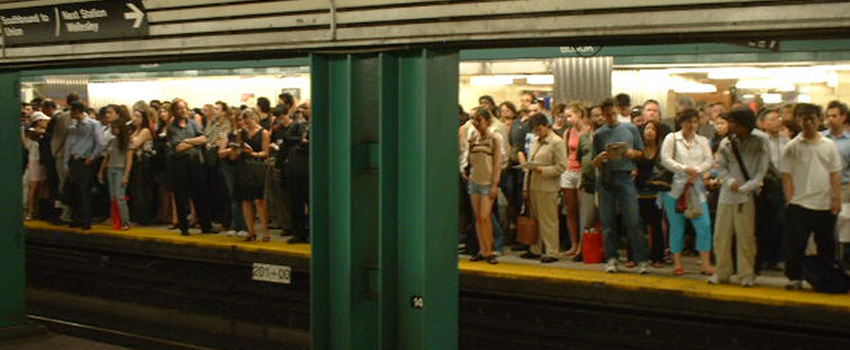 The City of Toronto's City Planning Division is currently conducting public consultations on the potential locations of stations and corridors for the long awaited Relief Line subway.  This subway line would funnel people from the Bloor-Danforth line to downtown Toronto and thus provide relief to the overcrowded Yonge-University-Spadina subway, especially at the Bloor-Yonge transfer station.
OSPE is pleased to see the city moving forward on the planning of this much needed transit project. The Society released a report on the Relief Line in 2013 and lobbied city councillors to prioritize studies needed for the line to be approved. The current phase of consulting with the public on potential routes and stations is a positive sign.
Members of OSPE's Infrastructure Task Force participated in the city's public consultations.  Their expert advice formed the basis of a formal OSPE submission to Jennifer Keesmaat, Chief Planner and Executive Director of the City of Toronto.
OSPE voiced its concern regarding the large amount of technical evaluators that are potentially being used to determine the alignment for the Relief Line prematurely.  In our view, the two most pressing technical considerations should be:
(1) The crossing location of the Don River, and
(2) Tunnelling through rock in the downtown core.
These should be the drivers in selecting a preferred route, because they can dramatically affect the cost, complexity and schedule for the project and therefore should be considered now to determine the most efficient route for the relief line.
Having expressed these technical considerations, OSPE recommended the potential corridors as connecting Pape Station to either Queen/Richmond or King/Wellington. We also strongly urged the city to conduct geotechnical studies that may indicate it is advantageous to cross the Don River north of their proposed potential corridors. In this location, the ground is more stable, less prone to flooding and could achieve cost savings compared to crossing further south.  The line could still proceed to Queen or King streets.
To view OSPE's letter to Chief Planner Keesmaat, click here.
OSPE received an email response to the letter above from Senior Transportation Planner Mike Logan on behalf of Tim Laspa, Director of Transportation Planning, expressing their thanks for our input.
"We agree that crossing the Don Valley and constraints associated with tunneling through the downtown core present challenges that will need to be appropriately addressed as the project moves forward.
We look forward to your continued participation in the Relief Line process."
Logan also stated the next round of consultation is being planned for September, at which time they will identify the preferred corridor, along with potential alignments within the preferred corridor for consideration.
For a detailed description of the City's proposed corridors and stations, click here.