On May 10, OSPE submitted its recommendations to the Premier's Highly Skilled Workforce Strategy Expert Panel. The panel, which includes Robert Hardt, President and CEO of Siemens Canada Limited, will develop a strategy to help the province's workforce adapt to the demands of a technology-driven knowledge economy.
As OSPE's submission outlines, the traditional factors that once sustained Canada's economy (i.e., natural resources) are no longer sufficient. Instead, knowledge, innovation and creativity will foster economic prosperity – areas where engineering degree holders and engineers play a critical role. Supporting Ontario's highly skilled workers will require targeted action by various stakeholders.
OSPE recommends that government:
Work with businesses to develop incentives that will encourage more companies to provide co-op opportunities to professionals in the early stages of their careers.
Devote more resources to the development of youth's numeracy skills, as results from EQAO tests have declined between 2009 and 2013 among Grade 6 students.
Hold public consultations with students, teachers, curriculum advisors and employers to address the above issues and develop appropriate plans of action.
Consider the additional skills that students need to succeed in a technology-driven knowledge economy, such as entrepreneurialism, technological literacy and innovative thinking.
OSPE recommends that engineering employers:
Develop internal mechanism or seek the assistance of third-party educational assessment agencies to more effectively evaluate the credentials of international engineering graduates.
Invest in on-the-job training for employees, which has declined over the past 20 years.
Address negative workplace culture and policies that can influence women engineers' decisions to leave the profession.
OSPE recommends that students:
Participate in co-op opportunities offered through their post-secondary institution, given the statistically higher employment rates and earnings that co-op graduates can expect.
The Premier's Expert Panel is expected to deliver its strategy in Fall 2016. The exact policies and programs that will result remain unclear for the time being, however, it is clear that government is increasingly taking OSPE's recommendations into consideration. In fact, OSPE's 2016 recommendations to the Gender Wage Gap Strategy Steering Committee were specifically mentioned on the government's consultation .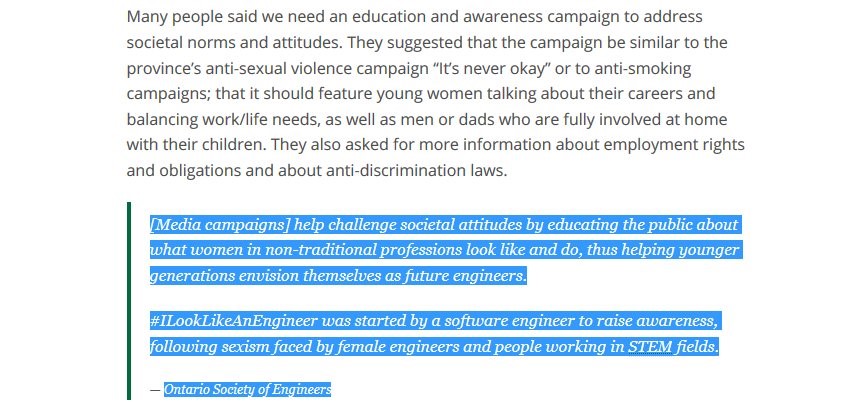 OSPE would like to thank its Research and Innovation Task Force and Women in Engineering Advocacy Committee for contributing their expertise to these recent submissions. It is through our valued members and volunteers that OSPE is able to influence public policy and affect positive change.
To view our latest submissions, visit our website.