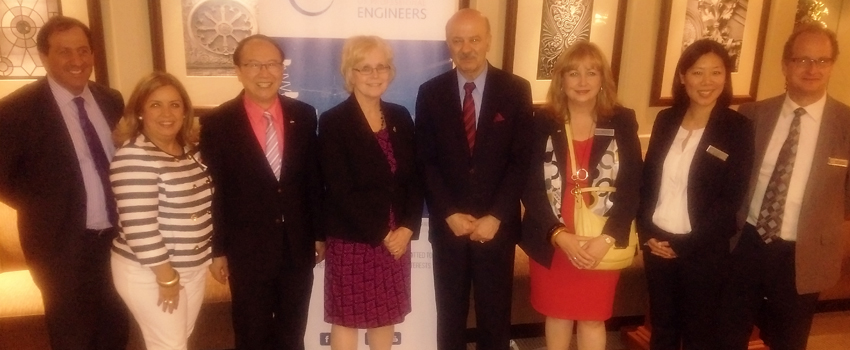 One of OSPE's most anticipated events is our Spring MPP Reception held at Queen's Park. Bringing our Political Action Network (PAN) volunteers and Task Force and Committee members together with elected officials, staffers and leaders from various sectors provides an invaluable setting to discuss important issues for the engineering profession.
Last Tuesday, over 25 MPPs attended OSPE's seventh MPP Reception to discuss the need for more investment in research and innovation, as well as supporting Ontario's engineers through co-op programs and skills development. We were pleased to see the number of MPPs who attended, given that it was the last week before the summer recess.
Parliamentarians from each political party spoke, beginning with the Honourable Reza Moridi, Minister of Training, Colleges and Universities and Minister of Research and Innovation. OSPE's CEO Sandro Perruzza said, "Minister Moridi has been a solid supporter of OSPE throughout his tenure in government. He is a valued friend of engineers, and I was pleased to hear him echo comments OSPE has been repeating to all levels of government. That is, engineers create wealth, and that the province needs to invest in the profession to accelerate Ontario's economic recovery."
Following Minister Moridi, MPP Garfield Dunlop, Critic, Training, Colleges and Universities, said a few words on behalf the Ontario PC Party. The NDP's Peggy Sattler, Critic, Training, Colleges and Universities and Research and Innovation also brought greetings on behalf of her party. Both acknowledged the important contributions engineers make to Ontario's social and economic wellbeing.
Following introductions by OSPE President and Chair, Karen Chan, P.Eng., and PEO President Thomas Chong, P.Eng., OSPE was delighted to have David Thomson, Chief Executive Officer at the Ontario Association of Certified Engineering Technicians and Technologists (OACETT), and David Zurawel, Director of Government Relations at Consulting Engineers of Ontario (CEO), deliver greetings as well.
Reflecting on the importance of the event, Karen noted that the MPP Reception "provides OSPE with an opportunity to thank the 85 engineers who participate in PAN and demonstrate their on-going support for the profession by keeping our elected officials up to date on pressing advocacy issues."
OSPE was also pleased to welcome representatives from Professional Engineers of Ontario (PEO), Engineers Canada, Ontario Professional Engineers Foundation for Education, Council of Ontario Universities (COU), Municipal Engineers Association (MEA), and Engineering Students Societies' Council of Ontario (ESSCO), to name a few.
Thank you to all MPPs who attended – OSPE looks forward to continuing to work with you on these critical issues.