The past 15 years of advocacy have taught us that effective government and public relations requires a long-term commitment to relationship-building and communication. OSPE's Political Action Network (PAN) volunteers are critical to our efforts – after all, they are the driving forces who put advocacy into action. Together, they help spread our message across the province and raise the profile of the engineering profession among government, industry, and the public.
Political Action Network representatives (or reps, as we say) are particularly vital to the government relations work that we do. Established in 2006, PAN is a grassroots initiative that aims to influence policy makers at the provincial and federal levels. PAN reps meet with their Member of Provincial Parliament (MPP) or Member of Parliament (MP) to discuss issues that concern engineers and the engineering community.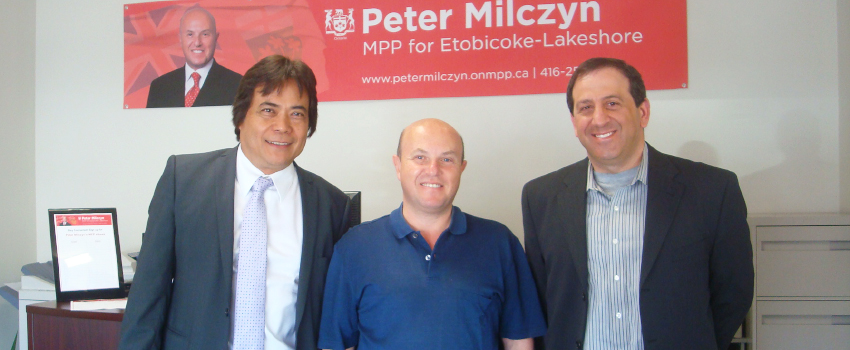 What's required for this role?
Any OSPE member can become a Political Action Network rep. To avoid confusion, PAN volunteers cannot also be members of PEO's Government Liaison Program (GLP). New PAN reps must attend a mandatory training session. After a constituency meeting is held, PAN reps must provide OSPE with a summary of the meeting as well as feedback.
What's the process like?  
OSPE staff work with political staff to arrange meetings. Meetings are 30 minutes long and held at the constituency office. OSPE staff provide each PAN rep with briefing materials and publications on the topic(s) that the PAN rep would like to discuss with their MPP or MP. PAN reps are expected to review these documents in advance of the meeting. Developing an agenda to guide the discussion is recommended. OSPE staff is available to answer any questions throughout the process.
Why become a Political Action Network rep?
Take the opportunity to become fully engaged in advocating for your profession to affect change in public policy. By becoming a PAN rep, you will sharpen your communication and interpersonal skills, and network with leaders in your community. Meeting with elected officials who represent your riding at Queens Park and/or Ottawa allows you to exercise your civic duty and share your technical knowledge or understanding of a particular policy issue(s) with key decision makers.
What topics could I discuss with my MPP or MP?
PAN reps bring a wealth of experience and knowledge to their volunteer role. This is your opportunity to speak to a decision maker about an engineering topic that you are passionate about, or an issue of importance to your riding.
Recommended topics include:
Energy
The environment/climate change
Infrastructure
The labour market
The Ring of Fire
Research and innovation
Advanced manufacturing
Transportation
What is the role of PEO's Government Liaison Program (GLP) representatives?
OSPE works with PEO to secure a GLP representative to attend every PAN meeting. Joint PAN-GLP meetings help distinguish the two organizations, while showing unity between both bodies. PAN reps lead the meeting while GLP reps are on hand to address any regulatory questions.
Call for volunteers – we need your help!
Are you an OSPE member who is interested in politics and public policy? Want to advocate with your local MPP, MP and municipal officials? Do you live in one of the provincial ridings listed below?
In 2014, 24 PAN meetings were held. OSPE aims to build on this momentum. Our goal is to have a PAN representative for each riding in Ontario – 107 in total. With a representative in every riding across the province, our voice will be amplified and more impactful.
If you're unsure which riding you live in, please click here.
If you're interested in becoming a PAN representative and live in a riding in need of a volunteer, please contact us at ambassador@ospe.on.ca.

Ontario ridings in need of an OSPE Political Action Network rep
Algoma—Manitoulin
Brampton West
Cambridge
Essex
Haliburton—Kawartha Lakes—Brock
Hamilton Centre
Huron—Bruce
Kitchener Centre
Lanark—Frontenac—Lennox and Addington
Lambton—Kent—Middlesex
London-Fanshawe
London-West
Mississauga—Brampton South
Mississauga—Streetsville
Niagara Falls
Nickel Belt
Ottawa—Orléans
Parkdale-High Park
Pickering—Scarborough East
Renfrew—Nipissing—Pembroke
Simcoe North
Trinity—Spadina
Wellington-Halton Hills
Willowdale
York Centre