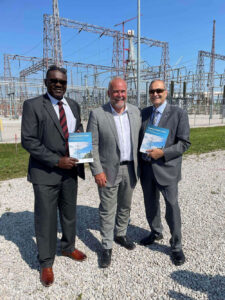 The Ontario Society of Professional Engineers (OSPE) commends the Ontario government on the release of the Powering Ontario's Growth plan. This plan, released by Minister for Energy, Todd Smith, on July 10, 2023, in response to the Independent Electricity System Operator's Pathways to Decarbonization report, lays out the government's plan for 2030, 2040, and beyond, for clean energy and infrastructure, including new actions to produce net-zero emissions energy.
Ontario's electricity demand is on the rise for the first time since 2005 due to elevated levels of investment, immigration, and job creation particularly as the province becomes a leader in manufacturing electric vehicles (EVs). In fact, it is predicted electricity demand in Ontario could double by 2050. OSPE is pleased to see the government is aware of this pressing demand and is planning to utilize clean energy sources to meet demand.
Now more than ever, the transition to clean energy is essential to ensure our province can maintain this trajectory of growth in a sustainable and mutually beneficial way.
The ongoing wildfires have been a devastating reminder of the impacts of climate change and a harsh reality check for politicians, engineers, and the public alike. OSPE commends the government on this plan and strongly advocates for the government's continual commitment to clean energy infrastructure over the coming decades.
Some proposed actions to meet the demand for electricity over the coming decade highlighted through this plan include steps toward increased nuclear power, planning for procurement of clean electricity resources, new transmission lines for Northern and Eastern Ontario and the Ottawa region, further optimization of hydroelectric infrastructure and actions to address electricity affordability and system bottlenecks such as those that exist between Toronto and northern Ontario.
OSPE has highlighted and advocated for the need for a change in the way we plan for energy, and the need for transformation in the energy sector as we transition to net-zero energy infrastructure, but also grapple with the higher costs that come along with these new technologies, as highlighted in our recent submission to the Electrification and Energy Transition Panel.
OSPE is pleased to see Powering Ontario's Growth includes actions that will attempt to tackle these issues. We commend the government on the production of a plan that lays out a clear direction forward for energy in Ontario and look forward to continuing our work in supporting clean energy initiatives.