On November 6, 2019, the EDI Imperative: Changing the Profile of STEAM in Canada, presented by OSPE's Equity, Diversity and Inclusion (EDI) Committee, brought together more than 700 members of the engineering community, industry trailblazers, thought leaders, academics, human resources professionals, and students. Held in our nation's capital, the forum focused on recognizing that more needs to be done to ensure diversity and inclusion becomes a reality, not only by sharing insights on the challenges that persist, but by defining solutions to address them.
The day left attendees with several strategies and tools to create or evaluate their own diversity and inclusion strategies. OSPE looks forward to continuing to advocate for this important cause and to work with our partners to #ChangeSTEAM.
Couldn't attend the EDI Imperative? Here are just a few highlights:
Setting the Landscape
Réjeanne Aimey, P.Eng., Chair of OSPE's EDI Committee, discussed the importance of tackling the challenge of diversity and inclusion through an intersectional lens and collecting reliable data to better define and address the issue. Lastly, she left the audience with a clear call to action:
"I am often asked whether other groups, aside from women, face barriers in the engineering profession. At times, I hear the excuse 'we just can't find qualified, diverse engineers.' I can tell you this is simply not true. We do exist. It is time to stop making excuses and start making changes. We need to provide equal opportunities to people who don't look like, sound like, or think like us. Together, we can change the profile of STEAM in Canada."
Defining Equity, Diversity and Inclusion
Dr. Imogen R. Coe, Professor, Ryerson University
Dr. Coe delivered a compelling keynote. She spoke to the audience about the importance of combatting gender stereotypes.
"From the moment they are born, all children receive messages about their value and about the value of their contributions and we all are complicit in this…every single person in this room can challenge gender stereotyping, every single person in the room can at some place or point in their lives, in their communities, in their families, in their industry, in their business, in their context, and if we are going to see a change in STEAM in 2025, we have to collectively start taking responsibility for this."
Workshop: Introduction to the Six Cylinder Framework
Hamlin Grange, President & Co-Founder, DiversiPro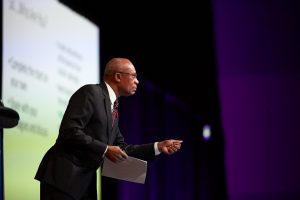 Hamlin Grange conducted a high-impact workshop where participants were asked to identify the sources of their cultural programming and share with others in the room. Grange emphasized that organizations should approach diversity and inclusion comprehensively to capture the complexities of this challenge.
"You need to start thinking holistically… about six key things: Leadership, Programs and Services, the Workplace, Stakeholder Connections, Marketing, and Programs and/or Services… At the core of the six cylinder framework is a way of looking at your organization and developing diversity and inclusion strategies and programs. Also, to evaluate these strategies. It isn't about you necessarily as an organization, it is about how the client experiences the organization, and the client could be not just the people who buy your services but also the people who work for you."
Leading Change: Strategies for Success from Industry
This panel focused on showcasing the key challenges and opportunities faced by organizations that are championing change. We heard from industry leaders on what is working for their respective organizations, some of the lessons they have learned along the way, and their plans to continue making progress on diversity and inclusion.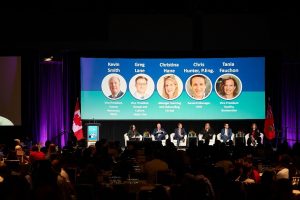 Moderator: Jeannette Southwood, P.Eng., Vice President, Corporate Affairs and Strategic Partnerships, Engineers Canada
Overcoming Barriers: Individuals Succeeding in STEM
This panel focused on personal strategies for success. It explored themes such as mentors and role models, challenges faced by underrepresented groups, speaking up in the workplace, defining your identity at work, tokenism, and resources that help address barriers.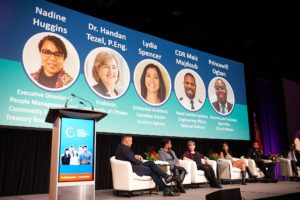 Moderator: Jarett Leaman, Business Partner, Philanthropy and Business Development, Troon Technologies
Starting the Conversation
Naveen Mehta, Chief Legal Officer, MESH/diversity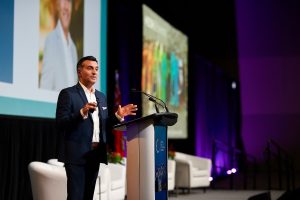 Naveen Mehta delivered a thoughtful presentation about the importance of measurements and evaluations in conversations about diversity and inclusion.
"We must get out there and measure our inclusivity, not just diversity. Are you actually what you claim to be? Not merely the rosy images that we all put on our websites, we are not talking about a census or simply the demographics in our organizations, that's the easy stuff…we need metrics and metrics that are actionable around inclusivity, around belonging, and we all know that an inclusive culture is what we want, not just diversity…and the bottom line is if you are serious about  it you need metrics. Moving from the subjective, which is 'oh yeah, we do diversity and inclusion, and we're really good at it' to the objective 'here are our numbers, here is our inclusion score, here are our scores and our benchmarks, and here are the next steps."
Understanding Value of Equity, Diversity and Inclusion
Martita Mullen, PMP, Senior Manager Design and Construction, CN Rail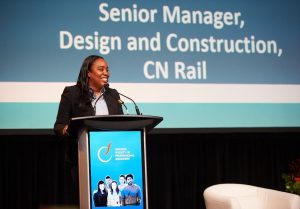 Martita Mullen delivered an engaging presentation about the value of equity, diversity and inclusion, speaking about her own experience and the barriers she faced as a woman of colour in a male dominated environment. Martita told the audience how she broke down those barriers, alluding to her first promotion, and provided some insight into how D&I served her organization.
"When organizations embrace EDI, the walls immediately come tumbling down, and better partnerships are formed, all employees feel valued, recognized, and heard, so that leads to more input, increased discretionary effort, which also results in better returns for the company. Employees that do not feel included, often times are uncomfortable contributing or sharing ideas, because they are so uncomfortable about being different that they don't want to draw any attention to themselves and they fear being criticized by their ideas…organizations need employees that are engaged…technological advancements, new ideas, and creativity all need the right conditions to thrive, those conditions include a working environment where equity, diversity, and inclusion are valued."
Workshop: Creating and Implementing an Effective Equity, Diversity, and Inclusion Strategy
Hamlin Grange returned to the stage in the afternoon to provide the audience with key considerations to keep in mind when developing an effective D&I strategy. Grange began by presenting the ABCs of diversity: appeasement, business case, and core value. Grange refers to these as the fundamental reasons why organizations decide to create and implement a D&I strategy.
"You have to amplify the differences in your organization, not minimize them. Here are some things you need to think about, you may have a strategy, but do you have a plan? There is a difference. Where are you in the continuum? More importantly you need to ask yourself a fundamental question, why are we doing this? Is it A B or C. Where does EDI fit into this plan? Many organizations have a strategic business plan and a diversity and inclusion plan, and never do the two meet. They need to be Sympatico, your D&I plan must reflect and speak to your business outcomes, your business strategy, because when times get rough, and they do get rough, it is easy to say 'oh last quarter wasn't great, let's postpone that D&I training we talked about, because let's do it next time' it is easy when it is off to one side of the table."
Inclusion in the Public Service: The Future of Federal Workplaces
Nancy Chahwan, Chief Human Resources Officer, Treasury Board Secretariat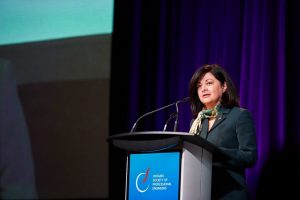 Nancy Chahwan spoke thoughtfully and eloquently about the future of diversity and inclusion for Canada and the importance of keeping this as an issue of top priority.
"There is plenty of research that tells us that inclusion creates a workplace where employees feel a sense of belonging and respect, where they feel valued, and feel they can bring their best selves to work. Research also shows that wellness and inclusion are very closely linked, and they are also linked to higher employee satisfaction and engagement, and they allow organizations to increase their ability to serve multiple stakeholders, multiple customer groups, they encourage innovations through the diversity of the experiences…and it also helps develop a mindset to explore vast possibilities of human capital. So why is putting employee experience at the heart of the diversity conversation and the inclusion effort, more important than ever, beyond what this research tells us? Well with the digital revolution, comes a level of complexity that is unprecedented, and a proliferation of stakeholders who are demanding to have their say, not only to be consulted but to actually co-create with us, this is true within the organization and this is true with outside stakeholders, the expansion of data science and artificial intelligence have created tremendous potential for improving services to citizens and customers. And inherent to this knowledge-based economy is the importance of people and accordingly the intensification for the search for talent."
Emerging Realities: The Future of Diversity and Inclusion in the Workplace
This panel focused on some of the social and economic shifts that are taking place today and how these impact efforts to move the dial on diversity and inclusion.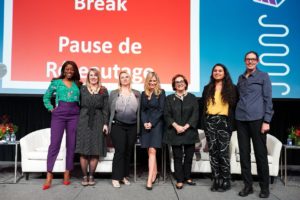 Moderator: Sonya Shorey, Vice President of Strategy, Marketing and Communications, Invest Ottawa and Bayview Yards
OSPE would like to take a moment to thank all of our partners who made this event possible. We look forward to continuing this conversation and hope to see you all in 2020 at our next Diversity & Inclusion Forum (details to come).